Grenade Hydra 6 Facts
Best known for their strong fat burner Grenade as well as their powerful pre-workout .50 Calibre, this UK sports nutrition company have just released a novel protein powder known as Hydra 6. With a massive fan base in Australia for their previous products, no doubt Hydra 6 will also become a crowd favourite.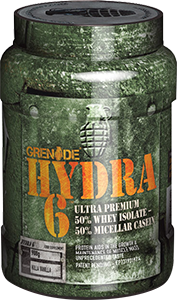 Grenade Hydra 6 Review & Ingredients
Grenade Hydra 6 is a protein powder that combines 50% whey protein isolate with 50% micellar casein and providing 24g of protein per serve, 5g of carbohydrates and 3.5g of fat. Combining fast absorbing and slow absorbing proteins is a great way to help sustain amino acid delivery to the muscles after a training session as well as throughout the day. This makes Hydra 6 an extremely versatile protein that can be used in most situations, even before bed. Grenade Hydra 6 is novel in that it only contains whey protein isolate and micellar casein in an exact 50:50 ratio. The only other similar product would be BSN's Syntha-6 Isolate, which combines whey protein isolate and milk protein isolate in the same ratio.
Grenade Hydra 6 Release Date
Hydra 6 has already been released in the United States and in Europe in a 2lb (908g) and a 4lb (1.8kg) version in a variety of 4 flavours including: Chocolate Charge, Cookie Chaos, Strawberry Siege and Killa Vanilla. It is unknown when the protein powder will make its way into the Australian market, but we predict it to be on shelves mid July to August.