Over the recent years, consuming gluten-free diets has been a trend popular among many people for various reasons. As a result there has also been an increase in demand for gluten free supplements, especially protein powders. This article will explain to you if really need such a thing, how to find it.

What is Gluten?
Gluten is a protein found in wheat (and related species) and wheat products. For most people, it is digested in the same way as other proteins. However, a small group of the population have a genetic disorder which makes them intolerant to gluten. Known as Coeliac disease, affected individuals react negatively to gluten when eaten. Symptoms are often related to gastrointestinal discomfort and can vary in severity. For a more detailed explanation of Coeliac disease, please refer to our "Gluten Intolerance & Bodybuilding" article.
Benefits of Gluten Free Diets
For those with Coeliac disease, a gluten free diet is essential for good health and optimal performance. In extreme cases, consuming gluten, even at low levels can carry serious complications. However, this is no reason for the rest of the population to avoid gluten. A good analogy is to think of is people with nut allergies. Although it is wise for this group to avoid nuts, there is no scientifically justified reason for others to also avoid nuts. A paper published in a reputable scientific journal has stressed the fact that there are actually no proven benefits of a gluten free diet for the general population without coeliac disease (Gaesser & Siddhartha, 2012). In fact, in some cases, a gluten free diet can actually be detrimental to health and other goals. In other words, the benefits of a gluten-free diet for the general population are nothing more than myths.

Gluten in Protein Powders
It is important to know that although many products do not contain wheat based ingredients, some may be manufactured on equipment that also handles wheat. As such, these products may contain trace amounts of gluten and would not be suitable for those with Coeliac disease.
Some protein powders contain glutamine peptides. Although these are not strictly gluten, they are often derived from wheat sources. For those with gluten intolerance and Coeliac disease, these products too, should be avoided.
How to Find Gluten Free Protein Powders
In Australia, we are very fortunate to have high standards for the "gluten free" claim. By definition, all Australian and New Zealand products advertised as "gluten free" must have less than 5 parts per million gluten. This equates to 0.0005% gluten, which is the lowest detectable amount, and within the acceptable margins of those with Coeliac disease. However, in the USA, standards for "gluten free" claims are not as strict and are left to the discretion of the manufacturer. It is therefore fair to say that Australian manufactured protein powders are more reliable in their gluten free claims, and should be the first option for those looking for a gluten free product.
Finding a gluten free protein powder (or any other supplement) requires a keen eye and attention to detail. Label reading is the best way, and again, Australian manufacturers are very good with letting you know if the product contains traces of gluten. Australian gluten free products will carry a statement of "gluten free" somewhere on the label, usually around the nutrition panel. If the protein does contain gluten, a statement can be found that reads "may contain gluten", "processed on machinery that also handle wheat", or other such variations. If there are no claims whatsoever, it is safer to assume that the product does indeed contain traces of gluten.
Best Gluten Free Protein Powder
Following is a list of what we think are the top 10 gluten free protein powders on the market: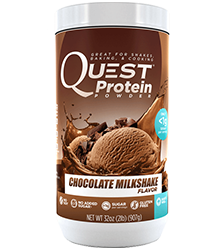 10. Quest Nutrition Protein Powder
Better known for their super popular protein bars, Quest Nutrition also has a range of delicious flavoured gluten free protein powders. Ideal for use as shakes, in smoothies or in cooking, Quest Protein Powder contains no added soy or sugar and is a premium blend of fast, medium and slow digesting proteins. This makes it perfect to have throughout the day to supply a constant delivery of amino acids to your muscles to assist with all day growth and recovery.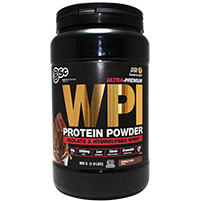 9. BSc Body Science Whey Protein Isolate
Another premium Australian brand, BSc Body Science are well known for having some of the highest quality protein powders around. Their whey protein isolate is designed for rapid absorption and suits those who need a quick hit of protein before or after their training sessions. It not only tastes great, but also avoids the use of any artificial sweeteners and flavours. Like many other brands, they also have a gluten free vegan protein known as BSc Naturals Organic Plant Protein.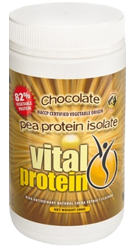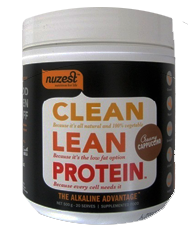 8. Vital Pea Protein & NuZest Clean Lean Protein
Pea protein powders are an excellent alternative to dairy proteins and have grown in popularity over the last few years to rival that of soy protein. Many of them are also gluten free including Vital Pea Protein and NuZest Clean Lean Protein. Both are still fast absorbing, high protein, low fat and low carb supplements that are perfect for anyone looking for a vegetarian or vegan source of protein. The taste does take some getting used to, but are great in smoothies and in cooking.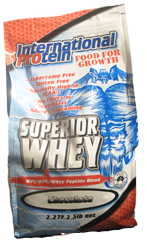 7. International Protein Superior Whey
International Protein Superior Whey is a delicious, all purpose blended whey protein that provides your muscles with high quality amino acids to recover and grow. Known for creating some of the tastiest protein powders on the market, International have also released a huge range of natural supplements ideal for those trainers who want to stay away from artificial sweeteners, colours and flavours. Superior Whey is one of the company's most popular products and is an excellent choice for anyone looking for a standout gluten free protein. International Protein also make a gluten free fat loss protein known as ISO-Cuts as well as a gluten free casein known as M-Casein.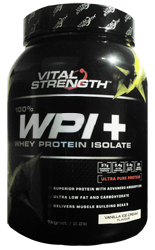 Vital Strength is another Australian company who have been in the game for many years and is one of the most trusted brands in the industry. Their WPI Plus is a gluten free whey protein isolate which is easily absorbed, provides plenty of protein per serve and is low in fat and carbs. It also comes with a comprehensive addition of essential vitamins and minerals. It's an excellent pure protein ideal for beginner and advanced trainers alike. Vital Strength also make a gluten free fat loss protein known as Hydroxy Ripped.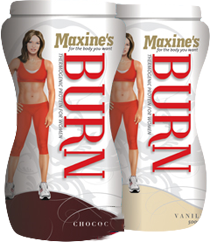 5. Maxine's Burn Thermogenic Protein
Maxine's is the subsidiary brand from one of Australia's most popular supplement brand Max's. Maxine's Burn Thermogenic Protein is a leading Australian owned women's fat loss protein, which just so happens to be gluten free as well. In fact, with an excellent nutritional profile, 4 delicious flavours and being extremely easy to mix, it rivals many international ladies proteins on the market and is an obvious choice for one of the best gluten free protein powders around. Recently, they've also added the gluten free Maxine's Pure Protein to the range, which is a plant based, lactose and dairy free protein. Their Burn Bars are also gluten free.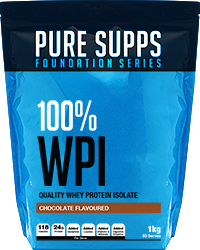 Pure Supps are a relatively new company, but have really thrived in the industry in the last couple of years. Its range is not fancy, but doesn't provide all the necessities you need to build muscle, lose fat and achieve gains. 100% WPI is a fast digesting and absorbing protein that comes with added vitamins and minerals to support optimal health. Pure Supps also produce a variety of other protein powders ideal for those who are gluten intolerant including Pure Supps 100% Whey, Casein and Shredded.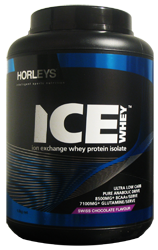 A classic favourite, Horley's Ice Whey has been around for as long as I can remember, but is still one of the best protein powders around. Extremely fast absorbing, Horley's Ice Whey quickly shuffles amino acids to the muscles to kick start muscle building processes and is ideal for both gluten intolerant and lactose intolerant trainers.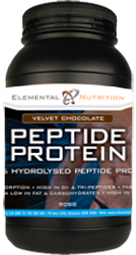 2. Elemental Nutrition Peptide ProteinElemental Nutrition's Peptide Protein is the ultimate in performance supplement offering a gluten free and ultra high quality hydrolysed protein which has an unmatched degree of hydrolysis of at least 20%. With a huge amount of di- and tri- peptides and a huge proportion of BCAAs, Peptide Protein is the ideal protein for those wanting super fast recovery and muscle growth. Elemental Nutrition's Peptide Protein is not for beginner trainers, but if you need to take your progress to the next level, then Peptide Protein is your answer. Elemental Nutrition also do a range of other proteins which are gluten free including 100% Whey, Xtreme WPI and Shredding Matrix.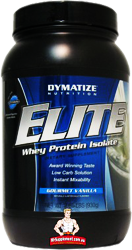 1. Dymatize Nutrition Elite Whey
Dymatize are one of the very few companies that have a huge line of gluten free products. In fact, the majority of their protein powders are said to be gluten free including Dymatize ISO-100, Elite Fusion 7, Elite Casein and Elite Mega Gainer to name a few. Dymatize Nutrition's Elite Whey is one of their most popular proteins and is ideal for every type of trainer, from the beginner to the more advanced and is available in a huge range of flavours. If you're after a range of high quality and delicious, gluten free protein powders, you can't go past Dymatize Nutrition Elite Whey and other proteins in the Dymatize range.
Australian and New Zealand Gluten Free Protein Brands
The following is a list of Australian and New Zealand companies that, at the time of writing, produce some protein powders that are gluten free:
International Gluten Free Protein Brands
The following is a list of international manufacturers that at the time of writing make products that have gluten free claims:
Although the above brands produce some gluten free products, be sure to carefully read the label and find statements regarding the gluten status. It should also be noted that while many of the American products state they are gluten free, interestingly some of these products are also produced in a facility that handles wheat and wheat products. As such, it is up to the user's discretion and responsibility in deciding which product is most suitable for them.
This article is written with the best information available at the time of writing and serves only as a guide. The author cannot personally guarantee these products are gluten-free. Product formulations and labelling claims may change without notice and it is up to the consumer to ensure that products are indeed gluten-free.
Gaesser & Siddhartha (2012), Gluten-Free Diet: Imprudent Dietary Advice for the General Population? Journal of the Academy of Nutrition and Dietetics, 112: 1330-1333