Quick Summary Points
Potent fat burner (Super stimulant & thermogenic matrix)
Lose fat; Gain energy
Contains multiple energy boosters including Caffeine, Eria Jarensis and Bitter Orange Extract
Dedicated metabolism boosters including Green & White Tea Extracts
Chinese Wolfberry & Goji Extract to support appetite suppression
With over 75 years of solid experience Giant Sports have been in the market providing resourceful sports and nutritional supplements. Many are on the search for a convenient option that can help them lose weight without feeling fatigued, this is why Giant Sports have created Oxidrene a stimulant thermogenic perfect to take on the go, keeping you focused to train and keep you on the right track. The concept behind each and every Giant Sports supplement is driven from dietary ingredient selection through to distribution. The following review will highlight the main product features of Giant Sports Oxidrene.
Giant Sports Oxidrene Highlights
High stimulant thermogenic
Helps to burn stubborn fat
Improves training performance
Added Chinese Wolfberry & Goji Extract to support appetite suppression
Capsules - convenient to take during the day
Giant Sports Oxidrene Ingredients & Dosage
Each capsule contains 250mg of Caffeine and other metabolic boosters to enhance energy, control blood sugar levels and suppress appetite.
Serving size: 1 Measured Dose

Servings per container: 30

Amount per serving

Caffeine

250mg

Eria Jarensis Extract

125mg

Grape Fruit (Citrua paradisi) (dried skin) extract

80mg

Green Tea (Camellia sinensis) (whole leaf) extract

30mg

White Peony Tea (Camellia sinensis) (shoots & leaves) extract

25mg

Chinese Wolfberry (Lycium barbarum) (whole fruit) extract

25mg

Bitter Orange (Citrus aurantium) (whole fruit) extract

25mg

Other ingredients: Gelatin, Rice Flour, Magnesium Stearate, Silica.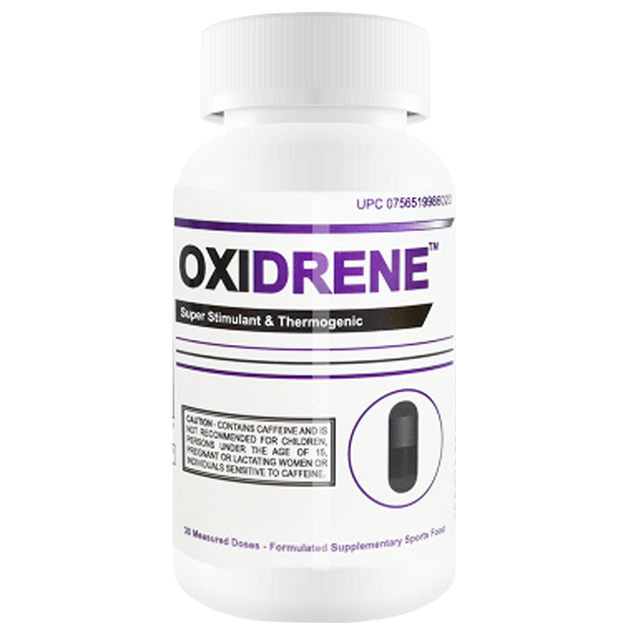 Giant Sports Oxidrene Benefits, Pros & Effectiveness
For those looking for a convenient way to lose weight and energised Oxidrene is a great supplement for you to add to your training progress. Oxidrene is made up of a unique combination of synergistic ingredients that helps you burn stubborn fat, enhance mood and suppress appetite. It also helps to increase metabolism and provide a longer-lasting energy effect for you to prolong your training regime.
Oxidrene has added powerful stimulants and energy boosters that all have fundamental properties to help you burn fat especially in stubborn fat-holding areas. Like most fat burning supplements, Caffeine is known for the ability to increase fat burning, enhance energy and boost exercise performance. Studies have been conducted on ingredient Gojilean (Goji Extract) that has been proven to suppress appetite and improve mood. By combining the ingredients Chinese Wolfberry, White Tea, Green Tea and Grapefruit Extract, the Oxidrene blend can work together to active multiple pathways to assist with fat burning and the reduction of new fat accumulation.
Giant Sports Oxidrene Negatives & Cons
Oxidrene consists of a range of ingredients, mainly plant extracts that have been researched and does not pose any negative effects.
Giant Sports Oxidrene Taste, Flavour & Mixability
Oxidrene is available in one size; 30 capsules which is equivalent to 30 servings. Each capsule contains 250mg of Caffeine along with other high stim components in the form of Eria Jarensis and Bitter Orange Extract.
Giant Sports Oxidrene Side Effects
Side effects is a question that is often asked when it comes to supplements and nutritional products. Although there's always the possibility that ingredients may have adverse effects when taken together the chances are very low.
Giant Sports Oxidrene Verdict
With a potent and vast range of synergistic ingredients, Giant Sports Oxidrene has a unique blend that can help you lose fat and get energised. If you're looking for a convenient, stimulant providing fat burning capsule look no further than Oxidrene.