It was only going to be a matter of time before Giant Sports decided to release a 100% whey protein powder. With the phenomenal success of their Delicious Protein and Delicious Casein, it simply made sense for Giant Sports to continue with providing more options in their protein range. The new Giant Whey maintains their current naming system and provides a whopping 7 flavours to choose with their initial release.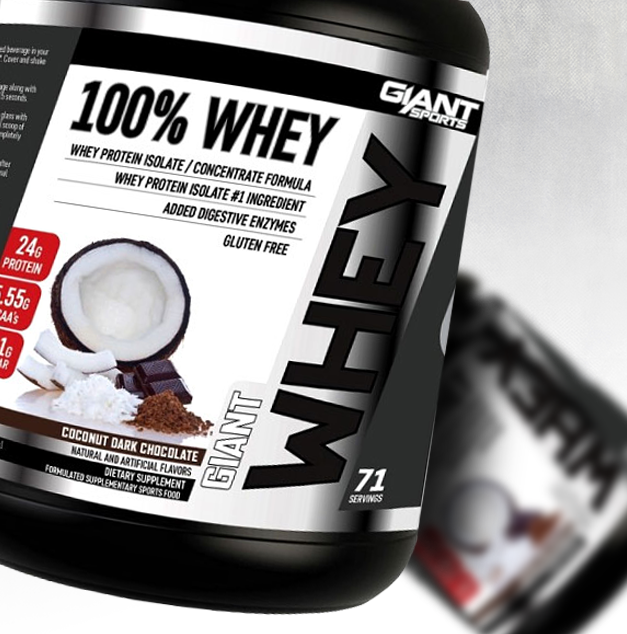 Giant Sports Giant Whey Review & Ingredients
As previously mentioned, Giant Whey will be a 100% whey product that provides:
Whey Protein Isolate
Whey Protein Concentrate
Aside from that, all the other ingredients include flavouring and mixing agents. It's an incredibly simple supplement with macros very similar to any other 100% whey supplement; providing 24g of protein, 3g of carbs and 1g of fat for a total of 120 calories per 32g scoop. It's an incredibly lean supplement, so if you're after a good high protein supplement without any extra unnecessary calories, Giant Whey is an ideal choice.
Giant Sports Giant Whey Flavours & Taste
As always, Giant Sports have come up with the goods when it comes to flavour choices providing 7 upon release including: Double Chocolate, Vanilla Ice Cream, Caramelized Banana, Coconut Dark Chocolate, Cinnamon Crème Brulee, Espresso White Chocolate and Coconut Mango Passionfruit. Some unusual flavours in the mix, but with Giant Sports history in creating some of the best tasting protein powders, we're not too worried.
Giant Sports Giant Whey Release Date
The new Giant Whey from Giant Sports should be released in Australia very soon with an expected drop date of sometime in 2016. We'll be sure to update you with a full review once the product is released.