Giant Sports Giant Riot Review
Giant Sports Giant Riot Facts
Giant Sports are no strangers to the pre workout category having introduced three into the market already including Metabolic BioShock, Giant Pump and Giant Rush. Continuing with that they do well, Giant Sports will be releasing yet another pre workout known as Giant Riot.
Giant Sports Giant Riot Review & Ingredients
Giant Sports have released the entire formulation for the new pre workout, but have remained tight lipped on the exact concentration of those ingredients. These ingredients include:
DMHA or 2-Aminoisoheptane
White Tea Extract
Caffeine
Beta-Alanine
Citrulline
Taurine
Agmatine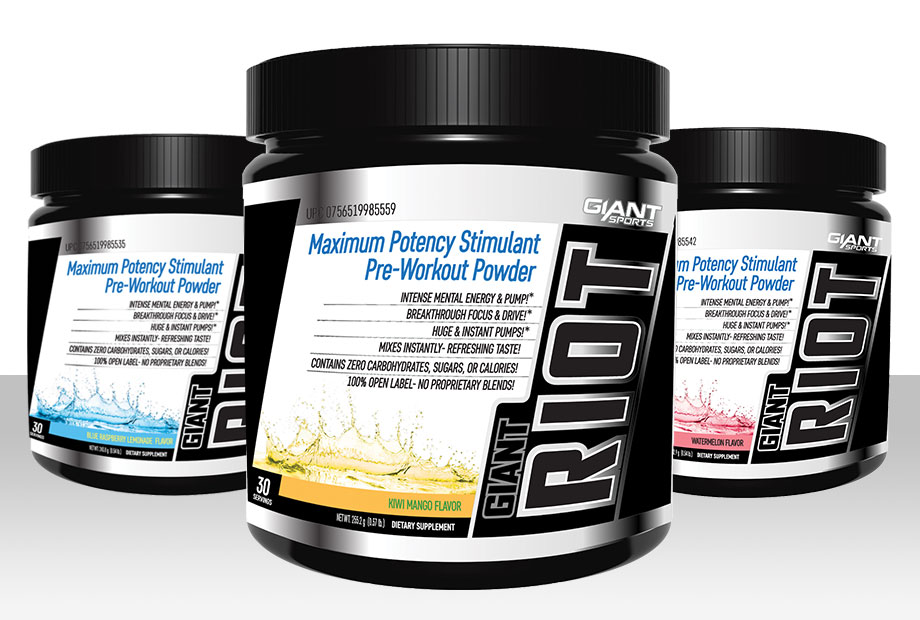 From the ingredients, we can see that the new pre workout is really a conglomeration of the two other pre workouts of Giant Pump and Giant Rush. As such, we're tipping that Giant Riot will eventually replace Metabolic BioShock. Formula wise, we're liking the look of the current listing of ingredients and it certainly looks to be a strong supplement. Once we know more though about the supplement, we'll be sure to update you.
Giant Sports Giant Riot Flavours, Taste & Mixability
No official flavour announcements have been announced, however it does appear that Giant Riot will be available in at least a Blue Raspberry flavour. Other flavours we expect to see include Fruit Punch and Green Apple, just to name a few. Giant Sports supplements have never had an issue with mixability so we have high hopes for a similar outcome with Giant Riot.
Giant Sports Giant Riot Release Date
While there are no official release dates for the new Giant Sports Giant Riot, we expect the supplements to be released sometime before the end of the year, most likely around November or December 2016.