Ghost Legend Review
Quick Ghost Legend Summary Points
Ghost Legend is a powerhouse pre-workout that is formulated to deliver solid energy, focus and help boost endurance and pump.
The supplement contains a fully disclosed label.
Ghost Legend's formula includes extensive research based consisting of beta alanine, citrulline, taurine and rhodiola sulfate.
Suitable for all level trainers.
Delicious flavour profiles.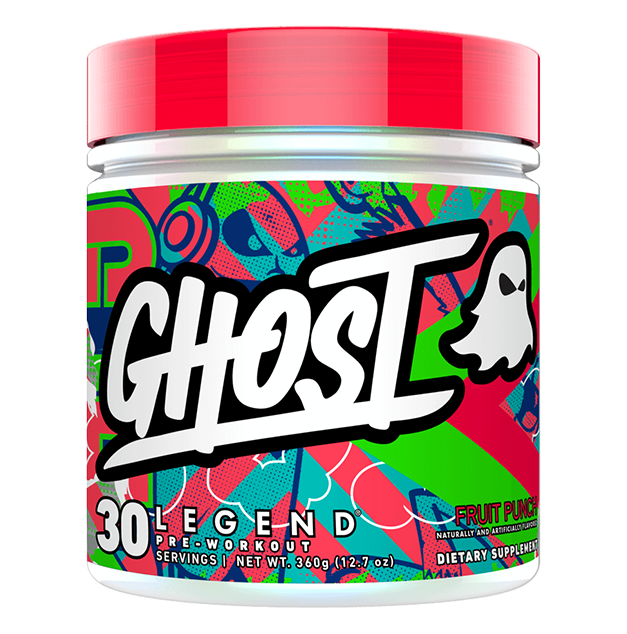 Ghost Lifestyle is known as a unique and iconic brand in the supplement industry that has made its mark thanks to its cool branding, labels as well as delivering positive results during training. Amongst their supplement range, Ghost Legend pre-workout is one of their most flagship products that contains a combination of effective ingredients which will be deliberated in this review.
Ghost Legend Highlights
Fully disclosed label
Delivers solid energy & focus
Helps boost endurance & pump
Reduce lactic acid during high intensity exercise
Ghost Legend Ingredients & Dosage
Ghost Legend has selected a good range of ingredients consisting of:
Ghost Legend®
L-Citrulline – 4000mg
CarnoSyn® Beta-Alanine – 2000mg
Agmatine Sulfate – 500mg
Norvaline – 100mg
Ghost Legend® Smart Energy
Taurine – 1000mg
Caffeine Anhydrous – 202mg
Alpha-GPC – 150mg
Rhodiola (Rhodiola rosea) Root Extract – 50mg
DiCaffeine Malate (delivering 37mg Caffeine) – 50mg
Theobromine – 50mg
Olive (Olea europea) Leaf extract (40% Oleuropein) – 50mg
NADH 10% - 2.5 mg
Ghost Legend Benefits, Pros & Effectiveness
Ghost Legend pre-workout is made up of two blends that provides a good boost to training performance which including pump, endurance and energy. The first blend incooperates 4 grams of citrulline which is considered a fairly large dose to help increase nitric oxide and circulation. On top of this, there is 2 grams of beta-alanine to not only reduce lactic acid build up but also improve endurance.
Next, we have the Smart Energy blend which contains a range of stimulants including caffeine and theobromine to provide you with solid energy to power through your workouts. The blend also contains added taurine which can help to prevent the jitteriness and lack of focus from the big hit of caffeine. Taurine is an interesting ingredient that contributes to recovery and muscle cramps; perfect for hard working trainers dedicated to their fitness goals.
Furthermore, the blend includes the addition of Alpha GPC. Despite the dosage being on the lower end, this is a great addition to the formula as it can give you increased power and energy which is what most users want in a pre-workout. Alpha GPC can also reduce resistance to fatigue which can get trainers returning to the gym faster.
Ghost Legend Negatives, Cons & Side Effects
Although Ghost Legend contains a good selection of ingredients, the dosages of Ghost Legend are not hitting the mark. This is something Ghost can consider if they decide to reformulate or produce any other supplements in the future. With respect to side effects, as mentioned previously the blend contains 2 grams of beta-alanine. This is above the recommended dose for beta-alanine. Because beta-alanine is known for producing a tingly sensation on your skin this may not be suitable for individual's sensitive to beta-alanine.
Ghost Legend Taste, Flavour & Mixability
Ghost Legend are available in three different flavours. These include Lemon Lime, Red Berry and Sour Watermelon. While each flavour is tasty, for lovers of sour warheads the Sour Watermelon flavour is a great choice. Ghost Legend is not only light, but it also mixes with ease without any additional clumps.
Ghost Legend Verdict
To sum it all up, Ghost Legend is a 100% transparent label that contains a range of stimulants to prolong your energy levels at the gym. Ghost Legend is suitable for trainers that are looking for a reasonably stimmed, pump-enhancing pre-workout and is best taken approximately 20 mins before training.