Getting Cut For Summer
Getting cut or getting 'aesthetic' is probably the hardest out of the two phases of bodybuilding. The majority of people find it fairly easy to gain weight and bulk up, however, getting your body fat percentage down to or at least close to single digit levels is a harrowing, daunting and often frustrating process. This 3 part series takes a look at the progression of events and the things you need to do in order to reduce body fat, get cut, get ripped and look 'aesthetic'. This article series will also offer plenty of tips on successful cutting based on data from 15 natural bodybuilders. Part 1 of this series will take a look at getting cut in relation to body fat percentages, weight and lean muscle mass.
Cutting, Aesthetics & Body Fat Percentage

Getting cut involves dropping your body fat percentage down. Pure and simple. Of course there are minor intricacies involved such as maintaining your muscle mass, which we will discuss later. Your body fat percentage is a measure of how much body fat you have in relation to your weight with initial levels generally differing between people of different races, ages, sex and general physical activity/fitness levels. Your body fat percentage is ideally a measure of both subcutaneous (visible fat) and visceral fat (fat surrounding your organs), however the most common and easiest way to measure body fat percentage; skinfolds testing, often only looks at subcutaneous fat. While there is a wide range of body fat percentages between groups of people, below is a table summarising some of the most common body fat percentages:
| | | |
| --- | --- | --- |
| Description | Women | Men |
| Essential Fat | 10-13% | 2-5% |
| Athletes | 14-20% | 6-13% |
| Fitness | 21-24% | 14-17% |
| Average | 25-31% | 18-24% |
| Obese | 32% + | 25% + |

From the table, it is easy to see that women tend to hold more body fat than men; which is due to the essential role that body fat plays for women's reproductive capacity, childbearing demands and other hormonal functions. It is also considered best practice for people at average body fat percentages to be focusing on achieving 'fitness' and moderate weight/fat loss (4-7kg) before getting cut or getting ripped. This is solely due to the fact that it is a better goal in terms of achievability and time scale than it is to get cut from such a large percentage of body fat which could take a long time and result in loss of motivation along the way.
To get an idea of how much fat people have and how much they need to lose, take a look at the table below:


Body Fat Percentages & Corresponding Fat Mass

Description



30%

25%

20%

15%

10%

7%

5%

Average Man (86kg)



25.8kg

21.5kg

17.2kg

12.9kg

8.6kg

6.0kg

4.3kg

Average Woman (71kg)



21.3kg

17.75kg

14.2kg

10.7kg

7.1kg

5.0kg

3.55kg
Although it might seem that getting cut or getting ripped is easier if you're already on a low percentage of body fat, it actually becomes a lot more taxing physically, mentally and physiologically for your body to get to lower and lower levels. The lower your body fat percentage gets to physiologically essential levels; the harder your body fights against such changes and unwanted side effects start to occur such as a loss of menses for women and mood swings, fatigue and lowered testosterone and libido levels for guys. Preparing yourself for these negative side effects will help you tackle them head on and avoid loss of motivation and progress.
Cutting Tip No.1 – As you progress through your cutting, changing your dietary intake around with higher calorie days and lower calorie days as well as timing and volume of meal intake throughout the day can help to fight the physiological blocks against further weight and fat loss.
Cutting, Aesthetics & Weight Changes

Leaning down or getting cut will inevitably result in weight loss. Most bodybuilders and advanced trainers know that the results, muscle mass and hypertrophy changes during the bulking period are crucial for the final look after cutting. This is because it is almost physically and physiologically impossible to gain any muscle mass on a calorie deficient diet and a training regimen that supports fat loss during the cutting phase. Some cutters find it tough dealing with weight losses after the effort and the time invested in gaining that weight in the first place. So the faster you're able to cope with that fact, the easier it will be to achieve true muscular definition. The graph below shows the progression of weight loss and boy fat percentage loss through 6 months to 3 days prior to competition. From the data, an average dedicated trainer on a cutting phase tends to lose 2.3kg of body mass per 1.7% of body fat lost.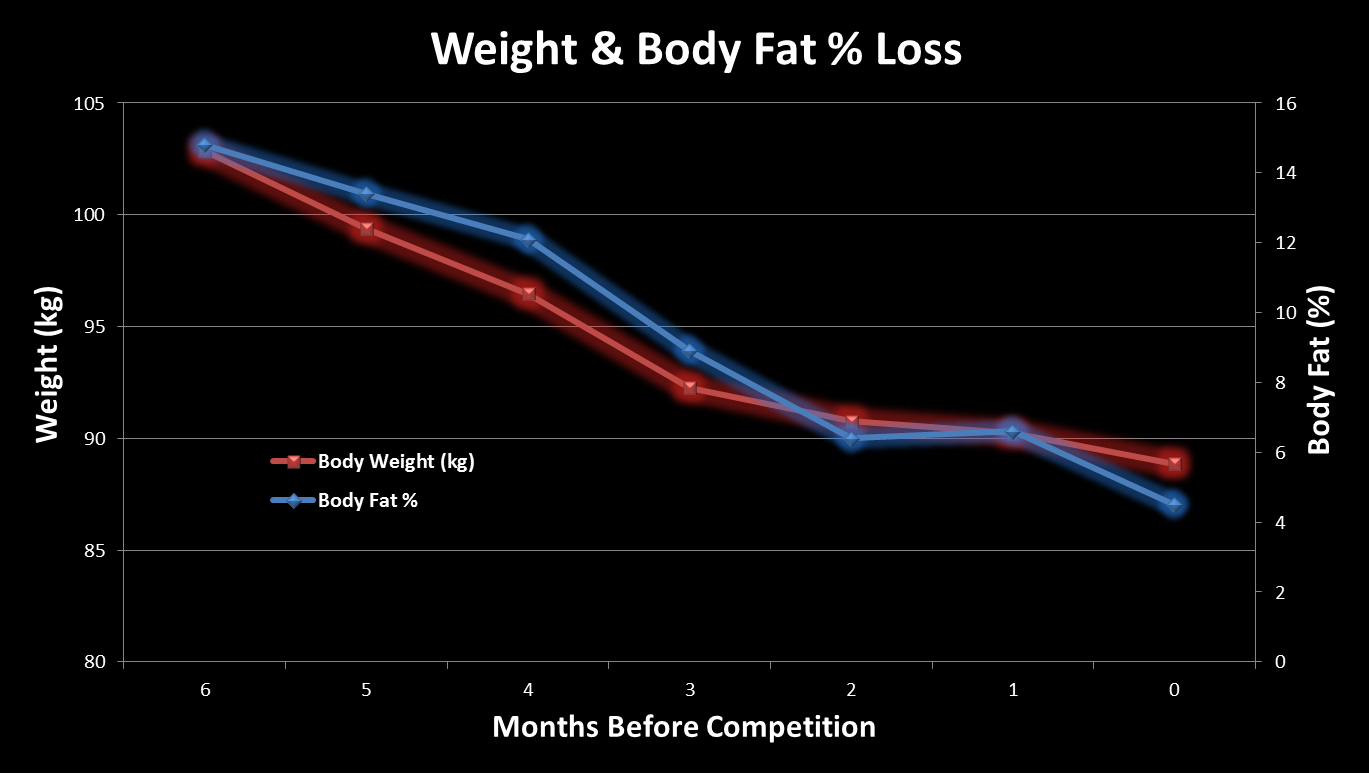 As you can see from the graph, the close linear nature of weight versus body fat loss suggests that weight loss predominantly comes from losses in fat rather than lean muscle mass, an ideal situation and one that will be discussed in the next section.
Cutting Tip No. 2 – Be mentally prepared to lose weight and adjust your activity and caloric intake weekly according to your progression of weight and body fat loss.
Cutting, Aesthetics & Lean Muscle Mass

As you begin to cut and lose weight, it is almost inevitable that you will lose at least some muscle mass. This is due to a variety of factors including:
Reduced caloric intake
Reduced carbohydrate intake
Increased physical activity, especially aerobic
Decreased overall volume of resistance training
Altered hormone levels in favour of catabolism
Lowering your carbohydrate and caloric intake and increasing physical activity and therefore your energy expenditure will mean that your body will demand more energy. If carbohydrates and muscle glycogen become scarce, your body will begin to draw on muscle protein stores and fat stores for energy. This is where your protein and carbohydrate intake is absolutely vital in sustaining muscle mass, maintaining anabolic processes and restoring muscle glycogen for increased energy expenditure and physical activity days.
The following graph looks at caloric intake versus energy expenditure and total energy deficit of 7 natural bodybuilders at 11 weeks, 5 weeks and 1 week from competition:
As you can see, the closer you get to competition time or the time of lowest body fat percentage, the higher your calorie deficit will be due to increasing physical activity and decreased food intake. Because most of the decrease in food intake for these subjects came from carbohydrates, the importance of protein is amplified dramatically.
Cutting Tip No. 3 – Increase your protein intake to anywhere between 2- 2.6g/kg even as high as 3.1g/kg of body weight to maintain anabolic processes and avoid losing your lean muscle mass during cutting.
More Tips for Getting Ripped

So far we've looked at the process of cutting and looking more aesthetic in terms of body composition and weight changes. We've also discussed the absolute importance of protein and the ability to adjust your diet and exercise routines on a weekly and even bi-weekly basis to keep yourself on track. In Part 2 of our Cutting for Summer Series, we'll look at further diet and performance changes that occur during the shredding phase and discuss more tips on how to successfully get ripped.