Quick Summary Points
GAT Psychon is a pre-training pump formulation designed for any competitive athlete, trainer or bodybuilder looking to maintain a high level of pump throughout their workout.
GAT Psychon contains scientifically proven ingredients including beta-alanine to enhance performance and improve endurance.
Contains a good hit of pump support ingredients to help enhance blood flow to the muscles.
For maximum results, take GAT Psychon 20-30mins prior to training.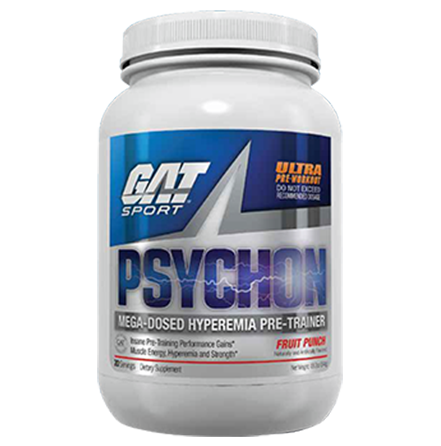 GAT Sport (German American Technologies) continue to deliver quality products for the supplement industry to help athletes achieve their fitness goals. By the name of Psychon, this product will be joining their pre-training line. Read on for more details on this product.

GAT Psychon Highlights
Pre-training pump support
Improve performance & endurance
Heavy dose of Citrulline – 8.2g
Branch chain amino acids (BCAAs) – 5g
GAT Psychon Ingredients & Dosage
GAT Psychon is made up of the following ingredients:
Serving Size: 27.5g (Approx. 1 Scoop)
L-Citrulline Malate – 4000mg
L-Citrulline – 4000mg
Carnosyn® Beta Alanine – 3200mg
BCAA Matrix 2:1:1 – 6000mg
Creapure® Creatine Monohydrate – 3000mg
Caffeine Anhydrous – 350mg
Black Pepper Extract – 5mg
Choline Bitartrate – 500mg
L-Ornithine HCL – 500mg
GAT Psychon Benefits, Pros & Effectiveness
Psychon's formulation mainly focuses on pump ingredients L-citrulline, but they've also added other excellent additions such as beta-alanine, creatine monohydrate, and choline. In terms of effects, you're going to find yourself experiencing pump-boosting effects and a slight energy boost with the addition of caffeine anhydrous.
The main highlight of this product has to do with the heavy dose of citrulline that contribute to the 'pump'. There has been extensive research that has proven the effectiveness of l-citrulline when it comes to exercise and performance. It has been said that citrulline can encourage vasodilation, enhance sports performance and citrulline doses are best taken one hour before working out. For those who do weight training, citrulline has been shown that a dose of 8g may reduce fatigue and improve performance in the gym. It can also increase blood flow and provide more oxygen to the muscles which allows the muscles to look fuller.
GAT Psychon Taste, Flavour & Mixability
GAT Psychon consists of three flavours including Pina Colada, Fruit Punch and Watermelon. Aside from the traditional flavours of Fruit Punch and Watermelon, GAT have chosen to include a Pina Colada flavour that is delicious and refreshing to use before training. Psychon is easy to mix with enough water without leaving excess residue at the bottom of the shaker.
GAT Psychon Verdict
All considered, GAT have certainly done their research when formulating this supplement. GAT Psychon is a scientifically advanced pump formulation designed for any competitive athlete, trainer or bodybuilder looking to maintain a high level of pump throughout their workout or looking for an intense workout experience.
References
McKinley-Barnard, S., Andre, T., Morita, M., & Willoughby, D. S. (2015). Combined L-citrulline and glutathione supplementation increases the concentration of markers indicative of nitric oxide synthesis. Journal of the International Society of Sports Nutrition, 12(1), 1-8.
Effects of L-citrulline oral supplementation on polymorphonuclear neutrophils oxidative burst and nitric oxide production after exercise. Free Radical Research 2009;43(9):828-35. doi: doi:10.1080/10715760903071664.
Moreno, H., et al. Chronic dietary choline supplementation modulates attentional change in adult rats. Behavioural Brain Research 243:278-285, 2013.