GAT Jet Fuse Review
GAT Jet Fuse Review
Over the years, GAT Sport (German American Technologies) has delivered quality products for the supplement industry to help athletes achieve their fitness goals. One of their newer products to join their pre-training line is GAT Jet Fuse Nox. Jet Fuse Nox is a muscle pump pre-workout designed for trainers that aims to deliver recovery, strength, energy and drive.
GAT Jet Fuse Highlights
Supports muscle size, stamina, and longer lasting pumps.
Contains branched chained amino acids (BCAAs) and glutamine for the repair and growth of muscles and faster recovery.
Contains 52 serves per tub.
Contains a multi-creatine blend that can help replenish the muscles energy stores.
GAT Jet Fuse Ingredients and Dosage
Jet Fuse Proprietary Blend- 20,500mg
Jet Fuse Nox's proprietary ingredients are divided between four proprietary blends which are listed below.
1. GAT Jet Fuse Size and Optimised Pump: L-Arginine AKG, Di-Arginine Malate, Creatine Anhydrous, Creatine Monohydrate, Waxy Maize- Ultra-High Molecular Weight Long Chain Starch, L-Taurine, L-Citrulline Malate.
2. GAT Jet Fuse Focus and Intensity: Beta Alanine, L-Tyrosine, Green Tea, Glucuronolactone.
3. GAT Jet Fuse Muse Muscle Repair, Growth, Stamina, Speed and Endurance: L-Leucine, L-Valine, L-Isoleucine, Acai Extract, Mangosteen Extract, Vitamin C, L-Glutamine, Modified Glucose Polymers, Trimethylxanthine, Betaine.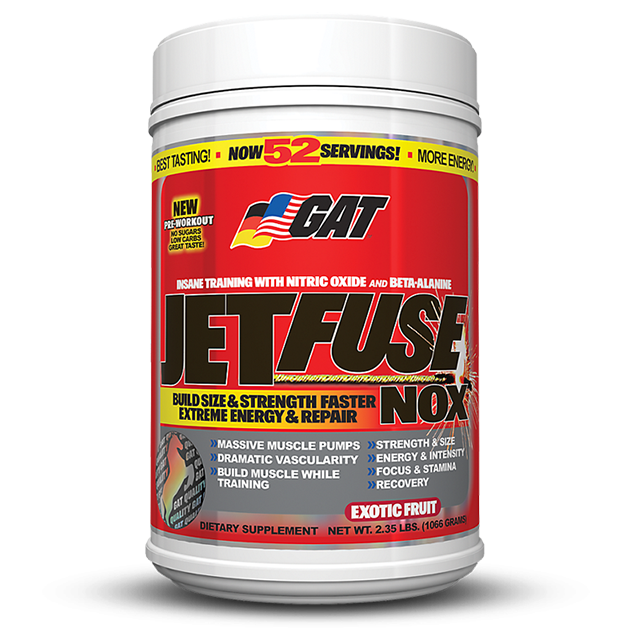 4. GAT Jet Fuse Electrolytes: Di-Calcium Phosphate, Di-Potassium Phosphate, Di-Sodium Phosphate.
GAT Jet Fuse Benefits, Pros and Effectiveness
GAT's JetFuse is a comprehensively formulated pre-workout that offers many benefits to trainers. Many of the ingredients in the proprietary blend help to increase nitric oxide levels. The importance of high nitric oxide (NO) levels is that it helps support oxygen transport and nutrient delivery to the muscle. The more nitric oxide, the bigger the pump and the bigger the muscles become. As the pump brings in more blood/oxygen faster, stamina is improved. Part of this blend they have added creatine that contributes to lean mass and muscle gains.
Jet Fuse's powerful pump matrix has included a creatine blend that improves the performance of power athletes as well as the addition of pump accelerators arginine and citrulline that help to support cell volumization.
Although GAT knows the importance of a good pump, this is of little benefit if you can't sustain that level of intensity and focus over the entire duration of your workout. This is why JetFuse includes a matrix of both cognitive enhancing ingredients and endurance boosters as well. GAT Jet Fuse's Focus & Intensity Complex also brings together beta-alanine and tyrosine, which work together to sustain higher intensity workouts for longer periods thanks to their ability to buffer fatigue and help you maintain mental focus.
The next complex involves BCAAs, glutamine and betaine that play an important role in stimulating protein synthesis and delaying fatigue. The blend also incorporates added antioxidants acai extract and mangosteen that is high in nutrients and boosts immune system. The final part of the complex is the electrolytes complex to replenish all the lost sweat during hard exercise.
GAT Jet Fuse Negatives and Cons
GAT's JetFuse Nox is a comprehensive pre-workout blend for strength, pump, muscle, power, recovery, endurance to help you power through your workouts. However, the label contains a proprietary blend which doesn't indicate the exact amount each ingredient so we are unsure of how effective the ingredients are on their own. With respect to dosage, depending on your individual needs and tolerance levels of the ingredients you'll still be getting decent amounts of the most effective ingredients to get you going.
GAT Jet Fuse Taste, Flavour and Mixability
JetFuse comes in two flavours; Exotic Fruit and Blue Raspberry. Although both flavours are delicious, Exotic Fruit is the most popular flavour and gives off a Hawaiian punch fruity note. As taste can be very subjective to the individual, you can choose to vary the amount of water to achieve the desired taste, flavour and sweetness level. JetFuse mixes easily and quickly and more importantly leaves no signs of graininess or chalkiness.
GAT Jet Fuse Verdict
GAT Jet Fuse pre-workout is a highly effective, well-researched and a versatile supplement. It is a solid pump pre-workout, which also helps to extend endurance and support improved focus for more intense workout sessions. It is the perfect partner for those trainers looking to step up their strength training efforts.