Gaspari Real Mass Advanced Review
Gaspari Nutrition has, for many years, maintained an enviable position as one of the market's leading supplement brands. With such a comprehensive and high quality product range this is no surprise, but something that puts Gaspari head and shoulders above many others is the fact that the company regularly refines and updates its products, keeping up with new technology and consumer preferences.
Having had some issues late 2014, Gaspari Nutrition are back and stronger than ever in 2015 with a range of new releases. One of these will be the reformulated and revamped mass gainer protein Gaspari Real Mass Advanced.
Gaspari Real Mass Advanced Highlights
1000 calories per serve with 47g of protein, 188g of carbs and 7g of fat
Premium carbohydrate blend of maltodextrin and highly branched cyclic dextrin
Fast, medium and slow absorbing proteins for sustained release of amino acids
Ideal protein powder for hard gainers
Gaspari Real Mass Advanced Review & Ingredients
The new Real Mass Advanced doesn't really differ all that much from its predecessor, the Real Mass Probiotic. Let's take a look at the key ingredients in the supplement:
Carbohydrate Complex – Maltodextrin, Highly Branched Cyclic Dextrin
Protein Matrix – Whey Protein Concentrate, Whey Protein Hydrolysate, Whey Protein Isolate, Micellar Casein, Milk Protein Isolate.
Added Aminos – BCAAs, L-Glycine
Creatine
Other than that, all the other ingredients are for flavouring, shelf life and overall taste sensation of the product. Each 250g serve of the Real Mass Advanced mass gainer protein will provide: 1000 calories, 47g of protein, 188g of carbohydrates and 7g of fat.
Gaspari Real Mass Advanced Pros & Effectiveness
The new Real Mass Advanced from Gaspari returns to a much simpler approach to mass gainers by focusing on the carbohydrates and protein rather than the addition of novel inclusions such as probiotics. The protein blend is a great mix of fast and slow digesting proteins and there is certainly plenty of it even if you only have a half a serve. Perhaps the best inclusion in the new mass gainer is the highly branched cyclic dextrin, a carbohydrate which is extremely soluble and provides a steady release in blood sugar levels. This is beneficial as it means less prominent peaks and troughs of blood sugar and insulin levels which can leave you feeling hungry, irritable and your energy levels can be all over the place. However, as it still contains maltodextrin, the Real Mass Advanced is still a suitable protein to use post workout. The addition of creatine is also an ideal addition to help assist with mass gain and exercise performance.
Gaspari Real Mass Advanced Negatives & Cons
There aren't too many negatives with the Real Mass Advanced. It's strange that they've decided to add in glycine into their formula considering it really isn't necessary and with all the protein spiking issues of the last couple of years, adding any amino acids without specifying amounts is not the best idea. Other than that however, Gaspari Real Mass Advanced is a solid mass gainer for the hard gainer.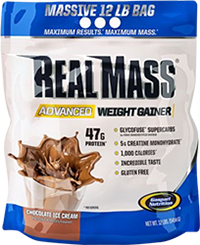 Gaspari Real Mass Advanced Flavours, Taste & Mixability
Gaspari Real Mass Advanced will be available in three official flavours including Chocolate, Vanilla and Strawberry. Perhaps the biggest negative of the predecessor Real Mass Probiotic was the taste, which had markedly changed since the first Real Mass. Real Mass Advanced marks a return to an extremely delicious and thick mass gainer, ideal for any time of day. The powder mixes well and the taste is as delicious as the original.
Gaspari Real Mass Advanced Verdict
The new and improved Real Mass Advanced from Gaspari Nutrition is an excellent new release item and sets a good scene for their return into the industry. It is a quality and tasty high calorie mass gainer ideal for those who find it hard to gain weight or those who simply want a more robust post workout shake. While there are some questions to some of the added amino acids, overall, Real Mass Advanced is a step in the right direction for the company.