Gaspari Precision Protein Review
Gaspari Nutrition appear to be fully out of the bankruptcy woods when it comes to their brand, with a phenomenal year of new release after new release. Their latest product will be a high end protein known as Gaspari Precision Protein.

Gaspari Precision Protein Review & Ingredients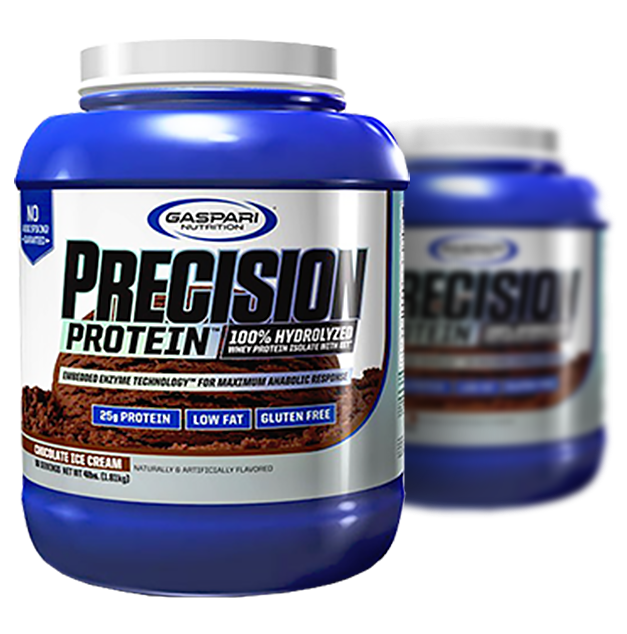 The new Precision Protein from Gaspari doesn't appear to offer an obvious difference from other protein powders at first glance. It's macros are fairly stock standard providing 25g of protein, 2g of carbs, 2g of fat and 130 calories per 32g of protein. While we're not exactly sure what types of proteins they're using, judging from the macros, Precision Protein appears to be a whey protein blend of:
Whey Protein Isolate (WPI)
Whey Protein Concentrate (WPC)
Hydrolyzed Whey Protein
What does separate Precision Protein apart though is their use of "Embedded Enzyme Technology" (EET). Without getting too technical, the included EET helps to release more leucine peptides from the protein as soon you add any liquid to the powder. Leucine is often considered the most powerful amino acid when it comes to muscle building and leucine peptides are absorbed even faster than its free form.
Gaspari Precision Protein Flavours, Taste & Mixability
Precision Protein will be released in three different flavours including the traditional Chocolate and Vanilla as well as a unique Neopolitan Ice Cream flavour, which we're going to go ahead and assume it'll be similar to your classic Strawberry. In terms of taste, Gaspari protein powders have always been creamy and delicious, so we expect nothing less from this latest release.
Gaspari Precision Protein Release Date
Confirmed dates for the release of Precision Protein from Gaspari Nutrition have not been announced, although we don't except to be waiting too long. The protein powder should be made available sometime in October or November 2016.