Gaspari Hyper Amino Review
Gaspari Nutrition has had an active 2016 so far, releasing supplement after supplement. To join that growing list is a new amino acid and intra workout supplement known as Gaspari Hyper Amino.

Gaspari Hyper Amino Review & Ingredients
A careful examination of the ingredients and the nutrition label of Hyper Amino reveals that the supplement is actually extremely similar to Optimum Nutrition's Amino Energy. Each serve contains:
Hyper Amino Amino Blend (5g) – This includes branched chain amino acids (BCAAs) in a 2:1:1 ratio, essential amino acids as well as a range of other amino acids such as citrulline, glutamine, arginine and taurine.
Hyper Amino Hyper Energy Matrix (200mg) – A relatively small dose of Ilex Guayusa extract, green tea extract and guarana extract.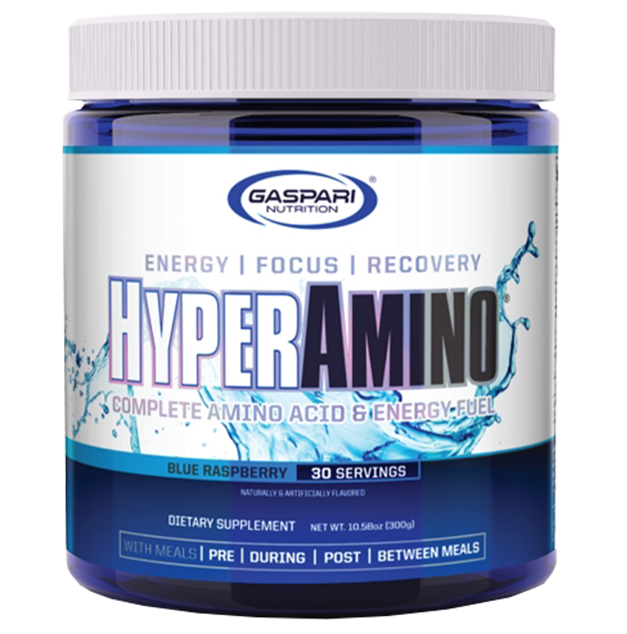 Each serve is actually 10g in size, which is perplexing since the actives only take up 5.2g. Hopefully Hyper Amino is not replacing Gaspari's other BCAA supplement AminoLast, as it is one of their best formulations in their range. Unfortunately for the Hyper Amino's, we feel as though it's quite underdosed, and a double serving is required for significant effect.
Gaspari Hyper Amino Flavours, Taste & Mixability
Hyper Amino will be made available in three flavours including Strawberry Kiwi, Blue Raspberry and Pink Lemonade. Gaspari amino acid products have always been quite tasty, if not a bit on the sweet side, but they've always used top quality ingredients and have always mixed well. We're expecting very much the same qualities when Hyper Amino drops.
Gaspari Hyper Amino Release Date
Gaspari's new Hyper Amino BCAA is available for sale in Australia January 20th 2017.