Free Weights vs Machine Weights
The use of machine weights versus free weights is a longstanding debate among bodybuilding experts. Free weights is the term given to dumbells and barbells, the term 'free' is used as there is no attached pulleys, cables, cables, weight stacks, or handles. The free weight is the most basic form of bodybuilding equipment. Most machines have weight stacks made up of rectangular plates stacked up on top of each other. To select a weight you simply select the desired poundage by placing a pin in a hole. Most machines have weight stacks attached to handles by way of cables (or Kevlar belts) and pulleys.1
Machines For Bodybuilding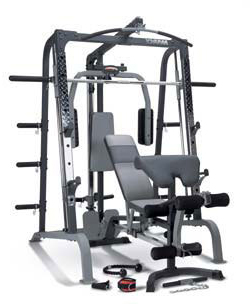 Machines are easy to set up, all you really need to do is put a pin in a hole. They are also easier to use if you have an injury. Dumbells and barbells need to be balanced as well as lifted, whilst machines usually require you to simply lift the weight. This is the foundation of the argument. By not having to balance the weight, you are losing some of the exercise's benefits. Small muscles you use to stabilise and balance a free weight are never fully utilised with machines. Many machines consist of one arm or lever that is lifted with two hands or legs. The problem with this is that the strong side of your body will do most of the lifting. This way, the weaker side will never catch up if you only use machines of this nature.
Machine Only Exercises & Bodybuilding
Some exercises can only be performed using machines, such as the lat pulldown. Until you can lift your bodyweight on the chin up, you'll need to do pulldowns for lat width. Excepting stiff leg deadlifts, there are not many great free weight hamstring exercises, where as leg curls are effective for training hamstrings. Calf training with free weights exhibits similar limitations. Fully isolating the inner chest can be difficult without a pec-deck machine or cables. Occasional machine or circuit of machines that you are not used to in place of your normal free-weight exercise for that body part, can stimulate muscle growth.
Disadvantages of Machines in Bodybuilding Workouts
Machines keep the resistance working along one plane only, meaning that the muscle has to do things the machine's way. The idea of bodybuilding is to use as much muscle as possible. The muscle does not know what kind of resistance is being used, but will react differently if subjected to resistance that comes from varying angles and different directions as opposed to resistance that is always along a predictable line. Machines that lock you into too rigid a position can place unnatural stress on the body. Muscle was designed to work against the pull of gravity. Pushing a weight along a track is not the same thing. Whilst you're encountering a lot of resistance, your muscles are not responding as fully as they are capable.2
Free Weights For Bodybuilding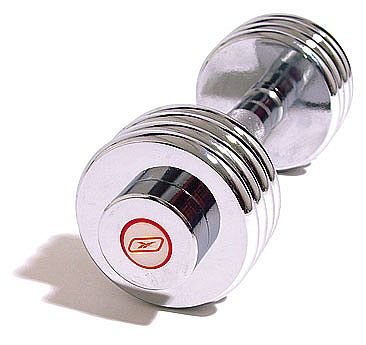 Muscles were designed by evolution to overcome the pull of gravity rather than work against machine resistance, so the biggest gains you make in building size and strength will come from training with a barbell and dumbells, rather than exercising by machines. For a beginning bodybuilder, the majority of training should be done with free weights. A report in the Journal of Strength and Conditioning Research indicates that testosterone production is increased when you do large-muscle-group, free weight exercises in which you use and co-ordinate a number of major muscle groups at the same time, like the squat, deadlift, and exercises like the power clean. Testosterone production is not similarly increased by isolation free weight exercises, or training with machines. Testosterone is anabolic and with more testosterone in your system, you will get stronger, and can build larger muscles more easily.3 Free weights can give the experienced bodybuilder the freedom to isolate certain muscles and to work the body in any number of creative ways. They also enable people of different heights, weights, and proportions to get a complete workout, whilst many machines seem only to satisfy a limited sector of the population.
Free Weights or Machines For Bodybuilders?

Unless you feel that you prefer to use only free weights, or conversely, injuries prevent you from using free weights, incorporate a combination of machine and free weight exercises into your training. If you are training somewhere that does not have free weights you need for your workout, and there's nothing you can do about it, use whatever you have in order to accomplish your training. The bottom line is to train rather than avoid it. Ideally, a good bodybuilding program should include no more than 30 to 40% with machines. In order to get the most out of your training, ensure that your diet and supplementation are well planned so that you can get the most out of your training, whether it be with free weights, and/or machines. Free weights offer the benefit of adding size and utilising multiple muscle groups, whilst machines can be ideal for isolating of specific muscles.
1 Encyclopedia of Bodybuilding by Bob Kennedy, p. 108
2 Encyclopedia of Modern Bodybuilding by Arnold Schwarzenegger, p. 99
3 Essentials of Sports Nutrition and Supplements, Jose Antonio, PhD, Douglas Kalman, Phd, RD, Jeffrey R. Stout, PhD, Mike Greenwood, PhD, Darryn S. Willoughby, PhD, G. Gregory Haff PhD