https://www.mrsupplement.com.au/force-element-night-ops?variation=13250
Force Element Night Ops (200g / 40 Serves Apple Cinnamon)
Force Element Performance
Supplements > Health > Sleep
https://cdn.mrsupplement.com.au/resources/imgs/products/force-element-performance-night-ops.1566969363941.png
http://schema.org/NewCondition
http://schema.org/InStock
AUD
https://www.mrsupplement.com.au/force-element-night-ops?variation=13250
74.95
AUD
https://www.mrsupplement.com.au/force-element-night-ops?variation=13251
Force Element Night Ops (200g / 40 Serves Cherry)
Force Element Performance
Supplements > Health > Sleep
https://cdn.mrsupplement.com.au/resources/imgs/products/force-element-performance-night-ops.1566969363941.png
http://schema.org/NewCondition
http://schema.org/InStock
AUD
https://www.mrsupplement.com.au/force-element-night-ops?variation=13251
74.95
AUD

Night Ops
Night Time Recovery & Sleep Support Formula
250mg of Magnesium Citrate per Serve
600mg of Ashwagandah per Serve
1000mg of PeakO2 Ayurvedic Mushrooms per Serve
Choice of Easy to Drink Flavours
In Stock

(1)
Write a review
Product
Q&A's
Reviews
Add To Cart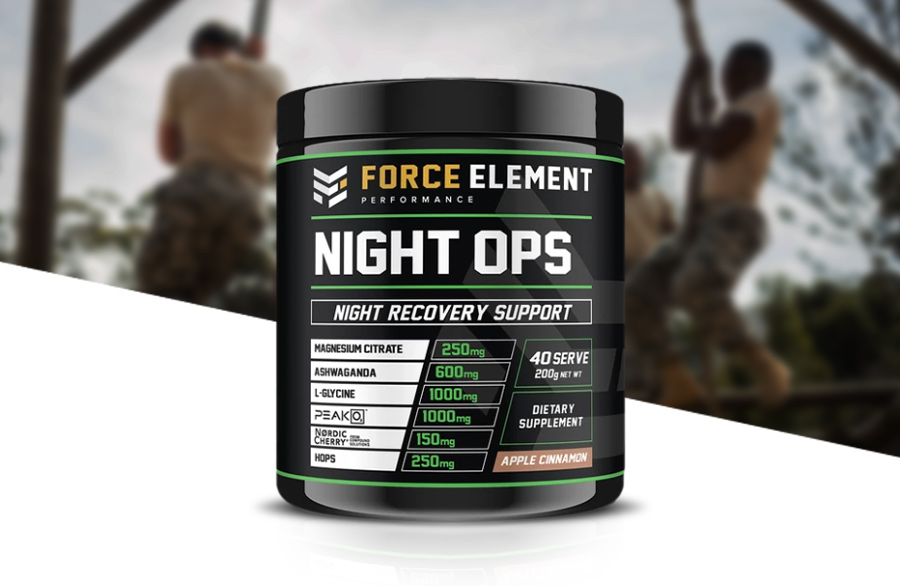 Force Element Performance Night Ops is sleep and recovery formula, designed to be taken in the evening prior to sleep. Night Ops includes the following key ingredients;
250mg of Magnesium Citrate (the most bio-available form of Magnesium).
600mg of Ashwagandha (standardised to 10% withanolides) an ancient herb from India that has been traditionally used in Ayurvedic medicine to help support stress and mild anxiety.
1,000mg of PeakO2 a combination of six, organic-certified, Ayurvedic mushroom strains
150mg of NordicCherry Tart Cherry Extract, ingredient containing the highest known levels of bioactives of any tart cherry available.
Q&A's
Ask a question about
Force Element Night Ops
Reviews

Average

Based on reviews collected by
&
Write a review

Force Element Night Ops
Force Element Night Ops
Force Element Night Ops
200g / 40 Serves Apple Cinnamon
Tastes ok. Apple cinnamon. Gets me to sleep quick.
Collected via Trustpilot
Next Page
Contact Us