FinaFlex Stimul8 Review
FinaFlex Stimul8 is a high intensity pre-workout designed for trainers looking to increase mental focus, muscle performance, endurance and blood flow. Powered by a unique patented IRISINXD® stimulant and other ingredients, Stimul8 is said to be a potent supplement that can deliver extreme results. Let's take a look how well FinaFlex Stimul8 truly performs.

FinaFlex Stimul8 Highlights
Contains beta-alanine that helps with endurance, recovery and strength
Contains fat burning ingredients and appetite suppressants
Contains patented IRISINXD® of stimulants to increase mental focus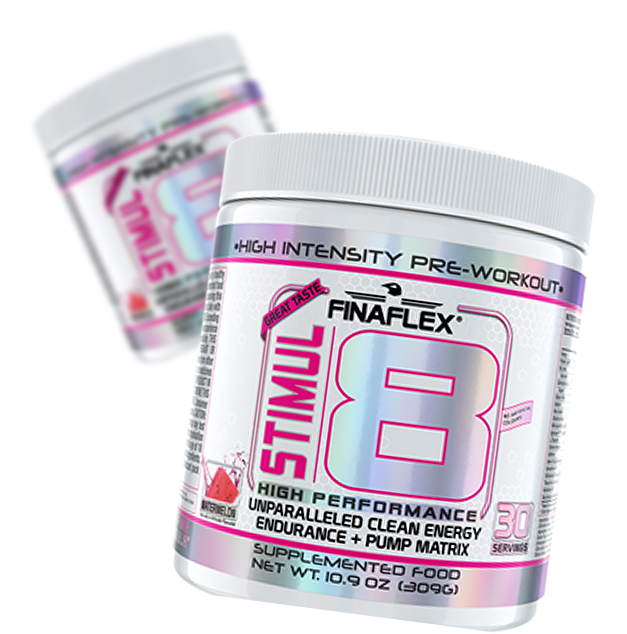 FinaFlex Stimul8 Ingredients and Dosage
Ingredients in Stimul8 are as follows (per serving):
Beta-alanine- 3200mg
Citrulline Malate- 2500mg
Nitrosigine (Arginine Silicate)- 500mg
Agmapure (Agmatine Sulfate)- 250mg
L-Theanine-150mg
Choline Bitartrate- 120mg
Caffeine- 300mg
Green Tea (Camellia sinensis)- 100mg
Synephrine HCl- 30mg
Schisandra Chinensis (Berry)- 30mg
Theacrine (as TeaCrine)- 30mg
Hordenine HCl- 100mg
Securinega suffruticosa extract (IRISINXD®)- 100mg
FinaFlex Stimul8 Benefits, Pros, and Effectiveness
Stimul8 is highly recognised thanks to its patented IRISINXD® blend as well as the unique
ingredients in Xtreme Shredding Matrix. Thanks to the ingredients in the formulation, Stimul8 users may experience benefits such as an increase in energy levels, strength, pump, an enhancement in mood as well as a reduction in fat mass. Stimul8 contains a fair amount of beta-alanine that helps to enhance muscle endurance by effectively buffering lactic acid build up. For athletes or body builders, increased carnosine levels means more endurance, and greater power during times where performance would suffer due to muscle fatigue.
Like most pre-workouts Stimul8 has added the almost obligatory pump ingredients citrulline malate, arginine silicate, and agmatine sulfate. These ingredients together help to enhance blood flow and promote efficient nutrient delivery to the muscles, which supports physical performance and improves muscle building capacity. Another added highlight of Stimul8 is its fat burning ingredients in the formulation. Choline Bitartrate for example not only helps to decrease body fat percentage, but also reduces fatigue as well.
The final highlight of Stimul8 is the patented blend IRISINXD® (Securinega Suffruticosa Extract) that has been advertised as an exotic stimulant. Securinega suffruticosa is a plant based stimulant that is capable of burning fat. In recent studies, IRISINXD® have shown that it not only burns fat while preserving muscle but increases muscle mass and mental focus as well1.
FinaFlex Stimul8 Negatives and Cons
As Stimul8 is on the higher stimulant end, it is best to assess your tolerance to caffeine before taking it. This could be easily done by starting with half a scoop as opposed to a full scoop. It is also best not to consume other products with stimulants to avoid excessive intake of other stimulants while using Stimul8.
FinaFlex Stimul8 Taste, Flavour and Mixability
Stimul8 comes in two flavours, these include: Green Apple and Tropical. The flavours taste nice especially the Green Apple flavour, however, if you find it on the sweeter end you can choose to add more water. Stimul8 dissolves in water completely leaving no residue in the shaker.
FinaFlex Stimul8 Verdict
Overall, FinaFlex Stimul8 is a fairly decent pre-workout with unique ingredients to assist with fat loss and contains an incredible line up of pump ingredients to enhance blood flow to the muscles. What really sets Stimul8 apart is its use of a range of tried and true as well as more exotic stimulants that offer a serious kick to help you train for longer. For those after a heavy-hitting pre-workout, be sure to check out Stimul8.
1. KERSTHOLT, N., EWERT, R., NAUCK, M., SPIELHAGEN, T., BOLLMANN, T., STUBBE, B., FELIX, S. B., WALLASCHOFSKI, H., GLÄSER, S. AND FRIEDRICH, N. Association of circulating irisin and cardiopulmonary exercise capacity in healthy volunteers: results of the Study of Health in Pomerania.