https://www.mrsupplement.com.au/finaflex-incinr8?variation=15433
Finaflex Incinr8 (157g / 30 Serves Krankin' Kiwi)
Finaflex
Supplements > Fat Loss > Fat Burners
https://cdn.mrsupplement.com.au/resources/imgs/products/finaflex-incinr8.1649305856727.png
http://schema.org/NewCondition
http://schema.org/InStock
AUD
https://www.mrsupplement.com.au/finaflex-incinr8?variation=15433
59.95
AUD
https://www.mrsupplement.com.au/finaflex-incinr8?variation=15422
Finaflex Incinr8 (157g / 30 Serves Lit Lemon-Lime)
Finaflex
Supplements > Fat Loss > Fat Burners
https://cdn.mrsupplement.com.au/resources/imgs/products/finaflex-incinr8.1649305856727.png
http://schema.org/NewCondition
http://schema.org/InStock
AUD
https://www.mrsupplement.com.au/finaflex-incinr8?variation=15422
59.95
AUD
https://www.mrsupplement.com.au/finaflex-incinr8?variation=15423
Finaflex Incinr8 (157g / 30 Serves Meltin' Mango)
Finaflex
Supplements > Fat Loss > Fat Burners
https://cdn.mrsupplement.com.au/resources/imgs/products/finaflex-incinr8.1649305856727.png
http://schema.org/NewCondition
http://schema.org/InStock
AUD
https://www.mrsupplement.com.au/finaflex-incinr8?variation=15423
59.95
AUD
https://www.mrsupplement.com.au/finaflex-incinr8?variation=15424
Finaflex Incinr8 (157g / 30 Serves Pyro Pineapple)
Finaflex
Supplements > Fat Loss > Fat Burners
https://cdn.mrsupplement.com.au/resources/imgs/products/finaflex-incinr8.1649305856727.png
http://schema.org/NewCondition
http://schema.org/InStock
AUD
https://www.mrsupplement.com.au/finaflex-incinr8?variation=15424
59.95
AUD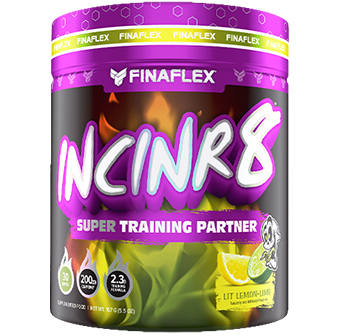 Incinr8
Super Training Partner
200mg of Caffeine + Other Stims
Nootropics for Focus & Concentration
Fire Up Metabolism
Improve Performance
In Stock

(0)
Write a review
Product
Q&A's
Reviews
Add To Cart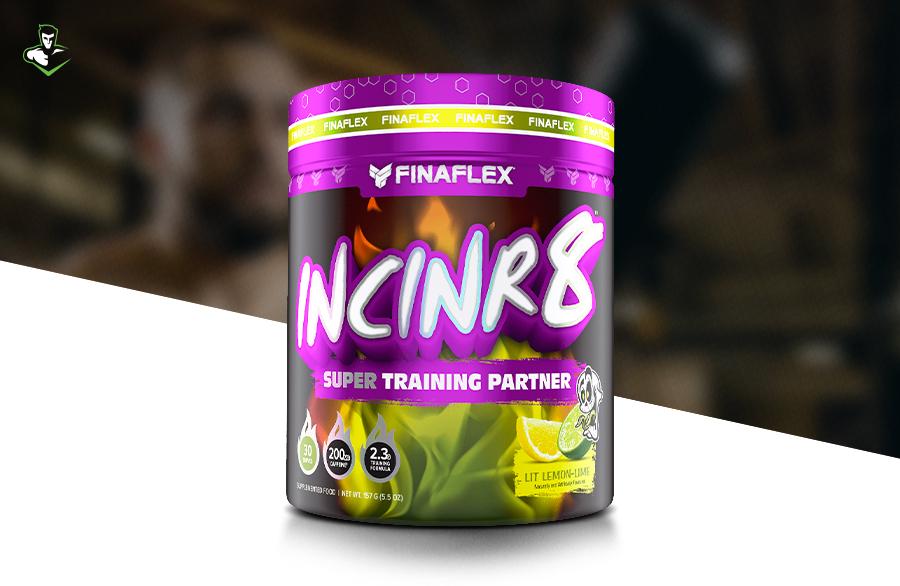 Finaflex Incinr8 is a pre-workout with fat burning at its forefront. Sharing similar stimulants that you would see in a pre-workout as well as nootropic ingredients specific to laser-like focus. Added in fat "incinr8ing" ingredients such as l-carnitine and green tea extract this pre is great for anyone looking to aid in their performance while allowing their body to use body fat as its primary source of energy.
Finaflex Incinr8 Flavours
Incinr8 comes in an amazing array of flavours including Krankin Kiwi, Lit Lemon-Lime, Meltin' Mango & Pyro Pineapple. They are the best flavours one could possibly want. Delicious, easy to mix and a joy to drink.
Finaflex Incinr8 Review
Finaflex Incinr8 overall is an excellent pre-workout supplement that is also great as a nootropic cognitive enhancer or fat-burner. It's multi-purpose formula makes it ideal for any of these uses plus it tastes great. It is moderately strong without being OTT with caffeine (200mg). As such Incinr8 may be ideal for women and men alike.
Q&A's
Ask a question about
Finaflex Incinr8
What locations do you stock Incinr8 at?




We stock Finaflex Incinr8 at all of our Australian retail locations including Perth and Sydney.

What benefits does Incinr8 offer?




Finaflex Incinr8 may offer the benefits of increased energy, improved focus, up-regulated fat burning and better performance. For best results always combine with a healthy diet and exercise program.

What's the difference between Incinr8 & Stimul8 Hardcore?




Incinr8 is a milder version of Stimul8 hardcore. It is a mid strength pre-workut, fat-burner and cognitive enhancer. Stimul8 hardcore version is a higher energy pre-workout supplement with even more stimulants.
Reviews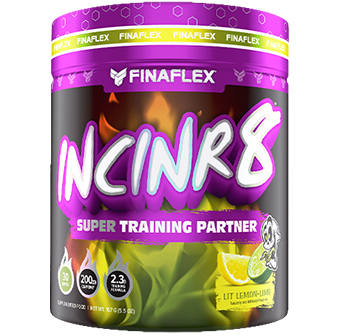 Based on reviews collected by
&
Write a review

Contact Us