Fenugreek Improves Testosterone & Strength
Fenugreek is a common component in natural testosterone boosters. However. to date there has only been one study in humans where it was taken as part of a 4-day/wk weight training regime and found to favourably change body fat, total testosterone, and bioavailable testosterone. For this reason, researchers were eager to conduct another study of Fenugreek in young males to verify their initial findings.
As such, researchers from India set about to test the effects of a fenugreek supplement (with the brand name of Testofen) standardised for furostanol glycosides; believed to be responsible for much of the androgenic potential of fenugreek-glycosides.
Like the original study, it also ran for 8 weeks and was placebo-controlled. Subjects were required to participate in a supervised 4-day per week resistance-training program, with two days dedicated to upper-body and two days to lower-body. Each subject took two 300mg capsules of Testofen or placebo a day (20 minutes before breakfast and 20 minutes before dinner).
The researchers measured a wide range of physiological and strength training variables as part of the study, however, only a handful of measures were significantly affected. 8 week treatment with the fenugreek supplement translated into beneficial changes in repetitions to failure in leg press, free testosterone levels and serum creatinine as compared with placebo. The table below shows the changes in the variables measured in the active and placebo groups.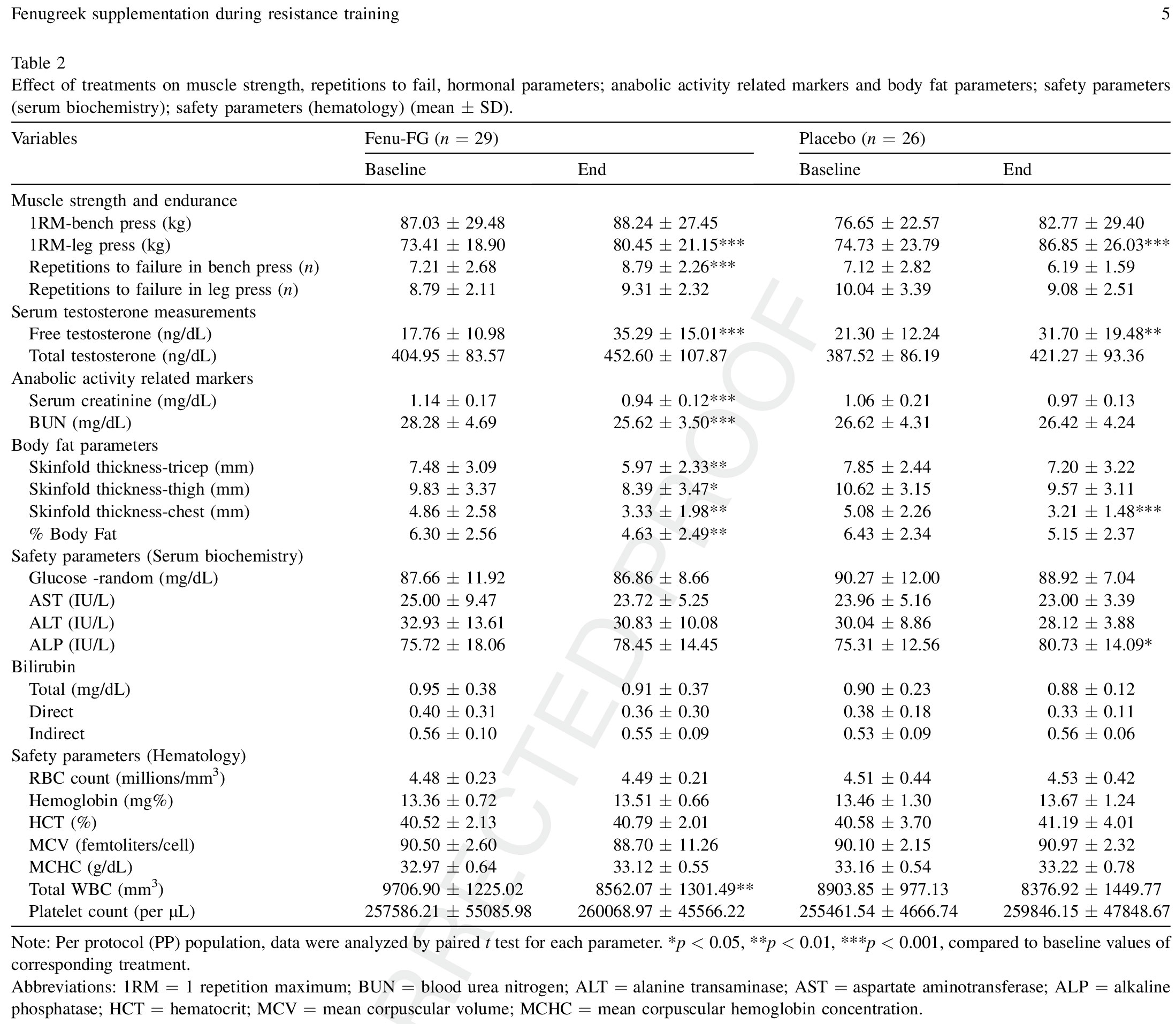 Specifically the fenugreek supplement used in this study was found to increase levels of free testosterone without a reduction in total testosterone. The authors presume that this effect was mediated by the fenugreek acting as an inhibitor of aromatase and 5-alpha reductase and increased free (i.e., bioavailable and unbound) testosterone by decreasing the metabolism of serum testosterone.
The authors make the important point that the levels of total testosterone were unchanged between treatment and placebo and well within the physiological limits during the present study. This suggests that while fenugreek might bump up free testosterone and associated muscle strength/mass, it's not likely to push testosterone levels into unhealthy non-physiological ranges. With it's long history of traditional use as a food, medicine and spice in countries like Egypt, Southern Europe, India, Asia, and North Africa, this study is welcomed news should help cement Fenugreek's place as a proven botanial in sports nutrition and bodybuilding.
Wankhede S, Mohan V & Thakurdesai P. Beneficial effects of fenugreek glycoside supplementation in male subjects during resistance training: A randomized controlled pilot study. Journal of Sport & Health Science. 2015;1-7.