Big Fat Loss with High Protein, Calorie Deficit & Exercise
What happens to lean body mass when cutting calories by 40%, ramp up protein intake and exercise a lot? That's the question researchers from McMaster University in Canada were trying to answer in their latest study published in the March 2016 issue of the prestigious American Journal of Clinical Nutrition.
Running over 4 weeks, the study involved a total of 40 young overweight men randomly allocated to either a lower protein diet (1.2g/kg/day) or a high protein diet (2.4g/kg/day) while undertaking a resistance training combined with high-intensity interval training for 6 days a week. Changes in lean body mass and body fat were tracked closely to see what effect the additional protein in the diet would have on body composition.
The study was conceived because of the challenges that face many competitive athletes when trying to lose weight for a competition or event. While weight loss is not necessarily hard, the challenge is to maintain and/or increasing muscle mass while trying to lose body fat.
Because dietary protein (especially whey protein) and resistance exercise are considered the two most powerful stimuli for muscle growth, the authors of the current study wanted to see if these two stimuli would still work effectively when daily caloric intake is dropped significantly – as is necessary for weight loss.
At the end of the 4 weeks subjects in the high protein group had put on an average of 1.2kg of lean muscle mass, while the control group had managed to average an increase of just 0.1kg. To top it off, the high protein group also lost more body fat, with an average reduction of 4.8kg compare to 3.5kg for the lower protein group.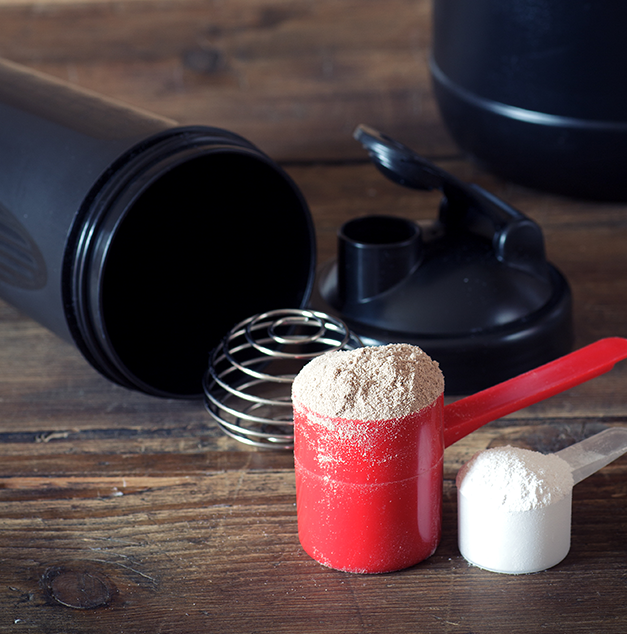 To achieve their high protein intake, subjects were provided with protein supplements in the form of pre-made drinks. As part of their 6 day-a-week training protocol, subjects undertook quite a diverse and intensive protocol that combined resistance training, high-intensity interval training, sprint-interval training as well as plyometric training. The researchers went as far as to give each subject a wearable pedometer to ensure they walked at least 10,000 steps everyday so as to prevent any counterproductive effects of sedentary behaviour.
Researchers also recorded the effect of the interventions on a range of strength measures. These included exercises such as leg press, bench press, sit-ups, push-ups, and aerobic measures such as mean and peak power, VO2max and time trial performance. With the exception of the isometric knee extension, each strength measure improved significantly in both groups. Noteworthy were the big improvements in 1RM leg press (i.e. from 171kg to 340kg) and 1RM bench press (107kg to 146kg). There's plenty of gym junkies that would kill for gains like that.
Measures of hormones such as testosterone, growth hormone, IGF-1, cortisol and insulin were also recorded, but didn't shown any significant correlation with changes in muscle mass, body fat or strength.
A loss of nearly 5kg body fat in just 4 weeks is very impressive and shows the power of a strict calorie-controlled diet when coupled with an extensive exercise program that involves both resistance training and high-intensity training. This type of program could serve as a somewhat of a boot camp template for those looking to shred quickly for an event or show.
Longland TM, et al. Higher compared with lower dietary protein during an energy deficit combined with intense exercise promotes greater lean mass gain and fat mass loss: a randomized trial. The American Journal of Clinical Nutrition. 2016;103(3):738-746.