https://www.mrsupplement.com.au/faction-labs-uppers-downers-bundle
Faction Labs Uppers & Downers Bundle
Faction Labs
Supplements > Supplement Bundles > Weight Loss Stacks
https://cdn.mrsupplement.com.au/resources/imgs/products/faction-labs-uppers-downers-bundle.1637539910398.png
http://schema.org/NewCondition
http://schema.org/OutOfStock
67
105
AUD

Uppers & Downers Bundle
Uppers & Downers Bundle
Powerful Stimulant Capsules
AUSTL Listed Products
Relax & Unwind at Night
Bundle & Save

(0)
Write a review
Product
Stack Details
Q&A's
Reviews
Add To Cart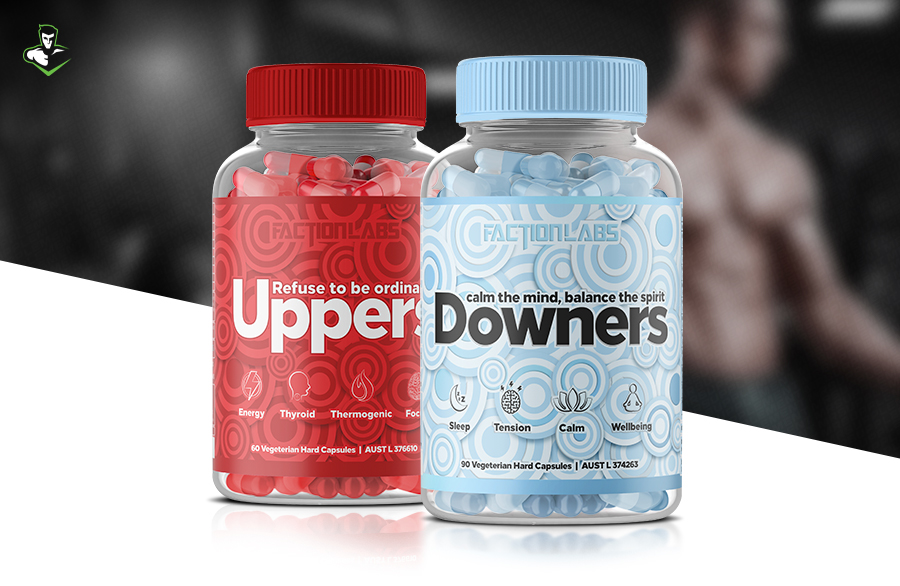 Faction Labs have definitely cemented their place at the top of the energy category of the supplement industry. From powerful pre-workouts and fat burners (Disorder and Deficit respectively) as well as a packed laser-focus nootropic blend - Attention.
With their newest product to the market simply titled Uppers they have entered the capsule-based category aimed for convenience. They have formulated this product in a way that it can not only go head-to-head with ANY product in the market with productivity in mind (for those who refuse to be ordinary) but it also doubles as an effective thermogenic to aid in weight loss.
The brand has put together the perfect stack for those wanting a potent stimulant to be the most productive they can in the day while not sacrificing important restful, restorative sleep.
Stimulants can help us to get the absolute most out of our day, however, sometimes the downside of that is the inability to relax come night-time.
For that, they also released with it the perfectly named night-time anti-stimulant relaxant... Downers. A blend of muscle and mind relieving ingredients that would work perfectly to de-stress after another day in the proverbial rat-race in which most of us live today. Calm the mind, balance the spirit.
Faction Labs Uppers & Downers are both AUSTL listed meaning they contain clean, healthy and safe ingredients to ensure there is no toll taken on your body for the advantages you get from this ground-breaking bundle.
Stack Details
Q&A's
Ask a question about
Faction Labs Uppers & Downers Bundle
Are the Uppers and Downers ok for females?




Yes - these products are perfectly suitable for females.
Reviews


Based on reviews collected by
&
Write a review

Contact Us