Exercise Variation Key for Muscle Strength
Strength training has gone through somewhat of a periodization pandemonium in recent years with the advent of studies showing certain periodization schemes can produce superior gains in strength when compared with non-periodised ones. But the art of periodisation is by no means an exact science, with plenty of studies showing similar effects between non-periodised and periodised schemes. One aspect of strength training, however, that has received relatively little attention is the role that exercise variation and/or selection can play in the overall training stimulus and its role in optimal strength development.
A recent study published in the Journal of Strength and Conditioning by a team of researchers from Brazil has provided some key information on the effect of exercise selection on strength development.
To test the effect of varying exercise selection on muscle size and maximum strength, the researchers subjected a group of forty-nine individuals (with no history of strength training) into 4 different strength training programs matched for training volume (i.e. sets x repetitions). The four groups consisted of:
Constant Intensity & Constant Exercise (CICE)
Constant Intensity & Varied Exercise (CIVE)
Varied Intensity & Constant Exercise (VICE)
Varied Intensity & Varied Exercise (VIVE)
As the table below shows, for each group, the volume load throughout the 12-week period was progressively increased to stimulate the initial phase of the strength training periodization in all of the training groups. The table also shows how exercises were varied for the respective groups.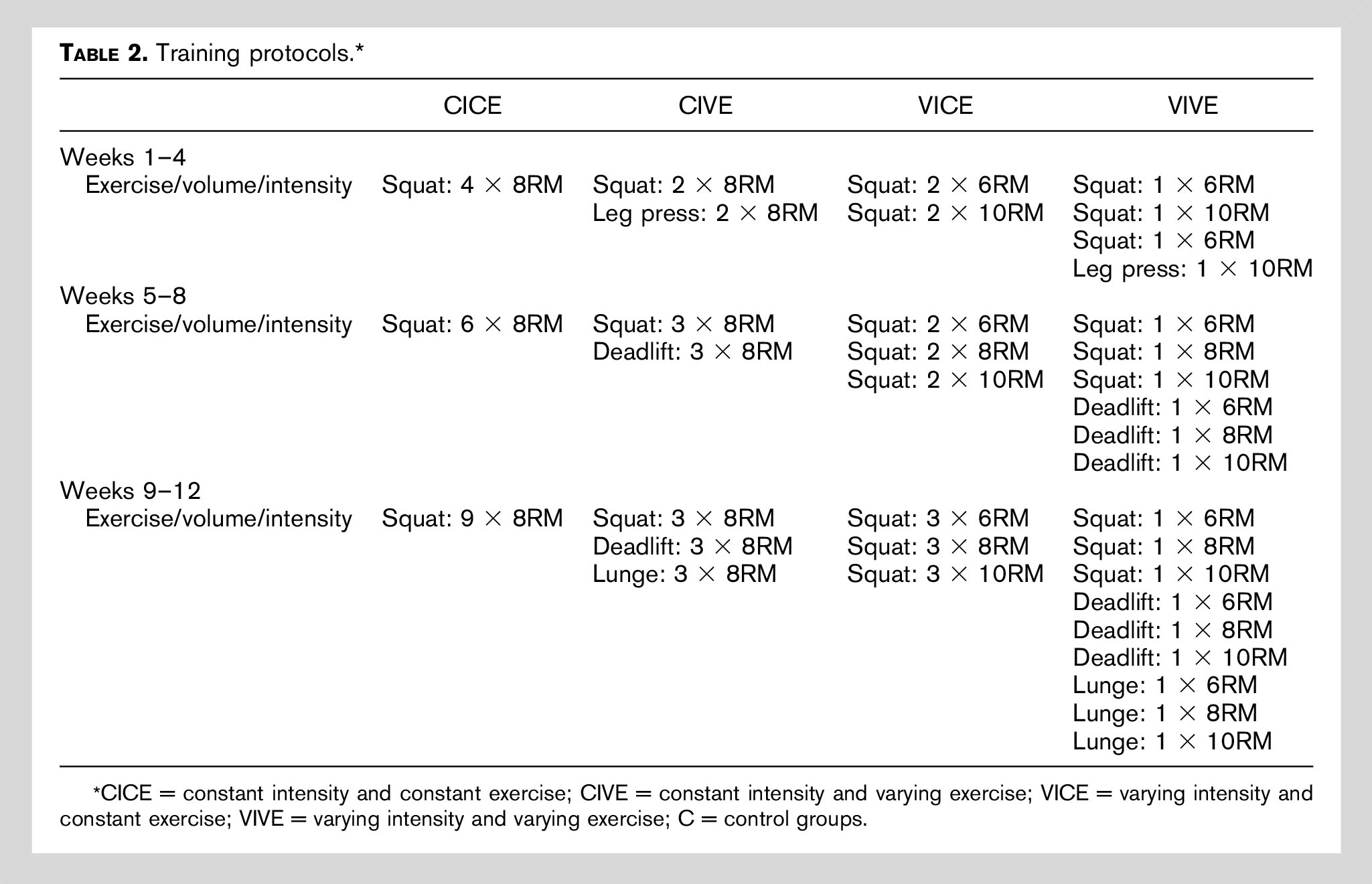 To determine the relative effectiveness of each training program, subjects underwent a maximum dynamic strength test as well as multiple measures of muscle cross-sectional area for various major muscles before and after the study.
Out of all the groups, the one performing constant intensity with varied exercises (CIVE) achieved the best strength gains. The study was also able to show that as long as training intensity reaches a certain threshold, whole muscle hypertrophy is similar regardless of the loading scheme and exercise variation.
The main takeaway of the study is that during the initial phases of a strength training program, varying exercises may be more important than varying training intensity for producing strength and muscle hypertrophy gains. It seems that exercise variation during the initial phases of a strength training program helps maximise the neural drive and therefore functional adaptations. But importantly, the authors of the study noted that it is not possible to deduce that highly trained individuals would be able to handle the same degree of training variations in intensity and exercises and still achieve greater strength gains when compared with a program that only varies the exercises.
Fonseca RM, et al. Changes in exercises are more effective than in loading schemes to improve muscle strength. Journal of Strength and Conditioning Research. 2014;28(11):3085-3092.