Evogen Lipocide is one of the newest supplements from rising supplement company Evogen, founded by expert trainer Hany Rambod. Having trained professional athletes and even Mr Olympians, Evogen's list of growing products is also increasing in popularity. Lipocide is set to be Evogen's main fat burner.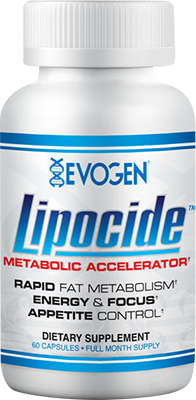 Evogen Lipocide Review & Ingredients
Evogen Lipocide is a strong capsule based fat burner containing a select range of ingredients including: acetyl l-carnitine (or perhaps l-carnitine), caffeine, N-acetyl L-tyrosine, evodia rutaecarpa, synephrine (bitter orange extract or citrus aurantium), beta phenylethylamine, capsicum extract, N-Beta-Methyl-Phenylethyamine, Bioperine (black pepper extract) and Yohimbine HCL.
Lipocide is a strong collection of fat metabolisers, stimulants and nootropics to help assist in fat burning, curb appetite and support mood and focus, which can be negatively affected, especially with caloric restriction such as during a diet. All other ingredients besides caffeine are contained in a 435mg proprietary blend; which is not enough to provide therapeutic amounts of all ingredients, so a second serve may be required. Overall, though, there's definitely promise in the fat burner, which can easily double as a pre-workout.
Evogen Lipocide Release Date
Lipocide from Evogen is currently out for sale in the US, however it is not known when the supplement will make its way onto other markets due to the presence of the common banned ingredient yohimbine. As such, the official response from Evogen is to reformulate Lipocide into a powder and with ingrerdients that conform to Australian regulations.