Elemental Nutrition IGF-1 is an advanced supplement for hardcore bodybuilders and athletes looking for the ultimate edge in strength and muscle development. Elemental Nutrition IFG-1 is designed to promote anabolism by increasing IGF-1 levels in the body so as to maximally stimulate muscle protein synthesis in response to exercise.
Rich in Bioactive Growth Factors
Elemental Nutrition IGF-1 is packed with one of the highest grades of colostrum available. Containing a minimum immunoglobulin content of some 40%; Elemental Nutrition IGF-1 is rich in insulin-like growth factors (i.e., IGF-1 & IGF-2), transforming growth factors (i.e., TGF-Beta1 & TGF-Beta2) and immunoglobulins. These components make Elemental Nutrition IGF-1 an ideal supplement for anyone undertaking periods of high-intensity training and/or looking to increase lean body mass. Take yourself to the next level with Elemental Nutrition IGF-1.
Transforming Growth Factors (TGF)
The colostrum in Elemental Nutrition IGF-1 is rich in transforming growth factors beta1 & 2 (TGF-b). TGF-b are signalling molecules that appear to be central for tendon growth and adaptation12. For instance, during embryonic development, TGF-b signalling is required for proper development of limb tendons13-15. In addition, whenever an individual undertakes any kind of acute mechanical loading such as occurs in weight training, active TGF-b is released from tendons16. As such, TGF-b is believed to mediate many of the anabolic pathways that control exercise-mediated tendon growth and adaption12, 17. For this reason, supplementation with Elemental Nutrition IGF-1 may be useful in individuals with tendon injuries or engaged in high load resistance exercise.
IGF-1 Functions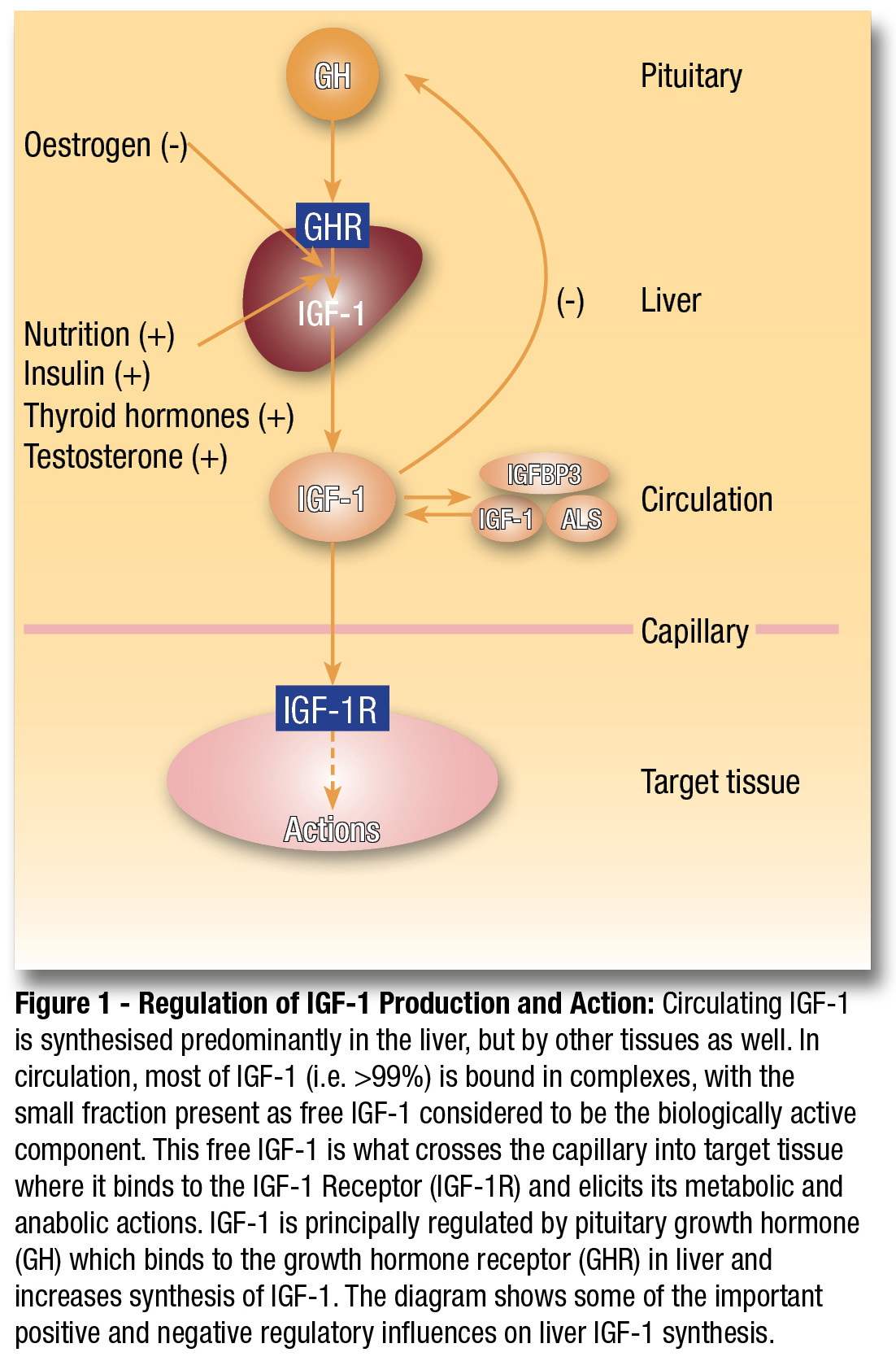 As shown on the diagram to the right, IGF-1 power is produced mainly in the liver in response to growth hormone stimulation and is the key mediator of growth hormones powerful effects. You can have oodles of growth hormone, but if that doesn't translate into meaningful increases in IGF-1, then it's pretty much useless. This is why increasing IGF-1 levels in considered a more specific and direct means of boosting anabolism.
IGF-1 Levels in the Body
IGF-1 levels are initially low at birth and increase with age up to the age of 20 years, where after they decline gradually1. While genetic factors can account for a large degree of variation in IGF-1 levels2, 3, nutrition plays an important role, with IGF-1 levels accurately reflect nutritional status4. Research has shown IGF-1 levels reliably decline during starvation or calorie restriction and then rise again following refeeding5-8. In terms of its interaction with other hormones, IGF-1 levels are boosted by thyroid and testosterone hormones, while estrogen blunts IGF-1 secretion9.
IGF-1 Muscle Growth
When it comes to bodybuilding and resistance exercise, IGF-1 is considered one of the most potent anabolic compounds in the body. It is known to simultaneously enhance protein synthesis and inhibit protein breakdown and is actually considered the most important mediator of muscle growth in the body10-11. Conversely low IGF-I concentrations favour protein catabolism in skeletal muscle, releasing amino acids into the circulation for breakdown in the liver4.
IGF-1 and Insulin
IGF-1 or insulin-like growth factor-I was named because its structure and metabolic function simulate insulin4. In fact, insulin is required for the synthesis of IGF-I in the liver and insulin can actually stimulate IGF-I secretion independently of growth hormone. Lastly insulin inhibits the synthesis of two important protein called IGF-binding proteins, which as their name suggests – bind IGF-1, thus reducing free IGF-I and therefore its bioactivity4. In this way, insulin enhances both IGF-I levels and bioactivity. For these reason, it's important to take Elemental Nutrition's IGF-1 as part of a protein and carbohydrate meal so as to maximise insulin response and therefore IGF-1 bioactivity.
References
1. Yu H, et al. Insulin-like growth factors (IGF-I, free IGF-I, and IGF-II) and insulin-like growth factor binding proteins (IGFBP-2, IGFBP-3, IGFBP-6, and ALS) in blood circulation. J Clin Lab Anal. 1999;13:166–172.
2. Hong Y, et al. Quantitative genetic analyses of insulin-like growth factor-I (IGF-I), IGF-binding protein-1 and insulin levels in middle-aged and elderly twins. J Clin Endocrinol Metab. 1996;81:1791–1797.
3. Harrela M, et al. Genetic and environmental components of inter-individual variation in circulating levels of IGF-I, IGF-II, IGFBP-1 and IGFBP-3. J Clin Invest. 1996;98:2612–1615.
4. Livingstone C. Insulin-like growth factor-I (IGF-I) and clinical nutrition. Clinical Science. 2013;125: 265–280.
5. Clemmons DR,et al. Reduction of plasma immunoreactive somatomedin C during fasting in humans. J Clin Endocrinol Metab. 1981;53:1247–1250.
6. Gomez JM, et al. The IGF-I system component concentrations that decrease with ageing are lower in obesity in relationship to body mass index and body fat. Growth Horm IGF Res. 2004;14:91–96.
7. Hintz RL, et al. Plasma somatomedin and growth hormone values in children with protein calorie malnutrition. J Pediatr.1978;92:153–156.
8. Hill K, et al. Serum insulin-like growth factor-I concentrations in the recovery of patients with anorexia nervosa. J Am Coll Nutr.1993;12:475–478.
9. Miell JP, et al. Effects of hypothyroidism on insulin-like growth factors (IGFs) and growth hormone- and IGF-binding proteins. J Clin Endocrinol Metab. 1993;76:950–955.
10. Clemmons DR. Role of IGF-I in skeletal muscle mass maintenance. Trends Endocrinol Metab. 2009;20:349–356.
11. Goldspink G. Loss of muscle strength during aging studied at the gene level. Rejuvenation Res. 2007;10:397–405.
12. Kjaer M. Role of extracellular matrix in adaptation of tendon and skeletal muscle to mechanical loading. Physiol Rev. 2004;84:649–698.
13. Lorda-Diez CI, et al. Transforming growth factors beta coordinate cartilage and tendon differentiation in the developing limb mesenchyme. J Biol Chem. 2009;284:29988–29996.
14. Murchison ND, et al. Regulation of tendon differentiation by scleraxis distinguishes force-transmitting tendons from muscle-anchoring tendons. Development. 2007;134:2697–2708.
15. Pryce BA, et al. Recruitment and maintenance of tendon progenitors by TGFβ signaling are essential for tendon formation. Development. 2009; 136:1351–1361.
16. Heinemeier K, et al. Role of TGF-β1 in relation to exercise-induced type I collagen synthesis in human tendinous tissue. J Appl Physiol2 2003;95:2390–2397.
17. Holladay C, et al. Preferential tendon stem cell response to growth factor supplementation. J Tissue Eng Regen Med. 2014 Jan 29. doi: 10.1002/term.1852. [Epub ahead of print]