EHP Labs Oxyshred vs PES Alphamine
Fat Burners are very popular supplements which are used by both men and women to help reach their weight loss goals. This class of supplement encompasses a huge range of ingredients, which can be loosely broken up into catergories. Common inclusions are thermogenic ingredients which burn extra energy by raising the body temperature, appetite suppressants which curb the desire to eat, ingredients that alter the way carbohydrates and fat are used for energy, and ingredients that boost short term energy.
PES Alphamine and EHP Labs Oxyshred are two of the most popular thermogenic fat burners on the market today. Let's compare these products.
Alphamine vs Oxyshred Ingredients
Alphamine and Oxyshred both contain a number of ingredients that work together synergistically to promote fat loss.
Oxyshred contains four groups of ingredients with different functions. The Oxyshred Hyper Lipolysis Compound attacks excess weight in a number of ways with an ingredient list that includes acetyl-L-carnitine, inulin, CLA, raspberry ketones, grapefruit seed. guggul extract, african mango seed, oleuropein, green coffee bean, higenamine and chromium. This is supported by an Immunity Boosting Matrix consisting of L-glutamine and vitamin C, A Mood Enhancing Matrix featuring taurine, tyrosine and caffeine, and a full spectrum of B vitamins.
Alphamine has fewer ingredients than Oxyshred, and there is some overlap, with caffeine, higenamine and taurine common to both supplements. In addition, Alphamine contains glucuronolactone, alpha hydroxy isocaproic acid (HICA), and plant extracts Eucommia ulmoides and Bacopa monniera.
Winner: Oxyshred. With a long an comprehensive list of ingredients, Oxyshred attacks fat in almost every way possible.
Alphamine vs Oxyshred Dosage
Fat burners have small serving sizes, and PES recommends a maximum of one 5g serve per day for Alphamine, while EHP recommend 10g per day maximum, in two seperate serves, for Oxyshred.
Oxyshred uses proprietary formulations, but we know, or can easily work out the proportions of some of the ingredients such as acetyl-L-carnitine, glutamine, and the taurine/tyrosine complex. These are generally well dosed, although may be on the low side for the tastes of some. In addition, Oxyshred contains a number of ingredients with no recommended dosage, so it is impossible to know whether these are included in appropriate quantities.
Containing botanical extracts, Alphamine suffers from some of the same dosage uncertainty issues as Oxyshred. Taurine is dosed on the low side, but the supplement contains very large amounts of stimulants caffeine and glucuronolactone. It appears that the amount of HICA may be less than ten times what has previously been used in human trials, which negates its inclusion.
Winner: Oxyshred. Neither supplement is perfect, but we know Oxyshred's main ingredients are relatively well dosed. PES have been very generous with some of the ingredients in Alphamine, but this supplement may be too stimulant-heavy for some.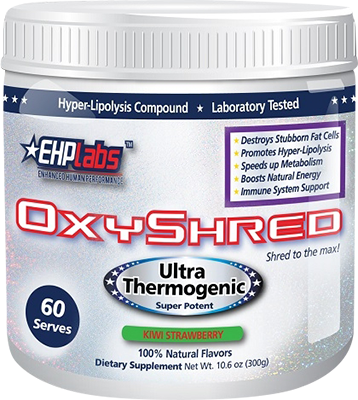 Alphamine vs Oxyshred Effectiveness
While these products are both manufactured for people trying to lose weight, they are slightly different in scope. Alphamine promises to help retain and build muscle, as well as containing ingredients that support cognition, while Oxyshred offers extra support to weight loss through ingredients that enhance mood and immunity.
Oxyshred, and to a lesser extent Alphamine, are right on the cutting edge, incorporating a number of exciting new ingredients with a lot of promise for weight loss and physique building. This is great, and puts these products ahead of the curve, but it means that we cannot say with any certainty that all the ingredients are effective, as many have not been subject to human scientific trials.
Winner: Oxyshred. Oxyshred is built on a solid base. EHP Labs have hedged their bets with a huge ingredient list which gives this supplement a large number of potential modes of action. Alphamine does not have the same scope. While it would be very well suited to someone who responds well to stimulants, it does not cover as many bases as Oxyshred.
Alphamine vs Oxyshred Taste & Mixability
Both supplements mix very easily and completely. Alphamine comes in classic raspberry lemonade and fruit punch flavours, while EHP Labs went in a different direction with Oxyshred and innovated, producing some of the most unique flavours on the market - kiwi strawberry, wild melon, pink grapefruit, and guava paradise.
Winner: Oxyshred. These unconventional flavours are a hit. We've even tasted them and worked out which is the best one.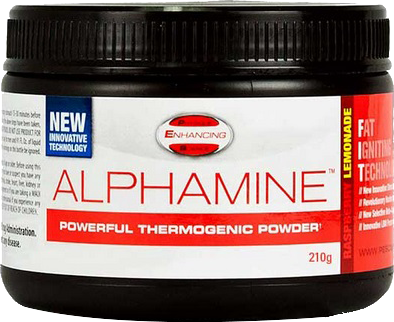 Alphamine vs Oxyshred Price & Value
While there is not a huge price difference between the two supplements – Oxyshred is $79.95 for 306g, while Alphamine is $64.95 for 210g, the fact that the recommended daily dose of Alphamine is half that of Oxyshred, makes this the cheaper supplement by a significant margin, costing $1.55 per day to Oxyshred's $2.66.
Winner: Alphamine. This product is a lot cheaper than Oxyshred. People who respond well to stimulant based weight loss preparations are getting a bargain. It is understandable that Oxyshred is more expensive than Alphamine due to a larger serving size and broader scope of ingredients. For some people, Oxyshred will be the better value product.
Alphamine vs Oxyshred Overall Verdict
Winner: EHP Labs Oxyshred. Alphamine is a popular product that represents good value, but it is easy to see why Oxyshred has been such a runaway success. The cutting edge formula has helped many people lose weight, and results continue to drive the popularity of this product.