There's plenty of reasons people cite for not getting to the gym. It can be something as simple as too costly or even the time and hassle it takes to get to the gym. For this reason, researchers are always interested in modes or forms of exercise that are practical and cost-effective. In essence, the more obstacles to exercise you can remove – the more likely individuals will participate. Lifting weights has traditionally been seen to confer unique health benefits (i.e. increased strength, improved body composition) not traditionally seen with aerobic exercise. But if you can't get to a gym, the next best thing is to simply use your bodyweight as resistance. This type of training is often referred to as circuit training and typically involves compound exercises using bodyweight (i.e. squats, lunges, burpees) that are performed in quick succession with little rest periods between exercises.
The obvious benefit of circuit training is that it doesn't necessarily require a gym membership or access to free weights or weight machines. Cognisant of this, researchers from the University of Lethbridge, Canada devised a study that took a group of young females and tested the comparative effects of a circuit training regime versus a traditional concurrent style training (i.e. combination of resistance and endurance exercise) on various fitness measures.
More specifically the researchers were looking to test the relative effects of each exercise regime on aerobic and anaerobic fitness, as well as muscular strength and endurance. All subjects were sedentary with no history regular exercise and they had an average age of 20.9 years and weight of 65kg. Each subject trained 3 days per week for 5 weeks. The whole-body aerobic resistance training circuit group followed the exercise routine outlined below, with each exercise routine being performed 3 times per week (i.e. Monday, Wednesday, and Friday). Participants had to complete as many cycles of the routine as possible in 30 minutes. Each exercise was selected for their simplicity with no need for equipment and to mimic similar muscle groups that were targeted in the combined resistance and aerobic training group. During the course of each routine, participants were encourage to take as little rest as possible during break periods to ensure a high-intensity workout. The researchers were kind (and smart enough) to modify the exercise programs from week to week to help maintain interest on behalf of the participants.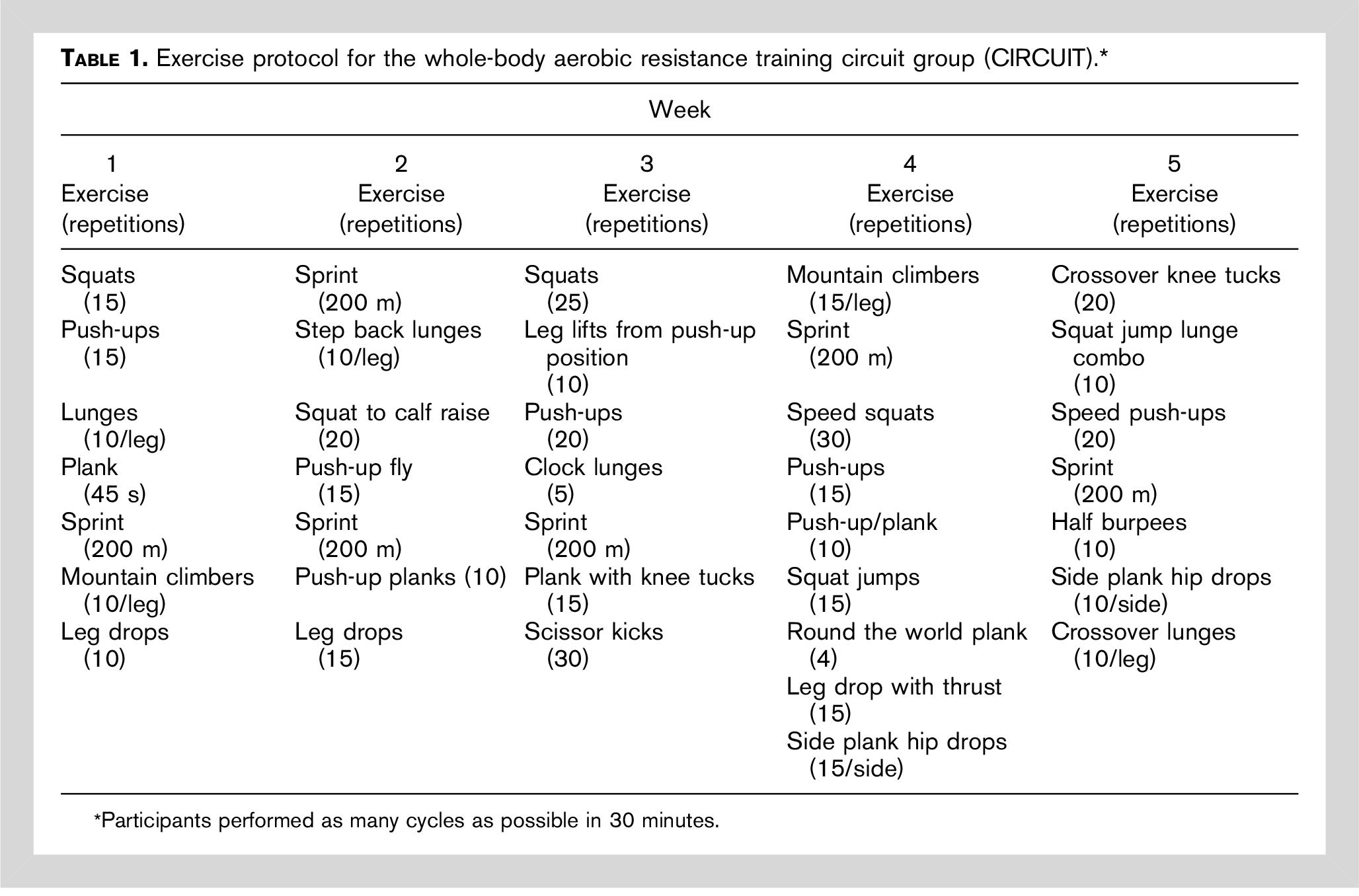 The table below shows the 5 different exercise routines undertaken by participants in the combined (strength & endurance) group. As with the circuit group, each routine was performed 3 times over during the week. As for reps, sets and rest periods, subjects performed 2-3 sets at 50-70% 1RM for each exercise with 12-15 repetitions, with 1-minute rest periods between each set. Each resistance training session lasted 30 minutes, after which participants completed 15 minutes of aerobic exercise at 80% of age-predicted maximal heart rate. So together, overall training session duration was 45 minutes. As with the circuit group, researchers varied the program so as to help maintain interest and motivation.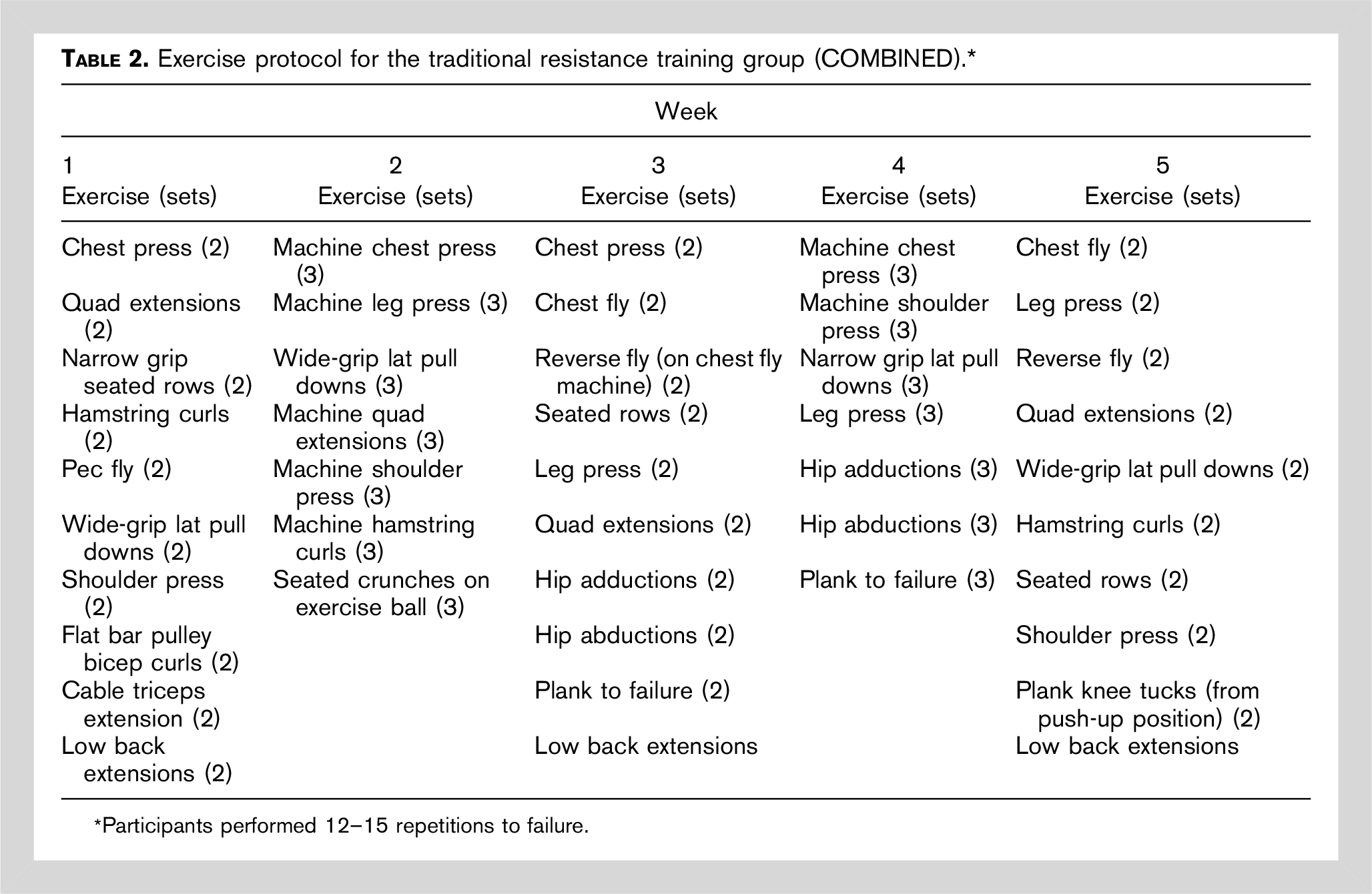 Aerobic & Anaerobic Fitness
VO2 peak was used to measure changes in aerobic fitness in both groups. Despite the absence of significant differences in VO2peak at the outset of the public, only the circuit group was found to gain a significant increase in VO2peak at the conclusion of the study.
However, when it came to anaerobic power, both groups saw a significant improvement from start to finish of the study, but there was no significant difference in anaerobic power between the two groups at the conclusion of the study.
Muscular Strength
Using 1RM measures of back, hamstrings, quadriceps and chest, the researchers found that both groups experienced a significant increase in strength as a result of their respective training regimes, but there was no significant difference between the two groups at the conclusion of the study. This is perhaps one of the more interesting findings of the study, given that the circuit group did not use any weight machines, but rather their own body weight.
Muscular Endurance
As the table below shows, the respective effects of each exercise regime on muscular endurance (as measured by no. of reps with 60%1RM) was not clear cut. While the combined group saw a general trend for increased muscular endurance, this wasn't the case when it came to back muscular endurance. As for the circuit group, there was a general trend for decreased muscular endurance. This is a somewhat perplexing findings, especially in light of the improvements in muscular strength.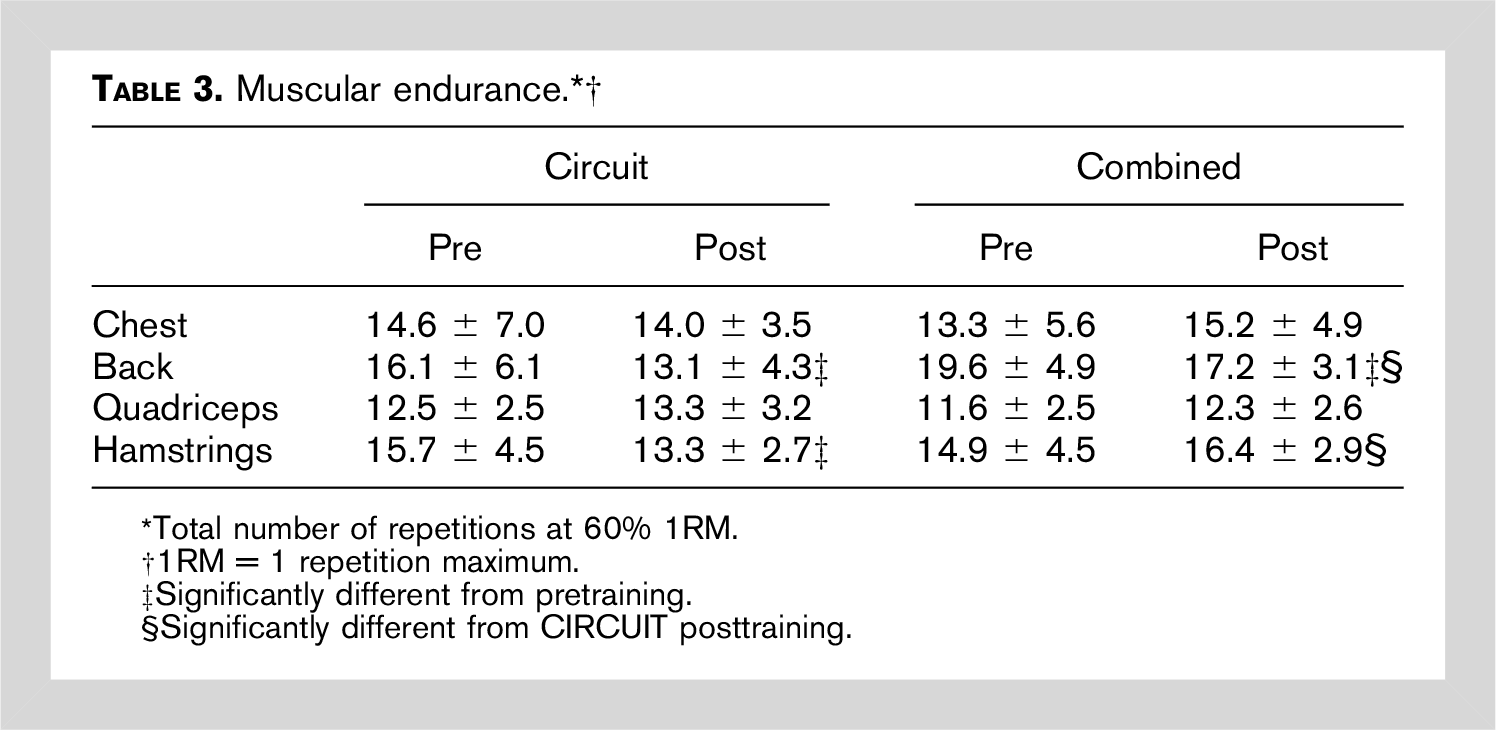 In summary, the key findings of the study are:
The body weight circuit program increased aerobic fitness, whereas combined training did not
Both training programs improved anaerobic fitness, although only the circuit group increased relative minimum power output
Both groups improved muscular strength for the chest and hamstring muscles, whereas only the combined improved back and quadriceps strength. Neither group improved muscular endurance and actually performed less repetitions post-training for back and hamstrings, although the combined group performed more repetitions compared with the circuit group.
Myers TR, et al. Whole-body aerobic resistance training circuit improves aerobic fitness and muscle strength in sedentary young females. Journal of Strength and Conditioning Research. 2015; 29(6)/1592–1600.