Pursuit RX Recovery Blend Review
Natural products are a section of the supplement market undergoing a big surge in popularity at the moment. A growing number of people are turning away from artificial colours, flavours, sweeteners and preservatives in favour of the peace of mind they obtain from an all natural product. No longer at the fringes, many big companies including Optimum Nutrition and prominent locals like International Protein, now produce a range of all natural products alongside their regular offerings.
Pursuit Rx is the new, all natural imprint of supplement giants Dymatize, who are responsible for some of the most popular proteins on the market. The brand's initial offering comprises a pre-workout, a whey protein, and Recovery Blend, a post-workout supplement designed to enhance recovery and subsequent performance.
Pursuit Rx Recovery Blend Highlights
*Part of Dymatize Nutrition's new Pursuit Rx natural range
*One of the first all natural recovery formulas
*Also suitable for lactose and gluten intolerant, and vegetarian friendly
*Simple, science backed formula
Pursuit Rx Recovery Blend Ingredients & Dosage
This is a very simple formula, featuring carbs (Maltodextrin, organic cane sugar, and crystalline fructose), and protein (20g of Whey isolate) in a 2:1 ratio. Extra leucine has been added, as have electrolytes. The flavourings, colourings, and sweeteners are all natural.
Pursuit Rx Recovery Blend Pros & Effectiveness
Although there are a number of natural proteins on the market, this product is certainly one of the first that is specifically geared toward recovery, which places it in a unique market position. The simple formula ticks all the boxes, and is an obvious product of a company that knows its way around the science of recovery. Research has shown that the 2:1 carb:protein ratio Pursuit Rx has chosen for this product is optimal for recovery after strength training, and that leucine, which has been added to supplement the already high leucine content of whey, is a potent stimulator of anabolism.
Pursuit Rx has ensured that this is a product which will appeal not just to people who want to avoid artificial additives, but to people with a wide range of different dietary needs and requirements. The product has been declared gluten free, and the inclusion of super-pure whey isolate as the protein source means that Recovery Blend is very low in lactose, therefore safe for the vast majority of people who suffer lactose intolerance. Amino acids are often derived from animal sources, but the leucine in Recovery Blend is sourced from plant material via fermenation, meaning that this product is suitable for vegetarians. Pursuit Rx has also declared this protein to be free of hormones, soy and it is almost fat-free.
Because the Pursuit Rx range is made by supplement giant Dymatize, a company with a proven track record of excellence, you know that what you're getting is a top quality product, and importantly, that it's going to taste great. Dymatize is known for their flair when it comes to flavouring their range - this has won the company a lot of loyal fans.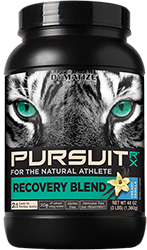 Pursuit Rx Recovery Blend Cons & Negatives
Over the past year or so, there has been a movement toward simplicity in supplement formulations. You only need to look at the popularity of the single ingredient ranges from companies like Muscletech and Gen-Tec to see that a lot of people are paring down and taking a back to basics approach. Pursuit Rx has gone with this prevailing trend with the simple formulation of their Recovery Formula. This will not be to the tastes of those people who like to stay on the cutting edge, or favour complex formulations packed with ingredients claiming to be the next big thing, however, as this type of consumer is less likely to be concerned with their product being all-natural, Pursuit Rx has read their market well.
This product is manufactured in the US, where the term 'Gluten Free' may not be applied as stringently as it is in Australia, meaning there is a chance it may have come into contact with machinery that has also processed products containing this allergen. While these microscopic amounts are of no concern for people who are trying to avoid gluten, this can have severe consequences for people with gluten allergy or coeliac disease, who should seek further advice before using products that fall into this catergory.
Pursuit Rx Recovery Blend Taste & Mixability
Dymatize has done it again, and the Pursuit Rx Recovery Blend is delicious. One of the benefits of using all natural flavours is that the taste is very true to life. The flavour choices keep with the simplicity of the formulation and Recovery Blend is available in Creamy Vanilla and Rich Chocolate. Because of the all natural sugar, Recovery Blend may need a little bit more shaking to dissolve than your average protein, but this is not a significant issue.
Pursuit Rx Recovery Blend Overall Verdict
This is a simple, great tasting product which has been formulated using solid science, not bells, whistles, or gimmickry. Great for those people who do not like introducing articficial ingredients into their bodies, Pursuit Rx recovery blend is also suitable for people with a variety of intolerances and eating restrictions. This is a product that will give you peace of mind and results.