Dymatize M.P.ACT Review
Dymatize is an internationally recognised US company who have been around for almost twenty years, forging a strong reputation supplying supplements to a varied clientele of athletes in a wide variety of team and individual sports. With their own manufacturing plant and completely in-house product development, Dymatize are known for their high quality products which they stand behind 100% – Dymatise is one of the most independently tested brands on the market and their products stand up to scrutiny. M.P.ACT is a new pre workout which has just joined the massive Dymatize range. Let's take a look.

Dymatize M.P.ACT Pre Workout Highlights
Proven ingredient
Versatile and comprehensive
Independently verified results
Dymatize M.P.ACT Pre Workout Ingredients & Dosage
M.P.ACT is a comprehensive product which is made up of three proprietary ingredient matrices.
The 5g Muscle Power Blend features a number of classic, well tested and established ingredients like Creatine Monohydrate, CarnoSyn Beta Alanine and 2:1:1 BCAAs alongside the newer creatinol-O-phosphate, and Sustamine, a Glutamine-Alanine dipeptide.
The 3g Energy & Focus blend has covered a lot of bases with Taurine, N-Acetyl Tyrosine, Glucuronolactone, Rhodiola Rosea, Quercetin-O-Rutinoside, Green tea extract and Quercitin. M.P.ACT comes in two varieties, one of which contains 200mg caffeine, and a caffeine free version.
Finally, the Vaso Active blend, which weighs in at 1g per serve, and contains an exciting blend of Agmatine Sulfate, NITRO2GRANIT pomegranate extact and beet extract.
Dymatize M.P.ACT Pre Workout Pros & Effectiveness
The primary ingredients of this formulation have been chosen well. The subject of decades of study, Creatine Monohydrate is still one of the safest and most effective muscle building ingredients around. Beta Alanine has a lot of research supporting a role in increasing muscular endurance, and CarnoSyn is the best and purest brand on the market. BCAAs promote muscle growth and support recovery, and this quick absorbing micronised preparation is included in a physiological ratio.
In making the decision to produce M.P.ACT in regular and caffeine free versions, Dymatize have not only expanded the potential market for this product, but have shown that they are listening to the needs of customers. There isn't a great deal of choice when it comes to caffeine free pre-workouts and it is a shame to have to choose between the ingredient list you want, and going caffeine free. M.P.ACT caffeine free is great for people who are cycling off caffeine, and those who work out late at night and still want a boost. It also means that you can take a double dose without an attack of the jitters.
Dymatize are a company who have a long history of ensuring safe and effective products through stringent quality control and testing. M.P.ACT is no exception. This supplement is guaranteed not to contain any illegal or banned substances, and is used by elite athletes. On top of this, M.P.ACT has been externally tested for performance attributes by leading researchers, where it was shown in a recent trial to increase strength, enlarge the muscles and improve body composition.
Dymatize M.P.ACT Pre Workout Cons
M.P.ACT contains a fantastic blend of ingredients, but this may be undermined by the dosage in which they are present. This is particularly the case looking at the Muscle Power Blend. Although we don't know the exact doses of each ingredient, given the 5g dosage, It is clear that many of the ingredients are included in amounts a lot of people will find low. In addition, the proprietary blend makes it difficult to identify which ingredients these may be.
While this supplement features a number of ingredients with known effectiveness, there are also a few products in this formulation that don't have a great deal of scientific evidence to support activity in the role for which they were included. This includes creatinol-o-phosphate and the two quercetin derivatives. While the quercetins aren't known for their mood enhanching effects, they are great antioxidants, so it's not a bad inclusion.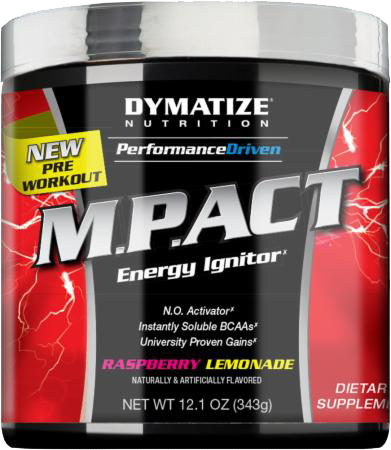 Dymatize M.P.ACT Pre Workout Taste & Mixability
Dymatize are known for their great flavours, which are developed in-house, and have at times been quite unique. In spite of this, they've chosen to stick to the classics with M.P.ACT, which comes in Watermelon, Fruit Punch, Raspberry and Raspberry Lemonade.
M.P.ACT doesn't dissolve instantly, but it's not hard work. This is a pleasant and refreshing drink that successfully hides the bitterness of some of the ingredients.
Dymatize M.P.ACT Pre Workout Verdict
Dymatize has done well in formulating a product that addresses so many aspects of workout performance, and this is a great all round product. Having both a caffeinated and an uncaffeinated versions of this pre-workout is a big plus, and makes M.P.ACT even more versatile. Some people may consider certain ingredients underdosed, but independent testing shows that M.P.ACT is effective in improving performance and physique. You can't argue with results, so we think M.P.ACT is worth a try.