Dymatize Amino Pro Review
Protein specialists Dymatize have always had a wide range of supplements. The latest to be added to their line-up includes a BCAA/intra workout supplement to take on the likes of Scivation Xtend. The new Amino Pro looks like it may be replacing Recoupe, their existing liquid BCAA drink.
Dymatize Amino Pro Highlights
Contains good doses of BCAAs, electrolytes, and citrulline
Assists with recovery and helps prevent muscle breakdown
Fantastic flavours typical of the Dymatize flavour department
Dymatize Amino Pro Ingredients & Dosing
Each 9g serve of Amino Pro contains:
Dymatize Amino Pro Effectiveness & Pros
Dymatize Amino Pro is best used around the time of a workout, preferably during. It can help trigger protein synthesis to help prevent muscle breakdown and improve recovery. For experienced hard training individuals, it can make enough of a difference to allow for more frequent training and hence, faster lean gains.
Do not be fooled by the relatively small serving size, because Dymatize actually recommend one scoop for every 30 to 45 minutes of exercise. For most people who train around the one hour mark, two scoops (18 g) is a better serving size. As such, you can really double the above ingredients to give some pretty respectable figures. The two grams of citrulline is particularly worth mentioning, as this would be high compared to many competitors.
Dymatize Amino Pro Cons & Negatives
One of the annoyances with Amino Pro is that it is currently available in only one size (285 g). This is relatively small for a product of this nature, especially when considering that two scoops would be the recommended serving size. In other words, each tub will last only 15 training sessions, as opposed to competitor products which are found in 30 or even 90 serve tubs.
Even though Amino Pro is high in citrulline, some of its other ingredients, although adequate, are lower compared to some c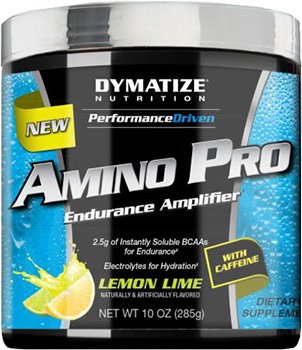 ompetitors.
Dymatize Amino Pro Taste & Mixability
Taste is probably more important for intra workout supplements than for anything else. This is because during an intense session, nothing is more motivating than a cold, refreshing, and tasty beverage. We are happy to report that Amino Pro definitely fits the bill with its cordial like flavour. It is currently available in three traditional flavours; fruit punch, lemon lime, and orange, all of which deserve positive reviews. Amino Pro also mixes very well into a clear liquid, with little frothing that is characteristic with some intra workouts. The praise must go to Dymatize's famous flavouring department who are known for making their flavours from scratch.
Dymatize Amino Pro Verdict
Dymatize Amino Pro is a new intra workout supplements that follows a tried and true formula. With its high dose of citrulline, as well as BCAAs and electrolytes, Amino Pro is an effective product that makes an excellent companion to your foundations supplements.