Dorian Yates TestX Review
It's been awhile since Dorian Yates Nutrition released anything new. The last two releases from them would have been the powerful fat burner Black Bombs and the amino acid supplement Dynamino. The newest addition to their signature range will be a testosterone support supplement known as TestX.
Dorian Yates TestX Review & Ingredients
Dorian Yates knows how to make a hormone support supplement. After all, GH Blast has been one of the most iconic and effective additions to the natural growth hormone support range ever. TestX packs in 9 different ingredients including: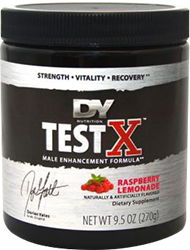 Betaine
Ashwagandha
L-Carnitine-L-Tartrate
Tribulus
Diindolymethane (DIM)
Damiana
Anacyclus Pyrethrum
Polygonum Cuspidatum
It's an interesting formula, which packs in a range of common and more novel ingredients. TestX has made use of a 6.4g proprietary blend, which is one of the major down points of the supplement as it makes it hard to know just how much of each ingredient there is. As soon as the supplement is released, we'll definitely let you know more information about its effectiveness.
Dorian Yates TestX Flavours, Taste & Mixability
At the moment, only one flavour is available – Raspberry Lemonade. Most of Dorian Yates products have tasted pretty good, and they're experts at masking stronger tasting ingredients. We don't expect TestX to be the greatest tasting product, but it should still be easy enough to consume.
Dorian Yates TestX Release Date
The new Dorian Yates TestX testosterone support supplement will be released very soon, most likely around September 2015.