Dorian Yates GH Blast Review
Six time Mr Olympia, Dorian Yates is known for making a line of supplements that are strong. This is no exception with GH Blast, his sleep, hGH and recovery formula, which is arguably the strongest of its type currently on the market.
Dorian Yates GH Blast Highlights
Very strong sleep, hGH boosting, and recovery supplement
High dose phenibut
Recommended only for advanced and supplement users
Dorian Yates GH Blast Ingredients
GH Blast contains a proprietary blend of ingredients including 4-amino-4-phenylbutyric acid (phenibut), Gamarex (GABA), Mucuna pruriens seed extract, arginine HCl, tyrosine HCl, and phenylalanine.
Dorian Yates GH Effectiveness & Pros
There are a few products on the market similar to GH Blast. However, out of all of these, GH Blast would definitely be among the strongest. Its effects are felt fairly soon after taking it and a deep, REM sleep follows shortly after. This process assists with the release of growth hormone and recovery. GH Blast is suitable for use by more experienced users and would not be recommended as a beginner's supplement.
The blend of ingredients in GH Blast is commonly used in products of this nature, and is well known to be effective. What sets GH Blast apart is that it seems the ingredients are better dosed, or at least the phenibut is.
Dorian Yates GH Blast Conts & Negatives
Although Dorian Yates states that a maximum of a 2 scoop dose is allowable, it is recommended that a single scoop should not be exceeded for most people under normal circumstance. For most people, a double scoop may result in side effects such as drowsiness and dizziness on waking. The effects of GH Blast are best experienced if you have ample time to sleep it off and not if you need to be up and about in a few hours.
Phenibut, the active ingredient is also known to be somewhat addictive, with people developing tolerances quite quickly. As such, GH Blast should not be taken daily for extended periods of time. GH Blast should therefore be saved for nights following a tough training session.
It is also recommended that you mix GH Blast with the minimal amount of water possible. The flavour may be a bit strong, but it will reduce the likelihood of waking up and needing to go to the bathroom in the middle of the night.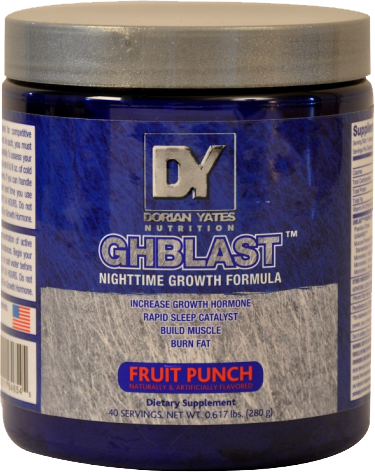 Dorian Yates GH Blast Taste & Mixability
Similar to competitor's products, GH Blast suffers from the same drawbacks in regards to taste and mixability. With the recommended amount of water, there are sediments remaining and also a noticeable amount of frothing if shaken hard. We recommend ignoring this, suspend the particles as best as you can, and just slamming it down. GH Blast is only available in fruit punch flavour. It has notes of bitterness and is not among the best tasting supplements, but it is on par with competing products.
Dorian Yates GH Blast Verdict
Dorian Yates GH Blast is quite possibly the most potent sleep supplement of its type. It is a serious supplement that requires a degree of care to assess tolerance. Improved sleep is its most noticeable effect and would be recommended for nights after a tough training session.