Dorian Yates Dynamino
Dorian Yates Dynamino Facts
Six time Mr Olympia has been busy at work formulating the latest addition to his Dorian Yates Nutrition supplement line up, Dynamino. Dynamino will be an amino acid and intra workout supplement designed to prevent muscle breakdown during training, improve recovery, and maintain exercise intensity.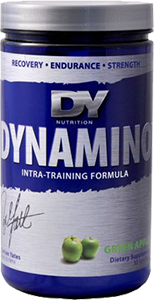 Dorian Yates Dynamino Review & Ingredients
Each 11 g serve of Dynamino is said to contain BCAAs, citrulline malate, glutamine, L-alanyl-L-glutamine (glutamine peptides), and electrolytes. This tried and true formula is very similar to industry leading Scivation Xtend, with a notable difference, that is, the glutamine peptides. This modern innovation has proven to be more readily absorbable and effective compared to oldschool free form glutamine. It is therefore a welcomed addition to an otherwise solid, but standard formula.
Dorian Yates Dynamino Release Date
There is currently no official information from the man himself. However, we speculate that Dynamino will be released around the 2014 Mr Olympia, in September.