CytoSport Muscle Milk Genuine Review
Quick Summary Points for CytoSport Muscle Milk Genuine

Great tasting, easy to use & versatile protein supplement
Contains a premium blend of dairy-based proteins, including calcium and sodium caseinate, milk protein isolate, and whey protein isolate
The best time to take Muscle Milk Genuine is after a workout, as a post-workout shake for replenishing fuel and repairing muscle
Suitable for individuals looking to increase their protein intake or anyone looking to support muscle recovery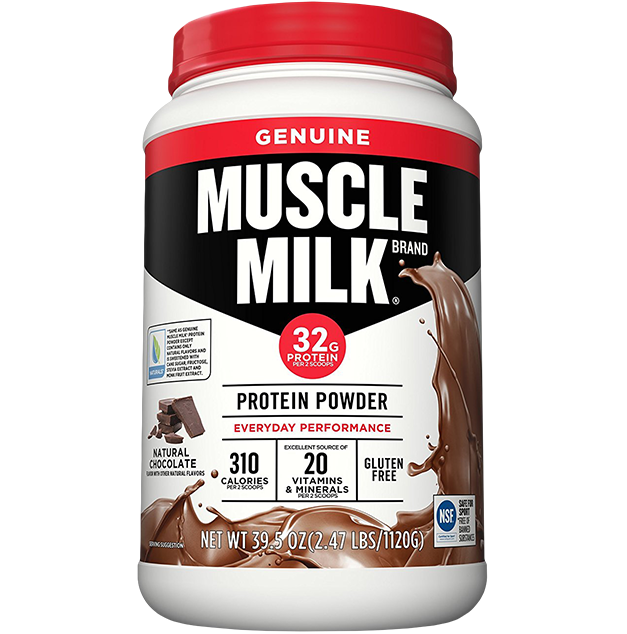 CytoSport is a company that is dedicated to helping trainers recover, rebuild muscle and provide the workout recovery fuel in preparation for their next training challenge. CytoSport Muscle Milk is a genuine protein powder that offers good levels of protein while being an excellent source of fiber, gluten and essential vitamins and minerals. With a PDCAAS Score of 1.0 suggesting very high-quality protein and an excellent product, let us look closer to see what it is really like.
CytoSport Muscle Milk Genuine Highlights
Contains a blend of fast-release whey, slower digesting casein & a rich supply of amino acids to build lean muscle
Naturally rich in glutamine to support muscle recovery
Contains Medium Chain Triglycerides (MCTs) – fast burning fats that help provide energy to fuel exercise & recovery
Builds & increases muscle mass
CytoSport Muscle Milk Genuine Ingredients & Dosage
Muscle Milk uses high-quality casein and whey as its protein sources, and delivers 150 calories, 16 grams of protein, 0 grams of carbohydrate and 6 grams of fat per recommended 35-gram scoop. In addition, each serving contains 20 essential vitamins and minerals, including calcium, magnesium, phosphorus, potassium and folic acid, making it a good source of healthy nutrition all around. With the very highest quality protein on the market and those additional nutrients, this is a supplement that delivers.
CytoSport Muscle Milk Genuine Benefits, Pros & Effectiveness
Whether you use it pre-workout, post-workout or just as a way to get a high protein snack into your day, Muscle Milk provides high quality proteins that help promote exercise recovery, and provide sustained energy and help build lean muscle. In addition, dietary whey protein, which Muscle Milk provides, is scientifically proven to reduce the risk of metabolic disease and improve the body's wellbeing. With a range of vitamins and nutrients the body needs also included, it also makes you feel great too.
An added benefit of Muscle Milk Genuine is the addition of lean lipids. Part of this blend contains a mixture of canola and sunflower oils along with medium chain triglycerides (MCTs). MCTs are known to have the ability to utilize energy to the muscles. Because MCTs are also fats, it does not get stored like fats in the body allowing your body to stay lean.
CytoSport Muscle Milk Genuine Packaging
Holding 2.47 pounds of Muscle Milk, the packaging needs to be strong, and it is. It is also easy to use, with a wide neck that allows easy access to the powder with your scoop, making sure it is easy to get the right amount for every mix you make. The other important thing about the packaging is that it is very stable, you won't be knocking this over very easily, something I'm sure we have all done at least once with other supplements. Detailed ingredient lists and benefit information is included in easy to read graphics completing the eye-catching packaging.
CytoSport Muscle Milk Genuine Taste, Flavour & Mixability
The natural vanilla powder has a pleasant taste, it is distinctive in that the sweetness is not as sharp as some, as it uses only natural sweeteners rather than the artificial variants found in many supplements. This gives it a less aggressive taste on the tongue, and best of all, no chemical aftertaste that I find I get when something like sucralose is used in other supplements.
It mixes very easily in a standard blender bottle, and doesn't seem to clump at all. I started out mixing with milk, I also tried using it with soy and had similar results, although I do prefer the taste with regular milk. I also tried it with water as they recommend, and although it took a little longer to dissolve, it did work, and the natural sweeteners help it to taste great even here.
CytoSport Muscle Milk Genuine Side Effects
Although not all the ingredients in Muscle Milk are natural, there is nothing within the supplement that produces any side effects, with one obvious exception. For those who are lactose intolerant, this is not a supplement that would be suitable, offering similar side effects to those incurred when you drink milk itself.
CytoSport Muscle Milk Genuine Verdict
Muscle Milk is a great tasting, easy to use and versatile supplement that delivers high quality protein and a really nice mix of additional nutrients and vitamins. It has great nutritional value, avoids artificial sweeteners and the big packs mean you always have some there when you need it. A lot to recommend here, and it's a great price too.