CytoSport Monster Amino 6:1:1 Review
CytoSport Monster Amino 6:1:1 Facts
CytoSport have officially launched themselves as a front runner of product releases with their new Monster Series supplements. One of these will be the revamped amino acid cocktail now known as CytoSport Monster Amino 6:1:1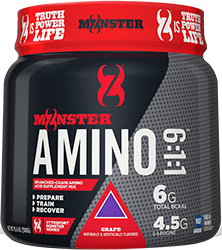 CytoSport Monster Amino 6:1:1 Review & Ingredients
More than just a branched chain amino acid (BCAA) supplement, Monster Amino 6:1:1 collects together 19 different types of amino acids including a huge dose of branched chain amino acids, as well as plenty of essential amino acids and citrulline. In addition, Monster Amino 6:1:1 contains Pepform Leucine Enriched Whey Peptides, which are ideal for intra workout and post workout recovery. It's a powerful mix and should prove to a popular addition into the amino acid/intra workout category, especially since it's banned substance free.
CytoSport Monster Amino 6:1:1 Flavours, Taste & Mixability
At the moment, Monster Amino 6:1:1 is available in the four flavours; Watermelon, Fruit Punch, Blue Raspberry and Grape. The original version mixed extremely well and tasted reasonable, so the new version shouldn't be too different.
CytoSport Monster Amino 6:1:1 Release Date
The new Monster Amino 6:1:1 from CytoSport has already been released in the states and will only be a matter of time before it hits stores around the world. We expect the supplement to head into Australia by August or September 2015.