Cystine-Rich Whey vs Casein for Strength in Elderly
A fascinating study testing the relative effects of cysteine-rich whey protein versus casein on strength development in non-frail elderly subjects (average age 70 years) has just been published in the May 2015 issue of the Journal of Nutrition, Health & Aging. The study is weighty in that it ran for a period of 135 days and involved a good number of subjects (i.e. 67). The other interesting aspect is that it concerned a special commercialised and patented cysteine-enriched whey protein.
Called Immunocal® and developed by Canadian researchers over 20 years ago, the proprietary whey protein is differentiated by virtue of its unique extraction process that involves microfiltration and a low isolation temperature (< 72 °C). This is said to preserve the structure (i.e. bioavailability) of the cystine residues in the protein. Whey protein fractions such as albumin and lactoferrin are also rich in glutamylcystine; a form of cysteine that's readily transported into cells.
As seen below, cystine is an amino acid consisting of two cysteine molecules joined by a disulfide bond. Compared with cysteine, cystine is a more bioavailable precursor for glutathione; the body's most important antioxidant. Unlike cysteine, cystine is resistant to breakdown by trypsin; one of the body's key digestive enzymes responsible for protein breakdown. What's more, the disulfide bonds in cystine are very sensitive to heat.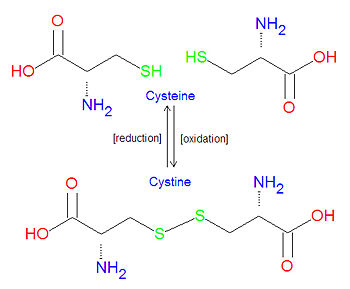 With its patented extraction process, Immunocal® is said to contain 2.5% cystine compared with 0.3% for casein. Bottom line: Immunocal® contains more readily available substrates for glutathione synthesis, which explains why multiple studies have shown it effective for increasing intracellular glutathione levels in both animal and humans2-5.
Taking either 20g of Immunocal® or 20g of casein per day over a 4.5 month period that included weight training 3 days per week, all elderly subjects experienced significant improvements in strength development. However, those receiving Immunocal® experienced a significantly greater (i.e. 10%) improvement in strength development. Of note, however, neither group showed an increase in lean body mass, which was thought to reflect a less than optimal daily protein intake, with a series of studies showing elderly require daily supplemental protein amounts in the order of 40g to optimise muscle protein synthesis. The table below shows the key pre and post changes for each group.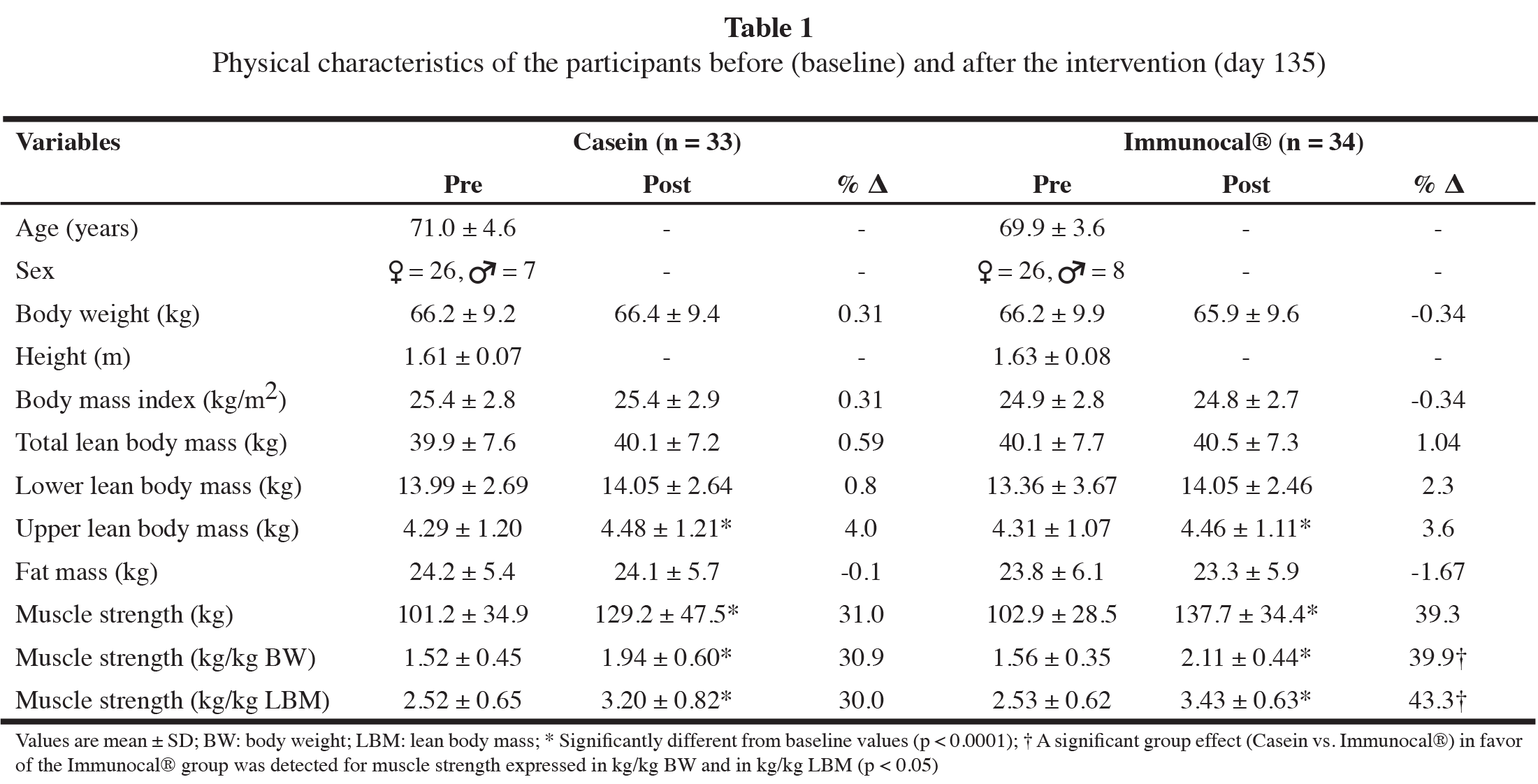 Results of this study suggest the uniquely high content of cystine found in Immunocal® may confer superior strength development presumably by elevating glutathione levels and the associated decrease in oxidant-induced muscular dysfunction.
Interestingly, a study published in 1999 showed young subjects were able to generate more power during a 30-s maximal cycle effort after 3 months daily supplementation with 20g Immunocal®. Unlike the above study, this study actually measured lymphocyte glutathione concentrations, which showed a 35.5% increase3. So it seems plausible that boosting glutathione levels can lead to improve muscular strength and endurance.
This study is an important reminder of the significant effects that differences in protein purification can have on a given proteins' biological action. In undenatured form, whey protein provides a great source of bioavailable cystine to help boost the body's glutathione levels. This can have a range of benefits from helping to fight disease4, 5 to increasing muscle strength development.
When next buying your protein supplement, check whether the product lists cysteine/cystine content and makes specific mention that the protein is 'undenatured' or 'native'.
Karelis AD, et al. Effect of cysteine-rich whey protein (Immunocal®) supplementation in combination with resistance training on muscle strength and lean body mass in non-frail elderly subjects: A randomized, double-blind controlled study. J Nutr Health Aging. 2015;19(5):531-536.
Bounous G, et al.The biological activity of undenatured dietary whey proteins: role of glutathione. Clin Invest Med. 1991;14:296–309.
Lands LC, et al. Effect of supplementation with a cysteine donor on muscular performance. J Appl Physiol (1985). 1999;87:1381-5.
Micke P, et al. Effects of long-term supplementation with whey proteins on plasma glutathione levels of HIV-infected patients. Eur J Nutr.2002;41:12-8.
Tsai WY, et al. Enhancing effect of patented whey protein isolate (Immunocal®) on cytotoxicity of an anticancer drug. Nutr Cancer.2000;38:200-8.