Curcumin May Reduce DOMS
A study conducted by the Australian Institute of Sport has provided preliminary evidence that aggressive supplementation with curcumin (i.e. 5g/day) may help reduce delayed onset muscle soreness (DOMS). While the findings are encouraging for the already popular and versatile botanical extract curcumin, there are some noteworthy shortcomings with the study that preclude one from making blanket claims about curcumin and DOMS.
The biggest detractor of the study is that it used a group (i.e. 17) of young, otherwise healthy meals who engaged in regular physical activity (i.e. average 3.6 hours per week) but not leg-based resistance exercise. This meant that the eccentric exercise protocol they used was bound to induce pretty severe DOMS, given that none of the subjects were use to resistance exercise, let alone eccentric leg resistance exercise.
The eccentric resistance exercise consisted of seven sets of ten eccentric single-leg press repetitions on a leg press machine. Because the study was double-blind, crossover and placebo-controlled, the subjects used alternate legs during the two phases of the study (i.e. placebo and curcumin) as shown below. As for the actual weight lifted, the researchers calculated 120% of the 1RM at the beginning of the study and used it as the weight lowered eccentrically. Each participant performed 5 sets of 10 repititions at 120% 1RM and 2 sets at 10 repetitions at 100% 1RM. As for the actual exercise, during each eccentric contraction the load was resisted with the allocated leg from full knee extension to 90o angle of knee flexion with the eccentric contraction lasting for 305 s duration. After each eccentric contraction the load was raised by the subject, using both legs concentrically. Participants had a 3 min rest between sets.
As for the specific type of curcumin supplement that was used, each 2.5g dose consisted of several curcuminoids totalling 1060mg (i.e. bisdemethoxycurcumin 29mg, demethoxycurcumin 62.7mg, and 964mg curcumin). It's important to highlight that subjects took the curcumin 2.5 days prior to as well as following exercise.
To determine whether curcumin had any significant effect on reducing DOMS, participants were assessed on measures of muscle pain, muscle tenderness, muscle swelling, jump performance, and blood markers of muscle damage and inflammation. These tests were carried out just before the eccentric exercises, immediately after and then 24-h and 48-h after, as displayed in the diagram below.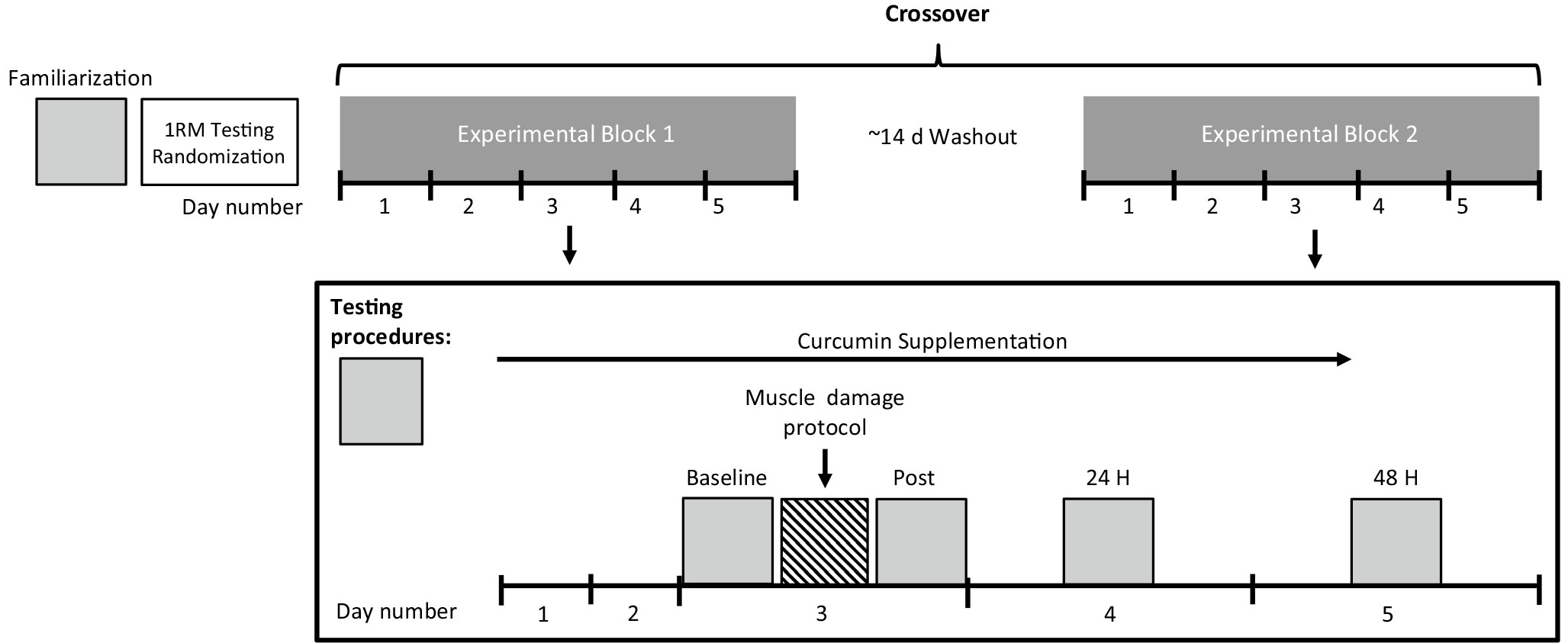 As expected, all participants had a significant increase in measures of muscle soreness following the eccentric single-leg exercise protocol, which as expected was worse at 48H vs 24H. However, as shown below, there was a tendency for subjects to have less DOMS at 48H when taking curcumin. This was especially the case for muscle pain during stretching of the gluteal muscle. The stars on each point below denote the likelyhood that curcumin was solely responsible for the reduction in pain at each time point, with more stars indicating a greater likelyhood.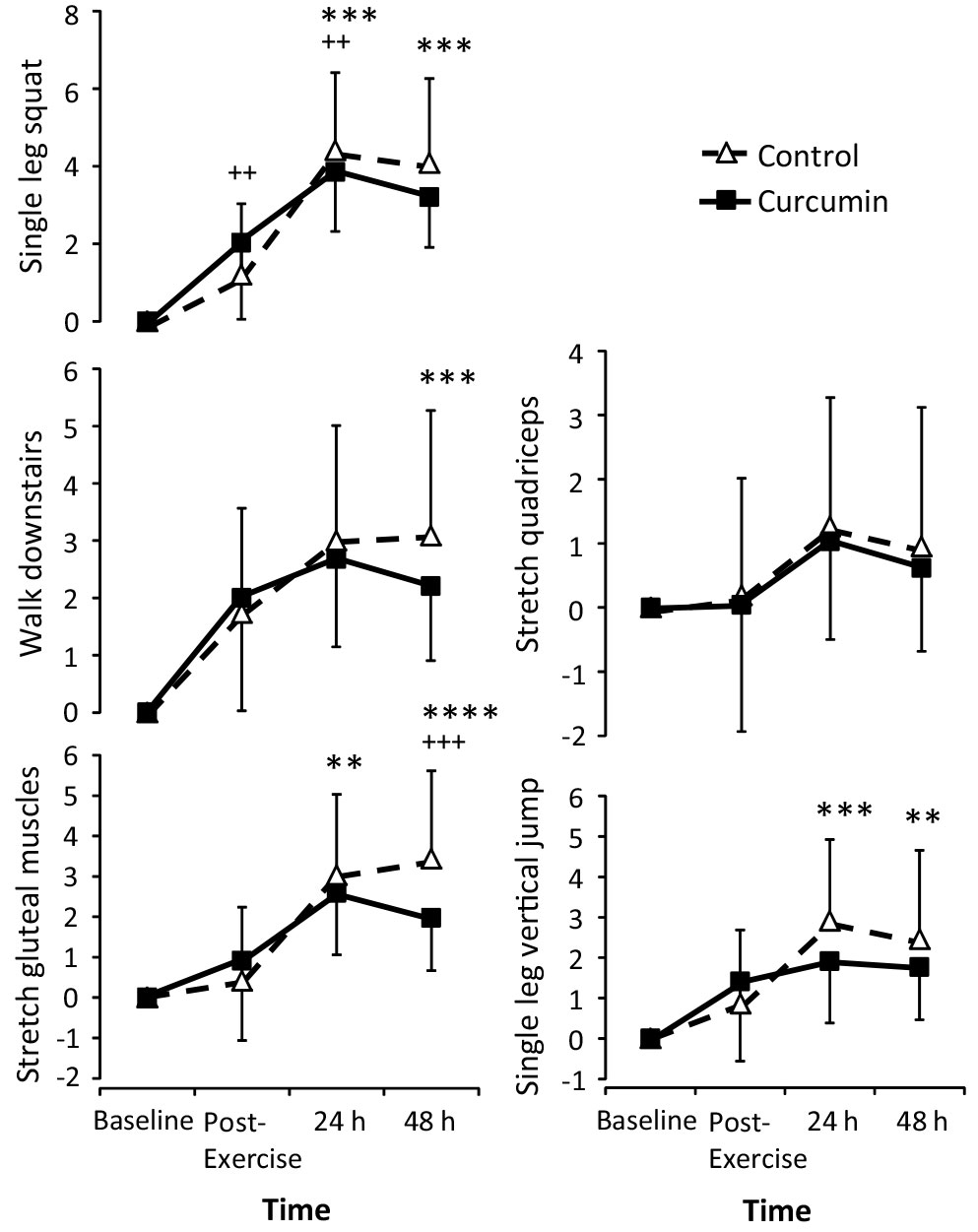 When it came to the blood markers of muscle damage and inflammation, curcumin had a weak effect on reducing levels, as shown in the graphs below. Serum creatine kinase, a reliable marker of muscle damage, showed the most significant effect at 24H post-exercise.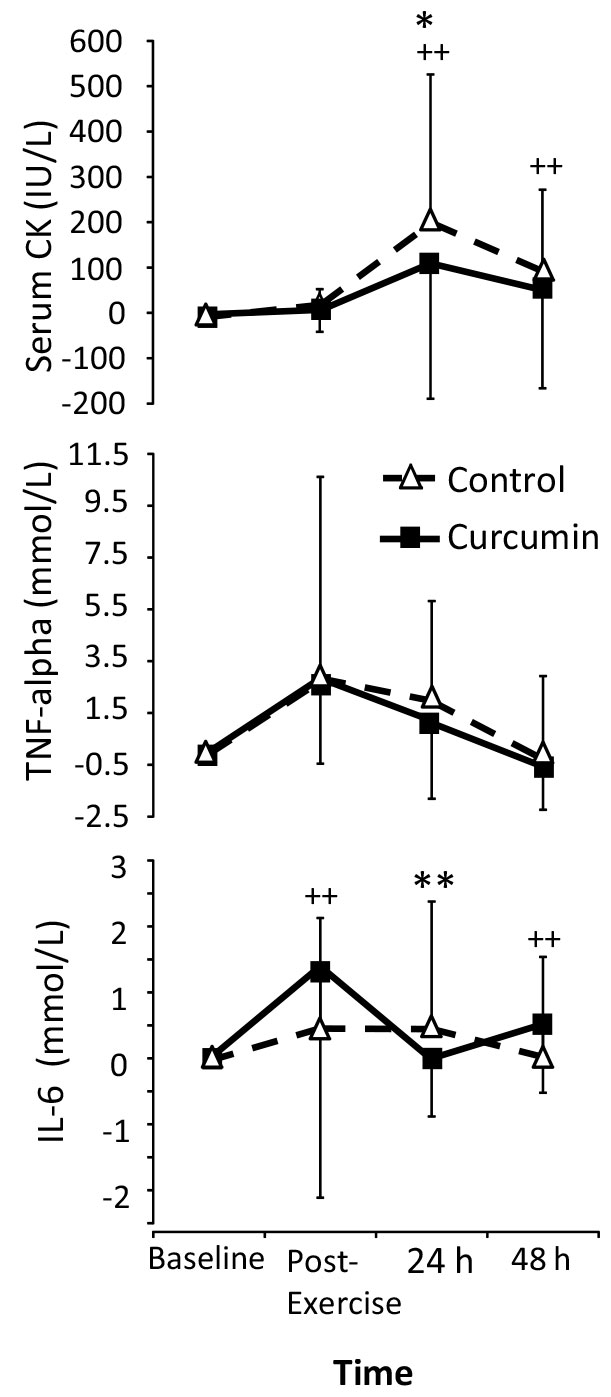 When considered together, the results of this study provide the first empirical evidence to support the possibility that curcumin may prevent DOMS associated with heavy eccentric resistance exercise. However, based on this study alone, it is hard to say whether well-trained athletes could expect to see similar results. Generally speaking, the more experienced the athlete, the less susceptible they will be to DOMS. This will obviously be an area of research for additional studies.
Nicol LM, et al. Curcumin supplementation likely attenuates delayed onset muscle soreness (DOMS). European Journal of Applied Physiology. 2015 Mar 21. [Epub ahead of print]