There are so many different types of creatine on the market, it can be hard to know what to buy, and what will work best for you. Thankfully, there is a lot of variety, so everyone should find something that will suit them amongst the myriad products on offer.
Creatine Quality
Quality is a very important consideration when it comes to selecting a creatine product. A good quality formulation is uniform in consistency and colour, dissolves easily, remains stable, and is absorbed well by the body. Using a poor quality product results in less creatine reaching the muscle cells and can enhance side effects such as stomach upset.
Creapure is probably the best known name in quality creatine. It is an ultra high quality pharmaceutical grade creatine produced by a German manufacturer, and sold under license to many of the major sports nutrition companies for use in their creatine supplements.
The manufacturers of Creapure, AlzChem AG, claim to maintain quality through careful raw material selection, sophisticated and accredited manufacturing practices, and precise chemical analysis of every batch (1).
While Creapure is the best known brand, many other companies produce high quality, pharmaceutical grade creatine which is micronised for easy dissolution. A good way to gauge the quality of a creatine formulation, along with researching the product and checking for quality accreditation of some kind, is to see how well it dissolves. A formulation that dissolves well will have a higher bioavailability, which means better results.
While powdered creatine can vary in type and quality, it is a good rule to avoid liquid creatine. Research has shown that creatine becomes unstable in water in hours, so it is safe to assume liquid supplements are of a lower quality than powders (2).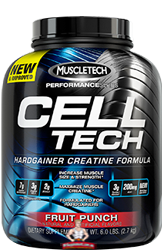 Top Creatine Supplements reviewed
MuscleTech Cell Tech: One of the most popular creatine supplements on the market, Cell Tech is creatine with more. Vitamins and minerals, cell volumising amino acids and BCAAs sit alongside a carbohydrate matrix and alpha-lipoic acid, designed to get as much creatine as possible into the cells. The manufacturers claim this matrix gives muscle gains significantly over and above traditional creatine dosing with juice. Cell Tech combines classic Creatine Monohydrate with creatine HCl, touted for its incredible dissolving and absorption properties. The creatine in Cell Tech passes a rigorous scientific analysis for purity so you know it's a quality product.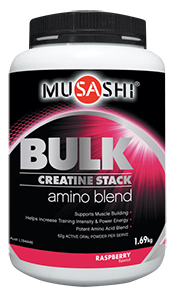 Musashi Bulk Creatine Stack: Homegrown leaders in sports nutrition have hit a winner with this Creatine Stack. Combining a whopping 8g of high quality creatine with BCAAs, Taurine, Glutamine and Glucose , Musashi have created a solid post workout formulation. The addition of HMB (beta-hydroxy beta-methyl butyrate) is inspired - This leucine derivative has been proven to aid recovery and protect the muscles and exert a lipolytic effect along with it's anabolic properties.
Gaspari Size On: This hybrid product was originally aimed at the intra-workout market, but it is popular and effective before and immediately after a workout too. Size on combines Creapure Creatine with high quality whey protein isolate, a super-anabolic leucine-heavy mix of BCAAs, cell volumising and hydrating taurine, and a host of other ingredients that help the nutrients get into the cells where and when they're needed, like a carbohydrate matrix, and and pterostilbene, a unique product that stimulates insulin, which is so important in the uptake of both creatine and aminos.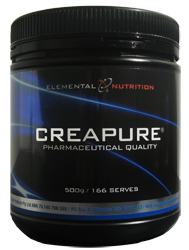 Elemental Nutrition Creapure: This product strips it right back and offers nothing but creatine - The best quality German-manufactured Creapure, lab tested for impurities, and nano-micronised for super efficient dissolving and absorption. Pure unflavoured creatine gives you the freedom to c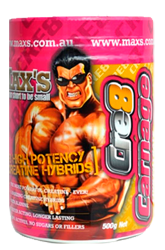 reate the stack that suits you, and the high quality means it will mix right into the majority of other supplements. With this product, Elemental Nutrition demonstrate the great value they're known for.
Max's Cre8 Carnage: Exploring the other end of the unflavoured creatine market is Max's Cre8 Carnage, which contains no less than eight different types of creatine. Absorption is probably the biggest concern with a creatine supplement, and Max's truly cover all bases by including varieties that enter the cells through a number of different routes. On top of this, Cre8 Carnage contains Beta Alanine and Histidine, the building blocks of Carnosine, which prolongs endurance, and Alpha Ketoglutarate for an NO boost. This is a truly unique product.
(1)Leader in Quality. Creapure. http://www.creapure.com/en/creapure-every-day/leader-in-quality Accessed 11th February 2014.
(2) Ganguly S, Jayappa S, Dash AK. Evaluation of the stability of creatine in solution prepared from effervescent creatine formulations. AAPS PharmSciTech. 2003;4(2):E25.