Most elite athletes engaged in competitive team and endurance sports nowadays participate in both strength and power training. This is because numerous studies show lifting heavy weights (i.e. 70-90% 1RM) with low reps (i.e. 3-6) is effective for improving strength, even in endurance sports like cycling and running. Similarly power training like plyometric and ballistic which focus on repeated rapid, powerful movements are highly common.
However, one of the key questions around strength and power training is the order in which they are performed and whether they should be completed at distinct/separate times. Compound training is the term used to describe strength and power training performed on different/alternative days. Complex training on the other hand requires that strength and power exercises be performed in pairs within the same sessions. For instance, a set of high-resistance strength exercise followed by a set of a biomechanically similar lower-load, high-speed exercise.
Part of the positive effect of complex training has been attributed to the mechanism of postactivation potentiation (PAP), where the performance in a set of exercise is enhanced when performed a short time after a preceding set.
While studies have shown benefits from both compound and complex training regimes in the short term (i.e. 4-10 weeks), little research has been undertaken to determine which approach is superior for the development of power.
As such, researchers from Athens and Australia combined to compare the effects of compound vs. complex resistance training on strength, high-speed movement performance, and muscle composition.
Twenty-five young (~22 years) healthy men with no history of systematic resistance training in the previous year where assigned to either the compound training, complex training or control group.
Subjects in the active groups trained 3 times per week for 6 weeks. The compound groups performed slow-speed, high-load (i.e. strength) and high-speed, low-load (power) training on alternative days, whereas the complex group performed strength- and power-based sets in the same session in pairs, i.e. 1 strength exercise set followed by 1 power-based exercise set. All power exercises were performed with a maximum-speed concentric phase.
The actual exercises performed for each group are detailed in the table below.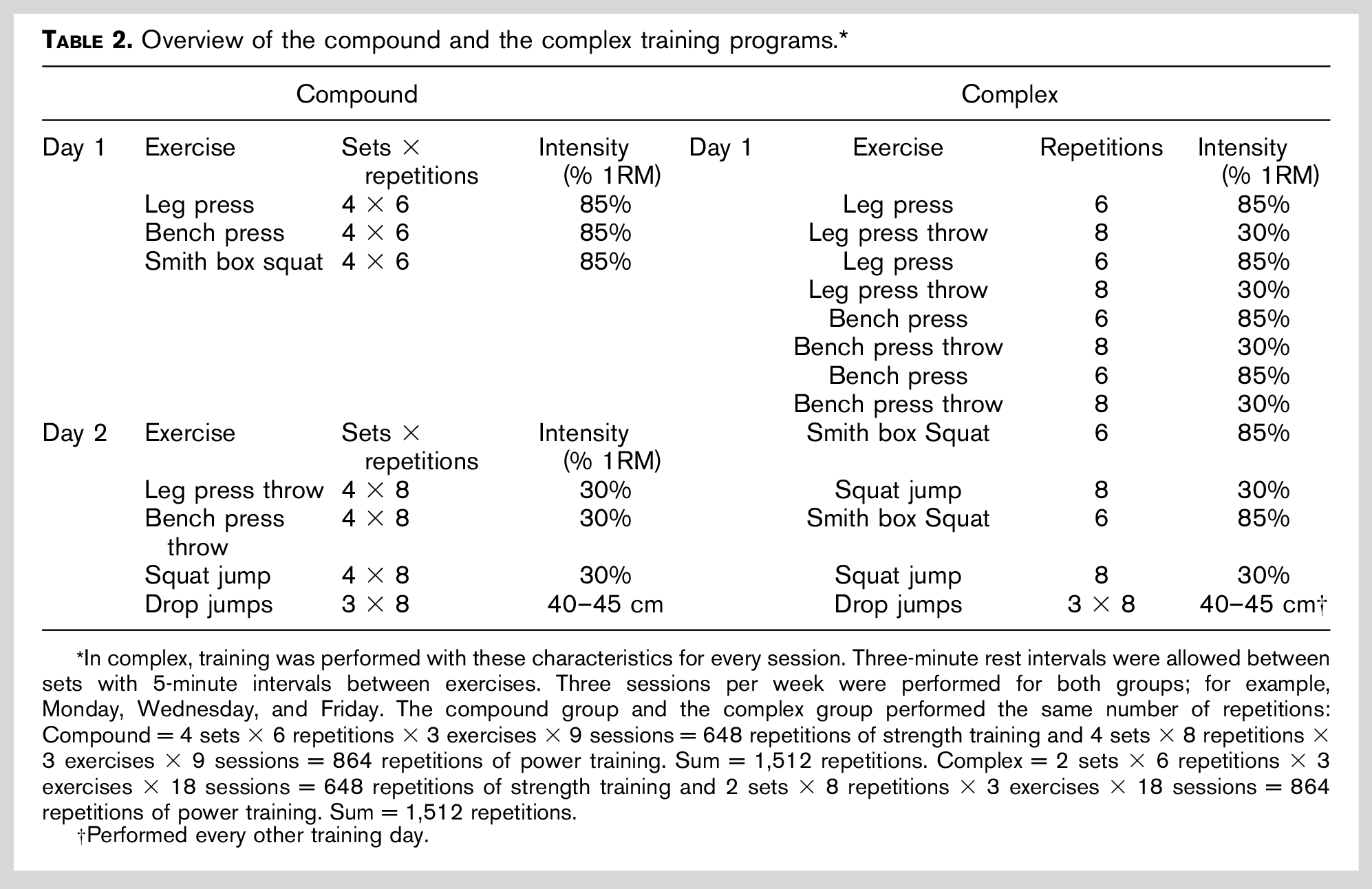 Aside from measuring improvements in exercises such as the counter movement jump, backward overhead throw, 1RM leg press, 1RM box squat (smith machine) and 1RM bench press, the researchers also measured changes in morphology (form and structure) of the vastus lateralis as well as muscle thickness. This allowed them to measure correlations between changes in strength and power with muscle form and function.
The key finding of the study was that high-speed movement (i.e. power) performance was significantly increased only after 6 weeks of compound training. In contrast, complex training tended to result in greater improvements in squat and bench press. In essence it would be appear that performing strength and power training sessions on alternative days is more effective for improving explosive muscle performance compared with complex training but strength is increased more with complex training.
When it came to muscle thickness and size, the cross-sectional areas of vastus lateralis muscle fibers were selectively increased only after complex training, which was in concert with the greater percentage increase in squat strength in this group.
One drawback of the study is that it didn't include measures of neural adaptations. This could have been a key factor as the subjects were only moderately trained and the duration of the study was relatively short.
Nonetheless, if you participate in a team sport which relies heavily on components of power, then it may be prudent to conduct your power/speed training apart from your strength training, as the power adaptations are likely to be superior.
Stasinaki AN, et al. Muscle strength, power, and morphologic adaptations after 6 weeks of compound vs. complex training in healthy men. Journal of Strength and Conditioning Research. 2015;29(9):2559-2569.