Citrulline Effective for Upper & Lower Body Strength
A whoping 8g dose of citrulline malate is the amount it took to increase the rep output in both upper and lower-body exercises over multiple sets of various exercises in two recently published studies. In the same month (i.e. March 2015), researchers from Mississippi State University and Auburn University published two studies (one upper body and the other lower body) confirming the ability of citrulline malate to increase strength in a group of university-aged males who were experienced in resistance training.
As they were run by the same group of reasearchers, both studies followed a very similar design. Both were randomised, counterbalanced and double-blind to the extent that subjects were required to wear a nose piece when ingesting each mix. In each study, subjects had to report to a laboratory on three separate occasions. The first session involved preliminary baseline testing to determine 1RM in each of the three exercises the subjects undertook. In the lower body study, subjects performed the leg press, hack squat, and leg extension). While in the upper body study, subjects performed chin-ups, reverse chin-ups and push-ups to failure.
In the subsequent two visits to the laboratory, subjects ingested either placebo or citrulline malate solution; waited an hour and then performed the relevant resistance exercises. In the case of the lower body study, subject completed 5 sets of each exercise, while in the upper body study, they completed just 3. Blood lactate, heart rate and blood pressure were also recorded in each study so as to determine if citrulline ergogenic effects were reflected in changes in any of these parameters.
The graphs below show the superiority of citrulline in both studies for improving strength (i.e. number of reps) over the course of each weight lifting session.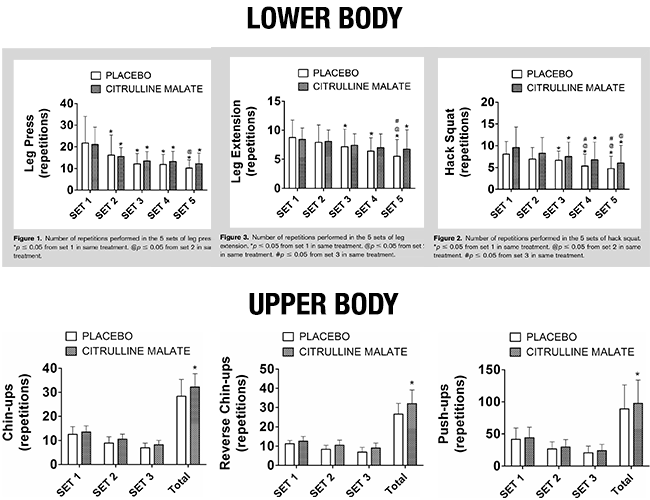 Interestingly, neither study showed any significant differences in blood lactate concentration between placebo and citrulline malate, which lead the authors to deduce that citrulline does not exert its ergogenic benefits by acting as a buffer (i.e. altering acid base balance)
Moreover, there were no significant differences in pre-exercise and post-exercise heart rates following citrulline malate and placebo supplementation. This allowed researchers to assume that citrulline malate does not induce a stimulant like response such as caffeine, which has been shown to increase resting and after exercising heart rates. This served as a confirmation of findings of earlier studies concerning nitric-oxide inducing supplements have no effect on resting and exercising heart rates.
While these findings are certainly encouraging for the increasing number of supplements and pre workouts, currently, most citrullin malate supplements are marketed to improve performance through a reduction in lactic acid and ammonia production. However, these two studies don't seem to support these assertions concerning citrulline mechanism of action. The known ability of citrulline malate to increase plasma arginine and act as a buffer to lactate and ammonia are still valid; however, these studies suggest that there are additional mechanisms at work when performing multiple sets of upper and lower body resistance exercise to failure.
Wax B, Kavazis AN & Luckett W. Effects of supplemental citrulline-malate ingestion on blood lactate, cardiovascular dynamics, and resistance exercise performance in trained males. Journal of Dietary Supplements. 2015; Feb 12. [Epub ahead of print]
Wax B, et al. Effects of supplemental citrulline malate ingestion during repeated bouts of lower-body exercise in advanced weightlifters. Journal of Strength and Conditioning Research. 2015;29(3):786-792.