Cellucor Super HD Review
Cellucor Super HD is the 'high definition' fat burner savvy Australian supplements users have been eagerly awaiting. Super HD comes in a powder format and has been specifically formulated for international markets such as Australia. As such, the Super HD powder formula is slightly different to the US version which is sold in capsule form. While obvious no-go ingredients like yohimbe have been taken out, Super HD powder comes with a number of bumper ingredients in its place.
Super HD Highlights
The key higlights for Super HD powder are its low serving size (i.e. 6g), great flavour, proprietary ingredient complex (i.e. iFAS503) and funky looking container. According to reports, the original encapsulated Super HD has enjoyed tremendous success in the US; so much so that its developed a reputation for regularly being out of stock. So it will be interesting to see how Australian consumers take to the product. But possibly the biggest thing Super HD has going for it is simply the Cellucor brand and reputation. With the popularity and success of supplements like fat burner market and there's a good chance Super HD powder will fair pretty well.
Super HD Ingredients
Aside from caffeine, green tea leaf extract is arguably the standout ingredient in Super HD. It occurs as the first ingredient in the iFAS503 complex from a specialist US raw material supplier called Integrity Nutraceuticals. Plus you don't find it in the US encapsulated Super HD version. Green tea is one of those ingredients that everybody loves. It just seems to have a good vibe and feel about it; not to mention the wealth of good research behind it. Other 'brand name' ingredients featured in the product include the ever popular Advantra Z (i.e. Citrus aurantium fruit with 30% synephrine) and Capsimax – the patented red pepper extract with 2% capsaicinoids. These are both quality ingredients that each have good research behind them. The other ingredients to make up the 'Super HD TS Blend' include the trendy Rhodiola rosea, Dandelion root and Amla fruit. Altogether the ingredients in 'Super HD TS Blend' contribute a total of 245mg in every 6 gram serve, which is not that much to be honest.
The other major ingredient feature is the 'Super HD Support Blend'; a simple blend of three ingredients, namely: caffeine (160mg), l-tyrosine (150mg) and Toothed Clubmoss with 1% huperzine A (2.5mg). Together these total 312.5mg meaning they make up the bulk of the formula.
Super HD Pros & Effectiveness
The factors that are likely to make Super HD powder a success are its relatively unique and innovative ingredients. One cannot discount however the power of the great look and feel that Super HD's packaging exudes. Not to mention the great taste. With the success of Cellucor's C4, its inevitable that a significant number of C4 users will happily try their new fat burner simply because they like the brand. Another major winner for Super HD powder is that it is sugar free. This is a major bonus and most people who are trying to lose weight are naturally trying to limit their sugar intake, if not totally eliminate it.
In true Cellucor style, Super HD powder comes in a funky looking and somewhat cute smaller pack. The label features a peel-back section that reveals detailed suggested use instructions for starting a course of Super HD powder as well as an extensive warning section. As usual with many fat burners these days, Super HD powder comes with strict warnings about assessing tolerance when starting out. Cellucor also advise cycling Super HD powder for 8 weeks on and 4 weeks off. It's good to see this type of info on a fat burner as it is a common question that pops up for anyone using fat burners on an ongoing basis.
Super HD Cons
On the con side, Super HD powder comes with a 6g serve but only contains roughly 600mg of actives, so it's not terribly potent on a gram for gram basis. But if one simply wants to double the dose to increase effectiveness, they run the risk of overdosing on caffeine; with two serves providing 320mg, which is right on the tolerable 'caffeine limit' for most people. Another point to consider with this highish caffeine level is how it may affect people using it along with C4 Extreme. Fat burners are most commonly used in the morning before a workout – similar to pre workouts such as C4. Combining one serve each of Super HD powder and C4 Extreme would also give a total of 320mg of caffeine, which may be too high for some. Given this, it will be interesting to see whether sales of Super HD powder impinge at all on C4 Extreme.
Super HD Taste & Mixability
As is the case with the bulk of their C4 Extreme flavours, Cellucor have done a great job with the flavour of Super HD powder. Even though the formula is sugar free, it has a taste which most individuals should find very pleasant and enjoyable, without any major bitter or sour notes. Mixing wise there's no issues at all, with Super HD powder r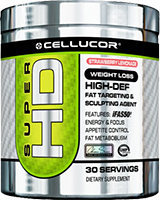 equiring just a few quick shakes in 250-300ml of water, after which the liquid settles without any residual foam or bubbles.
Super HD Verdict
All-in-all, Super HD powder is another quality supplement from Cellucor. It's ingredient profile is sufficiently different from most of the major fat burners for prospective buyers to want to try it and its comes with a great taste. With 160mg of caffeine per serve, Super HD powder is not a fat burner you can overdose on, but this level of caffeine is becoming more and more common among today's fat burners.