Cellucor Alpha Amino Xtreme Review
Cellucor have had a massive start to 2015 with a phenomenal and impressive range of new items. While the changes aren't big, their range will effectively double by the end of this year. Just like the C4 Extreme series of supplements, Cellucor have decided to energize some of their other supplements starting with Cellucor Alpha Amino Xtreme.
Cellucor Alpha Amino Xtreme Review & Ingredients
The latest version of Alpha Amino hasn't changed much from the original, save for an extra 119mg of ingredients as part of their Alpha Amino Xtreme Blend. This blend consists of four extra ingredients including:
Caffeine Anhydrous
XCELICOR Caffeine Pterostilbene Co-crystal
Pyridoxal-5-Phosphate (Vitamin B6)
Methylcobalamin (Vitamin B12)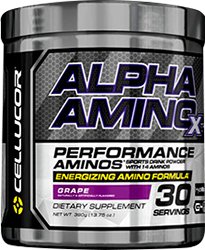 The rest of Alpha Amino is the same and includes BCAAs (branched chain amino acids), amino acids and a hydration matrix. Alpha Amino has always been a pretty decent intra workout/BCAA supplement, but perhaps taken off quite as well as some of its competitors. The added energy matrix will certainly help maintain intensity levels during exercise and the original formulation is ideal for maintaining a anti-catabolic state.
Cellucor Alpha Amino Xtreme Flavours, Taste & Mixability
The new Cellucor Alpha Amino Xtreme is confirmed in three flavours including Fruit Punch, Watermelon and Grape. The original version tasted excellent and was easy to mix and one wouldn't expect the new version to any different considering only an extra 119mg of extra ingredients are included.
Cellucor Alpha Amino Xtreme Release Date
The Alpha Amino Xtreme from Cellucor is already out for sale in the US and should make its way down to Australia and the rest of the world within a couple of weeks. We're expecting it to drop around June or July 2015.