Carbohydrates Supplements Review
Carbohydrate supplements are a valuable tool in the sport nutrition supplement tool box. If used correctly, they can benefit both endurance and strength athletes alike. But there is an ever-increasing diversity in the type of carbohydrate supplements available. This article will provide an overview of some of the major types of carbohydrate supplements.
Maltodextrin
Maltodextrin is the most common type of carbohydrate used in carbohydrate supplements. This is largely because it is the cheapest and most widely available type of carbohydrate polymer. Maltodextrins are typically composed of a mixture of glucose chains that vary in length from 3 to 17 glucose unit long. Some products cite maltodextrin in their ingredients with a DE value. This designation refers to 'dextrose equivalents' which is way of classifying maltodextrins according to their chain length or molecular weight. The typical DE range for maltodextrins is between 3 and 20. As a general rule, the higher the DE value, the shorter the glucose chains and the higher the sweetness of the powder. Once the DE for maltodextrin goes above 20, it is typically referred to as a glucose syrup.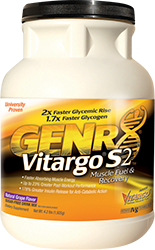 Vitargo® S2
Vitargo® S2 is arguably the best know specialist carbohydrate supplement on the market. It is also close to being the most studied carbohydrate1-3. Vitargo® S2 is a very high molecular weight (approx. 500,000 – 700,000g/mol) glucose polymer derived from corn starch and manufactured in Sweden. On ingredient panels, Vitargo® S2 is described as 'fractionated barley amylopectin'. Studies at the turn of the century proved that supplementation with Vitargo® S2 leads to significantly greater muscle glycogen synthesis in the 2 hours following exhaustive exercise than conventional maltodextrin1. This was shown to be due to a greater rate of gastric emptying compared with that of conventional maltodextrin2. Because of its high molecular weight, Vitargo® S2 has a much lower osmolality than maltodextrin, which is thought to be the key factor responsible for its faster gastric emptying rate1. Lastly, studies in cyclists showed that supplementation with Vitargo® S2 lead to better performance than maltodextrin in a 15-min time trial that followed a bout of exhaustive, glycogen-depleting exercise3.
Cluster Dextrin®
Also called highly branched cyclic dextrin, Cluster Dextrin is a relatively new carbohydrate supplement originating from Japan. Cluster Dextrin, like Vitargo® S2 is produced from amylopectin using a specially developed branching enzyme. Similar to Vitargo® S2, Cluster Dextrin's defining feature is its high molecular weight. This ensures it carries a low osmotic pressure when in solution, thus allowing for rapid absorption from the stomach to the small intestine. Other key features of Cluster Dextrin are that it hardly absorbs moisture and its sweetness is comparable to sugar. In Japan, Cluster Dextrin is most commonly used as a component of sports drinks and as a spray drying aid. Gaspari's Glycofuse is an example of a product that uses Cluster Dextrin as its main carbohydrate source.
Maltrin M100
Maltrin is a maltodextrin produced by American company Grain Processing Corporation. M100 has a dextrose equivalent or DE of between 9 and 12; lower than your run-of-the-mill maltodextrin. So in this sense, it is sometimes marketed as a higher molecular weight carbohydrate polymer. But it is must be stated that a DE of between 9 and 12 is not particularly low compared with the likes of Vitargo® S2 and Cluster Dextrin mentioned above. However, with its larger than average molecular weight, M100 may be a little gentler on the stomach than conventional maltodextrin.
Waxy Maize Starch
Waxy maize is another high molecular weight carbohydrate polymer that is composed largely of amylopectin (the major component of starch). Because of its high molecular weight, waxy maize starch carries a relatively low osmolality when in solution and therefore has a relatively high gastric emptying rate. Its high molecular weight compared with maltodextrin is thought to be one of the major reasons it is generally tolerated better than maltodextrin. However, because of its structure and the particular bonds it carries, waxy maize starch is believed to be degraded slowly by digestive enzymes in the small intestine, resulting in a lower glycemic index than maltodextrin. These differences have been proven in a study with trained cyclists. Compared to maltodextrin, waxy maize starch resulted in lower peak and total blood glucose and insulin levels after close to three hours of cycling5. This resulted in greater fat oxidation in the cyclists who consumed waxy maize versus maltodextrin5. Very similar findings in terms of lower glucose and insulin responses have also been observed in active young individuals when consuming waxy maize versus maltodextrin in the absence of exercise6.
PalatinoseTM (Isomaltulose)
Palatinose is another proprietary carbohydrate with a number of studies to support its use in specific situations. Palatinose main distinguishing feature is its low glycemic index. Unlike other specially developed carbohydrate polymers, Palatinose has is a disaccharide of glucose and fructose, which is joined by a unique type of bond called an a-1,6-glycosidic bond4. This particular bond can only be hydrolysed slowly by an enzyme called sucrose-isomaltase on the membrane of small intestinal cells4. This in turn results in slow absorption of isomaltulose into the blood stream, which is why it is deemed a low glycemic index carbohydrate. For this reason, Palatinose is a popular choice for individuals or athletes concerned with large fluctuations in blood glucose during exercise. There are also a small percentage of athletes who are susceptible to reactive hypoglycaemia when using normal carbohydrates such as glucose or maltodextrin before or during exercise. Palatinose is also a good option for such individual because it leads to much less pronounced changes in blood sugar.
1. Piehl Aulin K, et al. Muscle glycogen resynthesis rate in humans after supplementation of drinks containing carbohydrates with low and high molecular masses. Eur J Appl Physiol. 2000;81:346-351.
2. Leiper JB, et al. Improved gastric emptying rate in humans of a unique glucose polymer with gel-forming properties. Scand J Gastroenterol. 2000;35:1143–1149.
3. Stephens FB, et al. Post-exercise ingestion of a unique, high molecular weight glucose polymer solution improves performance during a subsequent bout of cycling exercise. Journal of Sports Sciences. 2008;26(2):149-154.
4. Lina BA, Jonker D, Kozianowski G. Isomaltulose (PalatinoseTM): a review of biological and toxicological studies. Food Chem Toxicol 2002;40:1375–81.
5. Roberts MD, et al. Ingestion of a high-molecular-weight hydrothermally modified waxy maize starch alters metabolic responses to prolonged exercise in trained cyclists. Nutrition. 2011;27(6):659.
6. Sands AL, et al. Consumption of the slow-digesting waxy maize starch leads to blunted plasma glucose and insulin response but does not influence energy expenditure or appetite in humans. Nutr Res. 2009;29(6):383-90.