BSN Ripped Edge Facts
BSN aren't very well known for fat burners, but that might all change with the addition of a few new supplements including the reformulated Hyper Shred Edge along with the brand new weight loss supplement known as BSN Ripped Edge.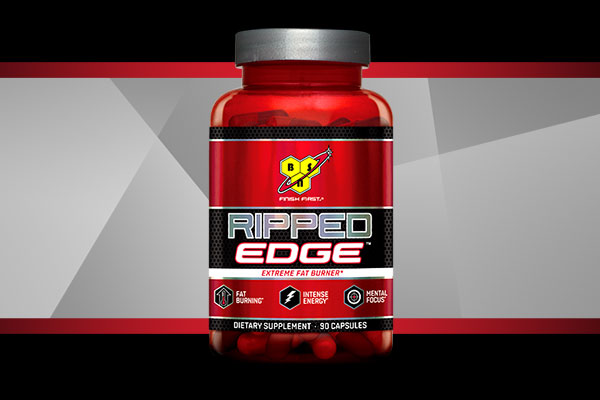 BSN Ripped Edge Review & Ingredients
While it's yet to be confirmed, it's believed that Ripped Edge is the US version of the European Hyper Shred Edge. They both contain slightly different ingredients, but both advertise as being ideal for intense energy, mental focus and weight loss. The ingredients for Ripped Edge include:
B Vitamins – Thiamin (2mg), Niacin (24mg), Vitamin B6 (3mg), Vitamin B12 (10mcg), Pantothenic Acid (16mg)
Acetyl L-Carnitine HCL – 250mg
Caffeine (from caffeine anhydrous and green tea) – 225mg
Green Tea Extract – 125mg
Bitter Orange Extract – 65mg
Citicoline – 65mg
Botan-X Matrix – 33mg
Red Pepper Extract – 30mg
Grapefruit Bioflavonoid Complex – 25mg
Toothed Clubmoss Extract – 6mg
Yohimbe Extract – 6mg
Black Pepper Extract – 5mg
Obviously the Yohimbe won't be a part of the Australian version of the product, and it won't likely be replaced with anything other than perhaps some extra caffeine. Ripped Edge looks to have a solid formula, which prioritizes energy and appetite suppression. A full review on the ingredients and effects will be made available once we get our hands on the supplement.  
BSN Ripped Edge Flavours, Taste & Mixability
The Ripped Edge from BSN is available in capsule form only and will be in a 90 capsule bottle with 45 serves. It's unknown whether BSN will release it in a powder form, but it's doubtful.
BSN Ripped Edge Release Date
Official release dates for BSN's new Ripped Edge Extreme Fat Burner aren't known, but we're expecting a release in early 2017, sometime around February or March.