BSN Rebuild Edge Facts
It's been awhile since BSN has released a truly new supplement, with most being different versions of their current range such as No Xplode XE or Syntha-6 Edge. However, this is set to change with the announcement of their latest supplement, which will be a post workout known as BSN Rebuild Edge.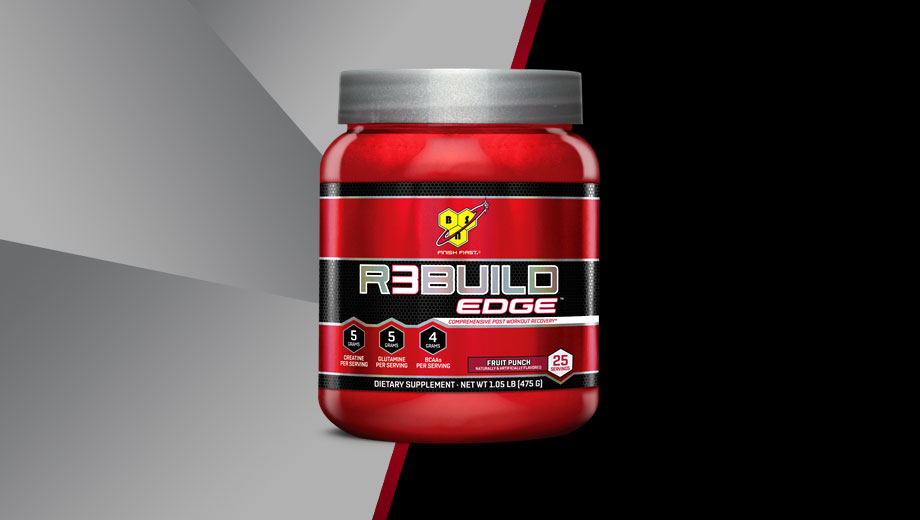 BSN Rebuild Edge Review & Ingredients
BSN's Rebuild Edge does share some similarities with their popular Cell Mass supplement, which was a post-workout/creatine product. As such, some of Rebuild's ingredients are similar, but with some excellent new additions. The full ingredients listing for Rebuild Edge includes:
Recovery Infusion Matrix – L-Glutamine (5g), BCAA Blend (4g), Lactoferrin (50mg) and ActiGin Proprietary Blend of Panax Notoginseng and Rosa Roxburghii (25mg)
Myogenic Matrix (5.4g) – Creatine Monohydrate, Creatien HCL, Magnesium Creatine Chelate and Creatine Anhydrous
Efforsorb Composite – Citric Acid (1.36g), Sodium Bicarbonate (600mg) and Malic Acid (210mg)
Bitter Melon Extract (100mg)
The key differences for Rebuild Edge, besides the ingredients is that each serve contains 10g more ingredients and most of the formula is transparently labelled. It's a strong post-workout formula and we're looking forward to doing a full review once it's available. 
BSN Rebuild Edge Flavours, Taste & Mixability
Rebuild Edge will be released in a fairly large range of 5 flavours including Fruit Punch, Strawberry Orange, Green Apple, Cranberry Limeade and Island Cooler, which contains a mix of mango, pineapple, tangerine and coconut. BSN have definitely focused on coming up with new and interesting flavours and as with all BSN products, we really have no doubt it'll mix well and most likely taste pretty good too. More details to come once the product is released.
BSN Rebuild Edge Release Date
BSN's new Rebuild Edge post workout is set to show up any day in the US, however will take some time before it hits shelves in Australia and other overseas territories. As such, we really don't expect to see it till early 2017, most likely sometime before March.