https://www.mrsupplement.com.au/bsn-axis-ht?variation=686
BSN Axis-HT (120 Capsules)
BSN
Supplements > Testosterone > Longifolia
https://cdn.mrsupplement.com.au/resources/imgs/products/bsn-axis-ht.1297742661113.png
http://schema.org/NewCondition
http://schema.org/OutOfStock
AUD
https://www.mrsupplement.com.au/bsn-axis-ht?variation=686
89.95
AUD

BSN Axis-HT

(8)
Write a review
Product
Q&A's
Reviews
Add To Cart
BSN Axis-HT is unfortunately unavailable from MrSupplement.com.au. For an excellent alternative we recommend viewing BSN EvoTest or checking out the many products in our Testosterone Support category.
--------------------------------------------------------------------------------------------------------------------------------
BSN Axis-HT - Not achieving the results you deserve? Want your hard work to go further? The power of BSN Axis-HT is exactly what you need. Whether you're an advanced weight trainer or a beginner. BSN Axis-HT is a testosterone support formula delivering premium ingredients which may support natural testosterone levels within the normal range.
How does it work? Axis-HT is not a steroid or hormone. Instead, it uses select ingredients to ensure it works with your body in a natural way. Key active ingredients include Zinc and Magnesium, Tribulus Terrestris, Eurycoma Longifolia, Forskolin & Fenugreek (Testofen). When these elements work together they may support the natural production of testosterone in the normal range, which can become depleted during intense exercise. The results are undeniable and users will be feeling manliness in the gym, as well as in the bedroom.
How fast does it work? BSN Axis-HT may take effect from the very first dose. In the first week, workouts may be intense as you experience a hunger for the gym. By the second and third weeks the much talked about results that make Axis-HT so popular can begin to show.
Experience the Benefits
Achieve Maximum Results
Works With Your Body
Helps Enhance Manliness
Legal & Safe (Not a Steroid or Pro-Hormone)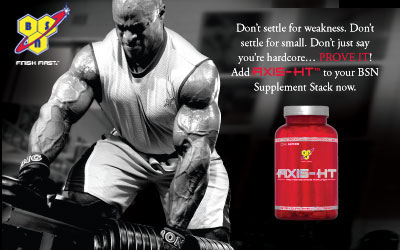 Q&A's
Ask a question about
BSN Axis-HT
What other product can i use to complement BSN Axis-HT ?




BSN Cellmass and BSN No-Xplode would be ideal to stack with BSN Axis HT.

Is BSN Axis HT an anabolic steriod?BSN Axis HT is a natural Testosterone Enhancer. It is not a steroid.




BSN Axis HT is a natural Testosterone Enhancer. It is not a steroid.

Can you use BSN Thermonex in conjunction with BSN AXIS-HT? I want to build muscle and lose weight around the mid section?




Yes BSN No Thermonex & BSN No Xplode can be stacked for synergistic benefits.

I'm looking at using Axis-HT with BSN's Volumaize and True Mass.. Is that stack OK? And I was thinking I should stop taking Creatine and L-Carnitine while on Axis-HT correct?




Excellent stack although one doesn't need to stop the other supplements including L-carnitine & Creatine. Creatine may be taken post workout with Volumaize as your Intra- Workout supplement.
Reviews

Great

Based on reviews collected by
&
Write a review

BSN Axis-HT
BSN Axis-HT
this stuff is un real! if you have be stuck trying to lift the same weight for ages, axis-ht will blow you away when your are lifting weight, you thought was not possible of your potential, and looking bigger than ever. worked great for me. if you want to get big this is a must have!
BSN Axis-HT
BSN Axis-HT
I've gotta admit, I didn't discover this supplement myself, in fact my training partner gave me the heads up on this one. (Thanks George). Loaded with test boosting ingredients such as tribulus and fenugreek, I've added more muscle on this product, than with any other product before. You can't complain about that! Thanks guys for making it just that bit easier to gain muscle!
BSN Axis-HT
BSN Axis-HT
I can't compare it to anything else! I am taking BSN Axis HT with NO-Xplode and the Protein Syntha-Six. My strength is significantly increased and still increasing. I got some for my friend who thinks the same as I do. We are both fanatics. the results are too good to pass up, especially when we are getting fit for summer.
BSN Axis-HT
BSN Axis-HT
I have been working out with other BSN products like NO Xplode, Cellmass, Volumaize, and Truemass. Ran into a plateau three months back and decided to add Axis to my stack just to see if it would actually work. It did!! Blew right through my plateau and gained 5Kg! I'm currently on my OFF cycle and notice a strength and endurance decrease. I take 2 pills in the morning with whey and breakfast, 2 pills with lunch (45min. before workout) whey after gym, and 2 pills with dinner. Can't wait to get back on!!
BSN Axis-HT
BSN Axis-HT
I took the BSN Axis-HT to attempt to fill the void while I was laying off the BSN NO-Xplode (awesome product) for a period (as I'd been on it without a break for 12 weeks). The price tag of the Axis-HT pills put me off a bit but because BSN produced NO-Xplode (which really makes all the difference to my workouts) I decided to invest and give them a try. Unfortunately none of the BSN claims about the Axis-HT effects were realized by me. Maybe my body just did not respond like other users but I can verify that: There was no libido enhancement (in fact I feel it dropped off – maybe because I'd stopped taking NO-Xplode, that always gives me more sex drive). The drive in the gym that I'm used to getting from the NO-Xplode was not there, but again Axis HT is not a pre-workout supplement & doesn't contain stimulants so perhaps this is overly critical, at the same time I stopped using NO-Xplode. I didn't have other noticeable effects from the product. To be honest I was very disappointed as I'd expected big things from this BSN product, having read the reviews. Sorry to put the downer on this product but honestly, for me, it was not worth the investment. I'll go back on the BSN NO-Xplode and give Axis-HT a miss.
BSN Axis-HT
BSN Axis-HT
Hit a brick wall in my training regime and protein supplements were just not enough. Rang up Mr Supplement and they recommended BSN Axis HT as one on their best. Upon first dosage, felt the effects of this supplement straight away - almost superhuman and reminded me of the powering up scene in Dragon Ball Z. Should be classified borderline illegal for its super effectiveness. Gave me greater strength, endurance and made me feel simply healthier. Only downsides were cost and it made me very hungry - eating larger serves than usual. Excellent!
BSN Axis-HT
BSN Axis-HT
I've always been a fan of Fenugreek as a herb, but thought it would be nice if it offered a bit more in a training sense. BSN Axis-HT has been great for this and I've honestly never looked back since starting on it months ago. BSN Axis HT is an anabolic supplement with Fenugreek as one of the main ingredients. I've since experienced amazing energy at the gym and have also noticed my muscles getting bigger (so have a few other people). I believe that the inclusion of Fenugreek in the ingredients is what sets Axis HT aside from many others claiming to have the same benefits. Apart from the well known benefits such as libido & strength, Fenugreek also causes your body to absorb other ingredients at a more superior level.
BSN Axis-HT
BSN Axis-HT
I've been using BSN Axis-HT for about six months now and I cannot say enough good things about it. If you're looking for extra power in the gym I'd say forget all the other stuff and just use Tribulus because it's a supplement that actually works. I originally chose BSN because of all the added extras such as Magnesium and Zinc, which also help you get into a more 'deep' sleep, leading to better recovery after hard workouts. I recommend Tribulus in general as I've been using it for a couple of years and find it to be the best supplement that I've experienced. I have also used supplements such as Creatine and Nitric Oxide, but I let them go after I discovered how well Tribulus worked for me. I still find it good to use a bit of Protein as well as the Tribulus though. Just to make sure that you recover from the massive workouts you'll be doing!
Next Page
Contact Us