BSc Whey Protein Isolate Review
BSc have always been one of the biggest and most trusted names in Australian sports nutrition. They have made whey protein isolates (WPIs) in the past, but they have largely been unsuccessful. Recently, after a complete rebranding and facelift, they have relaunched a new and improved WPI, BSc Whey Protein Isolate, which looks promising to outdo its predecessor.
BSc Whey Protein Isolate Highlights
Solid 89% protein from WPI and hydrolysed WPI
All natural formulation
Gluten free certified
BSc Whey Protein Isolate Ingredients
As with many other WPIs on the market, BSc have kept the formula relatively simple. Despite the name, it is actually a blend of WPI and hydrolysed WPI. There is also some added bromelain, a digestive enzyme derived from pineapples, and a 100% natural range of flavouring agents and sweeteners. Each 30 g serve provides only 113 calories, 0.5 g fat, 1.6g carbs, but a solid 26.8 g protein (89.4%). The formulation is also gluten free certified.
BSc Whey Protein Isolate Effectiveness and Pros
BSc WPI has a very focused purpose. It is designed specifically to provide a protein source that is as clean as possible. Its protein blend is very rapidly digested and is ideal for use as a post workout recovery shake. Few WPIs contain hydrolysed WPI, and this extra ingredient definitely helps with the repair process. BSc WPI can also be used as an ultra-lean protein source during the day for those who are undergoing strict dieting practices.
BSc WPI has many feathers in its cap. Starting with the packaging, we were impressed to see how informative, transparent and objective it is. This is a refreshing change from overblown claims and hyperboles that some other manufacturers can be guilty of. Instead, BSc provides users with a detailed account of what is in the product, how to use it, and who it is suitable for.
BSc have invested great resources into making this WPI as appealing as possible. The product is 100% Informed-Choice and Informed-Sport certified, which means that it is tested and drug free certified. This makes the product suitable for use in drug tested competitive sports. Currently, there are very few Australian brands that have undertaken this process, and it is good to see the Aussies at this level of quality.
For those wanting a purer product, BSc have also gone to lengths to make sure the WPI is 100% natural and gluten-free. The standards of Australian gluten-free claims are much stricter than American claims, and those who suffer from Coeliac disease can rest assured that BSc WPI is 100% gluten-free. Containing very low levels of lactose, BSC WPI is also suitable for most people suffering from lactose intolerance.
BSc Whey Protein Isolate Cons & Negatives
As with all WPIs, BSC WPI has some inherent limitations. However, BSc are quick to disclose this to the consumer, right on their packaging. It can be clearly seen that BSc WPI is not recommended for mass gain or for endurance athletes. BSc concede that the carb content for this product is inadequate and needs to be supplemented separately for these applications.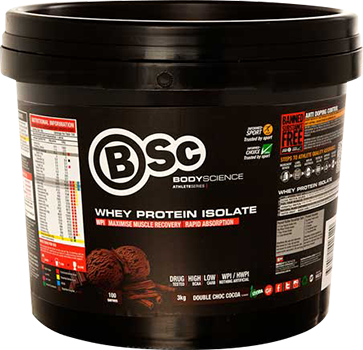 In the past BSc have struggled in the WPI segment, mainly because their products were priced too high. There were simply too many comparable products that were much cheaper. It is difficult to say if the new BSc WPI will be able to claw back some market share, but it certainly looks promising. Essentially, the product is better than ever, and is competitively priced.
BSc Whey Protein Isolate Taste & Mixability
Flavouring has always been a strength for BSc. Despite the use of only natural ingredients, BSc WPI still tastes great. There is a lack of gels and gums, which is great for keeping the protein content high, but it does mean a very thin texture. Those used to more milky shakes may be slightly disappointed, but this is the norm for a locally produced WPI. Mixability is excellent, without much residue, clumps, or clumps.
BSc Whey Protein Isolate Verdict
Miles ahead of its predecessor, BSc Whey Protein Isolate is a highly commendable WPI with many benefits. As far as WPIs go, it is extremely difficult to fault, and ticks all the boxes of a modern protein powder. The team at BSc should be proud of themselves for this one.