https://www.mrsupplement.com.au/bsc-low-carb-mousse?variation=15382
BSC Low Carb Mousse (400g / 10 Serves Caramel Hokey Pokey + BSc Booty Band)
BSc Body Science
Supplements > Protein Powders > Casein Protein
https://cdn.mrsupplement.com.au/resources/imgs/products/bsc-low-carb-mousse.1647223389527.png
http://schema.org/NewCondition
http://schema.org/InStock
AUD
https://www.mrsupplement.com.au/bsc-low-carb-mousse?variation=15382
34.95
AUD
https://www.mrsupplement.com.au/bsc-low-carb-mousse?variation=15386
BSC Low Carb Mousse (400g / 10 Serves Chocoholic + BSc Booty Band)
BSc Body Science
Supplements > Protein Powders > Casein Protein
https://cdn.mrsupplement.com.au/resources/imgs/products/bsc-low-carb-mousse.1647223389527.png
http://schema.org/NewCondition
http://schema.org/InStock
AUD
https://www.mrsupplement.com.au/bsc-low-carb-mousse?variation=15386
34.95
AUD
https://www.mrsupplement.com.au/bsc-low-carb-mousse?variation=15383
BSC Low Carb Mousse (400g / 10 Serves Cookie Butter + BSc Booty Band)
BSc Body Science
Supplements > Protein Powders > Casein Protein
https://cdn.mrsupplement.com.au/resources/imgs/products/bsc-low-carb-mousse.1647223389527.png
http://schema.org/NewCondition
http://schema.org/InStock
AUD
https://www.mrsupplement.com.au/bsc-low-carb-mousse?variation=15383
34.95
AUD
https://www.mrsupplement.com.au/bsc-low-carb-mousse?variation=15356
BSC Low Carb Mousse (400g / 10 Serves Cookies and Cream + BSc Booty Band)
BSc Body Science
Supplements > Protein Powders > Casein Protein
https://cdn.mrsupplement.com.au/resources/imgs/products/bsc-low-carb-mousse.1647223389527.png
http://schema.org/NewCondition
http://schema.org/InStock
AUD
https://www.mrsupplement.com.au/bsc-low-carb-mousse?variation=15356
34.95
AUD
https://www.mrsupplement.com.au/bsc-low-carb-mousse?variation=15384
BSC Low Carb Mousse (400g / 10 Serves White Chocolate Hokey Pokey + BSc Booty Band)
BSc Body Science
Supplements > Protein Powders > Casein Protein
https://cdn.mrsupplement.com.au/resources/imgs/products/bsc-low-carb-mousse.1647223389527.png
http://schema.org/NewCondition
http://schema.org/InStock
AUD
https://www.mrsupplement.com.au/bsc-low-carb-mousse?variation=15384
34.95
AUD

FREE BSC BOOTY BAND
Purchase BSC Low Carb Mousse & get a FREE Bodyscience Booty Band!

Low Carb Mousse
Low Carb Protein Mousse
More than 23g of Protein
Less than 7g of Carbs
Only 150 Calories
Gluten Free
In Stock

(0)
Write a review
Product
Q&A's
Reviews
Add To Cart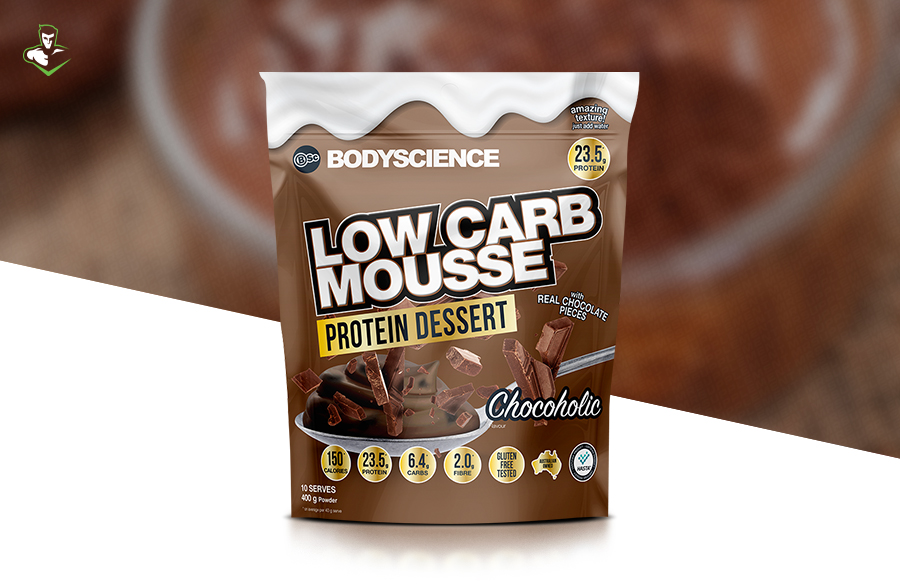 Now you can have your mousse and eat it too. Say hello to low carb, high protein, low-calorie dessert satisfaction.
The Body Science Low Carb Mousse is something special. Super easy to prepare, simply whisk it up with cold water, then let your creative juices flow and construct your new favourite sweet treat.
With Casein Protein, MCT Oil, Fibre, 23g of protein and naturally occurring Glutamine, L-leucine and BCAAs a serve of low carb mousse contains less than 150 calories.
Don't be surprised if you find yourself eating this macro-friendly sweet treat for breakfast, snack time and dessert. It really is that good.
Q&A's
Ask a question about
BSC Low Carb Mousse
Reviews


Based on reviews collected by
&
Write a review

Contact Us