BSc HydroxyBurn Elite Review
BSc Body Science is one of Australia's largest and most trusted exercise nutrition supplement companies. No doubt you have seen their branding in many professional sporting events and teams in the NRL and AFL. Being such a large and well-funded company, it is expected that they are able to produce some of the best and most well-researched supplements available today. BSc HydroxyBurn Elite is no exception, and is one of the most comprehensive fat loss proteins on sale, and has recently been updated to make it even better.

What is BSc HydroxyBurn Elite?
BSc HydroxyBurn Elite is a fat loss protein designed to assist in the burning of body fat to give a leaner and more muscular physique. It can be used as a meal replacement shake to be used throughout the day or as a post workout protein supplement.
First Impressions
A quick look at BSc HydroxyBurn Elite shows that it is a low fat, low carb protein. In each 45 g serve, you get over 30 g protein, only 2.4 g carbs, and 1.4 g fat. The protein is predominantly a whey protein concentrate, along with Glutamine Peptides, Non-fat Milk Solid, Glycine Max Protein Isolate, and Whey Protein Isolate. This gives Hydroxyburn Elite a stage release digestion profile from fast to slow release, which is good for use as an all-round protein. From here on, things get much more complicated. Read on!
Difference from the Competition
There is no shortage of fat loss proteins on the market, and BSc have worked hard to stand out from the crowd. This is primarily done through their multisystem attack on body fat, made up of 10 different "phases". What this means is that HydroxyBurn Elite is an extremely comprehensive product which has a huge number of ingredients to help with fat loss. A popular competitor's product has 7 individual fat loss ingredients, but on my count, HydroxyBurn Elite has around 20 different ingredients that may contribute to fat loss.
Of Particular Interest
The 10 phases included in Hydroxy Burn act synergistically to aid in fat loss. These include ingredients to aid in:
Fat and energy metabolism
Regulate insulin and blood sugar
Appetite balance
Weight management control
Anti-stress and mood enhancing
Diuresis
Digestion
Antioxidation
Satiety
Anticatabolism
The latest revision of HydroxyBurn Elite has simplified its formula from its predecessor and has upped the dosage of the remaining fat loss ingredients. BSc has done a smart move by concentrating on only a few validated ingredients and ensuring that the dosages of which are at suitable levels to exert maximum effect.
BSc HydroxyBurn Elite Taste & Mixability
HydroxyBurn Elite is a great tasting and easy mixing protein powder. It mixes up to form a smooth and ungluggy shake. If you are using it as a meal replacement, you can always look forward to a good tasting shake.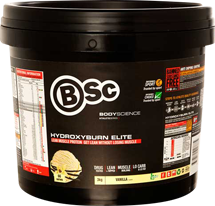 BSc HydroxyBurn Elite Negatives
The first version of HydroxyBurn was surprisingly high in carbs, however BSc has clearly taken on board this criticism and reformulated the product to become something that better aligns with fat loss diets. So this reviewer is happy to report that the carb content should no longer be off-putting to those who are carb conscious.
Perhaps the only negative is the relatively small amount of green coffee extract, but this could be resolved by simply having a few extra shakes per day.
Who is BSc HydroxyBurn Elite for?
BSc HydroxyBurn Elite is suitable for both men and women wishing to maintain muscle mass while losing weight.