BSc Body Science has long been one of Australia's most iconic supplement company's and has excelled at producing quality products and apparel ideal for athletes as well as your regular trainer. They are best known for excellent quality protein powders, fat loss products and protein snacks. Having spent a good period of time in 2014 refreshing their brand and image, Body Science have recently released a range of brand new products, one of which is the new protein snack – BSc High Protein Chunks.

BSc Body Science High Protein Chunks Highlights
High Protein, Low Carb, Low Fat and High Fibre
No Artificial Sweeteners
Filling and delicious, making it the ideal snack
Ideal Pre or Post Workout Protein Hit
BSc Body Science High Protein Chunks Ingredients
The new High Protein Chunks from BSc are made with only a handful of ingredients, which include:
Whey Protein Blend – Which contains whey protein concentrate, soy protein isolate and milk protein concentrate.
Polydextrose – A source of soluble fibre.
Natural Sweeteners – Stevia
Other ingredients included are to improve the shelf life, taste and mouth feel of the snack. Every 70g packet of High Protein Chunks contains 219 calories (917kJ), 23.2g of protein, 2.1g of carbs and 4.9g of fat. In addition, the product has around 8.8g of fibre per serve, about a third of your daily requirements.
BSc Body Science High Protein Chunks Effectiveness & Pros
It's often stated that the key to achieving your training results is focus on the diet. Which is one of the key areas to go when we have a momentary lapse in our focus. This most often results in the snacking of unhealthy options, which are often high in fat and salt and devoid of nutrients. Body Science have come up with an ideal solution to that problem by creating a product that provides a good source of protein, but is also low in carbs, fat and sodium. The addition of polydextrose means that High Protein Chunks is also high in fibre. This makes BSc High Protein Chunks the ideal snack for those wanting to lose weight and lose fat as it helps to make you feel fuller and for longer. The delicious bite sized pieces also helps to break the monotony of getting your recommended daily intake of protein.
BSc Body Science High Protein Chunks Cons & Negatives
Bsc High Protein Chunks don't have too many cons. As with most protein snacks, the protein blend used is relatively cheap, but is still of high quality. Very few protein snacks include a substantial amount of whey protein isolate or hydrolysate, although this might be due to the fact that it's hard to create a tasty bar with just WPI and WPH. The only other negative for the High Protein Chunks is that it utilises maltitol as one of its sweeteners, which has a laxative effect is consumed in excess. This limits the number of High Protein Chunks you're allowed to have per day.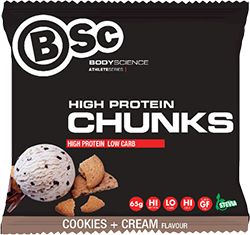 BSc Body Science High Protein Chunks Taste
BSc High Protein Chunks are available in two flavours including Choc Honeycomb and Cookies & Cream. Both flavours are quite tasty, but still retain a bit of a proteiny texture and taste that you get with other similar high protein snacks. The chocolate coating on each small chunk is delicious and is a real highlight of the snack. The chunk itself is slightly dense and chewy without much of an aftertaste, making it a satisfying and filling snack.
BSc Body Science High Protein Chunks Verdict
The new High Protein Chunks from BSc Body Science is a versatile, convenient and tasty high protein treat suitable for any time of day. It's easy to carry with you or keep in your office drawer as an emergency snack to keep you away from other, less healthy snacks and maintain your compliance to your diet. High in fibre and protein and low in carbs, fat and sodium, BSc High Protein Chunks make an excellent pre or post workout protein hit and is one of the best new products in their range.