https://www.mrsupplement.com.au/bpm-labs-osteomaxxx?variation=15342
BPM Labs Osteomaxxx (30ml / 30 Serves)
BPM Labs
Supplements > Health > Plant Oils
https://cdn.mrsupplement.com.au/resources/imgs/products/bpm-labs-osteomaxxx.1644889031418.png
http://schema.org/NewCondition
http://schema.org/InStock
AUD
https://www.mrsupplement.com.au/bpm-labs-osteomaxxx?variation=15342
79.95
AUD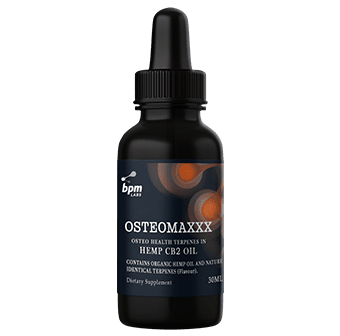 Osteomaxxx
Joint Health Formula
Promotes Improved Joint Health
Control Inflammatory Responses
Eleviate Symptoms of Osteoarthritis
Vegan Friendly Supplement
In Stock

(0)
Write a review
Product
Q&A's
Reviews
Add To Cart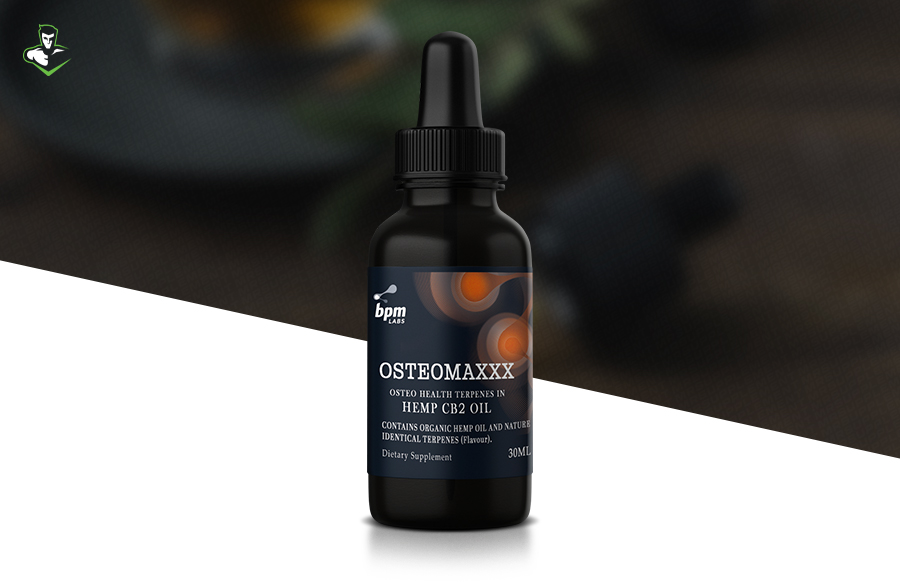 Osteomaxxx is the joint Health formula that utilises the specific terpenes including Delta 3 Carene and Beta-Ionone in hemp CB2 oil that helps elevating symptoms of osteoarthritis and pain.
Q&A's
Ask a question about
BPM Labs Osteomaxxx
How long does it take to see results with BPM Labs Osteomaxxx?




The time it takes to see results may vary depending on various factors, such as individual metabolism, diet, exercise, & overall health. Consistent use of BPM Labs Osteomaxxx, along with a healthy lifestyle, is generally recommended for optimal results. It is advisable to consult with your healthcare professional for personalized guidance.

Can men use BPM Labs Osteomaxxx, or is it only for women?




BPM Labs Osteomaxxx is beneficial for both men & women. While it is commonly associated with women's bone health, men can also benefit from the supportive properties of Osteomaxxx for maintaining healthy bones.

Who can benefit from using BPM Labs Osteomaxxx?




BPM Labs Osteomaxxx is beneficial for individuals who are concerned about their bone health. It is particularly useful for women, especially during & after menopause when the risk of osteoporosis increases. It can also be beneficial for individuals who have a higher risk of fractures or those with conditions affecting bone health.

How does BPM Labs Osteomaxxx work?




BPM Labs Osteomaxxx contains a unique blend of key ingredients that work synergistically to support bone health. It includes essential minerals like calcium, magnesium, & zinc, as well as vitamins D3 & K2, which are known to play a crucial role in bone metabolism & absorption.

What is BPM Labs Osteomaxxx?




BPM Labs Osteomaxxx is a nutritional supplement specifically formulated to support & promote bone health. It is designed to provide essential nutrients that contribute to bone density & strength.

What are the given benefits of taking Osteomaxxx?




Osteomaxxx provides the consumer with the following benefits:

Promotes Improved Joint Health
Control Inflammatory Responses
Eleviate Symptoms of Osteoarthritis

What is the recommended dosage for bpm labs OSTEOMAXXX?




THe recommended dosage for Bpm Labs Osteomaxxx is 1ml daily.

Is bpm labs OSTEOMAXXX suitable for vegans?




The production of Osteomaxx does not contain any animal products making this product vegan friendly

What are the ingredients in bpm labs OSTEOMAXXX?




The ingredients in bpm labs OSTEOMAXXX include Delta 3-Carene and β-Ionone.
Reviews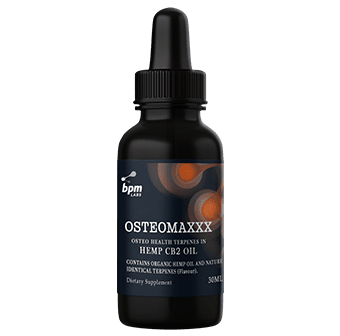 Based on reviews collected by
&
Write a review

Contact Us