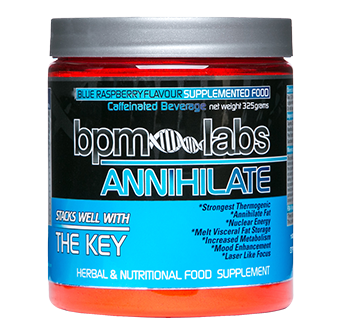 BPM Labs have a reputation for making strong supplements. This is particularly evident, even after reformulations of classic products like The One, with the 2.0 version being no weaker than the original. Now there is a new fat burner, BPM Labs Annihilate. Curiously though, it will actually run alongside the company's other fat burner, LipoRush.
BPM Labs Annihilate Highlights
Super strong stimulant blend for instant energy
Very similar to BPM Labs LipoRush but stronger
Recommended only for experienced supplement users
BPM Labs Annihilate Ingredients
For those familiar with LipoRush, the list of ingredients for Annihilate will not be too foreign. It includes a whole heap of stimulants including caffeine, Pouchong tea extract (AMP-citrate), cacao plant extract (caffeine and theobromine), and bitter orange extract (synephrine). In addition to these stimulants, there is also African mango (fat burning), Nandina domestica extract (vasodilation), green tea extract (fat burning), naringin (may improve potency of other ingredients), and Teradium extract (reduces pain).
BPM Labs Annihilate Effectiveness & Pros
With your very first serve of Annihilate you will experience what BPM is best known for. Annihilate is possibly one of the strongest fat burners currently on the market. It hits hard and fast. Within around 15 minutes, you'll feel quite a buzz and elevation in mood, even from half a serve. Annihilate is a serious energy and fat burning supplement only recommended for experienced users of supplements. We would even say that Annihilate is the strongest product BPM have put out to date.
The Annihilate experience is all thanks to the blend of powerful stimulants, undoubtedly in high doses. For those who enjoyed old fat burners containing DMAA, Annihilate is pretty much as close as you'll get but with a reduced likelihood of experiencing a hard crash.
When used properly, combined with a calorie restricted diet and exercise, Annihilate can be a potent weapon against fat. It boosts energy in times when you need it, helps you stay motivated, and assists with increasing metabolism for extra fat burning.
BPM Labs Annihilate Cons & Negatives
Annihilate is not recommended for those sensitive to stimulants. Even for experienced users, we strongly recommend starting at a partial dose and gradually working your way up.
Another curious fact about Annihilate is that its formulation is extremely similar to BPM Labs' other fat burner, LipoRush. With 10 ingredients in common, but in a different order, we are not actually sure why the company actually needs two such similar products. It is true that the sensory experience is slightly different between the two (stronger with Annihilate), but we feel the end results of the products would be very similar.
BPM Labs Annihilate Taste & Mixability
Annihilate mixes very easily with water and a shaker cup. There is only a slight amount of frothing, but that does not really take much away from the product. Unfortunately, flavour is definitely not a strong point for Annihilate. It is very bitter as soon as it hits the tongue. Beyond this, the flavouring used is quite pleasant, but it is hard to ignore the bitterness and lingering aftertaste. Annihilate is definitely not something you would drink for fun.
BPM Labs Annihilate Verdict
Quite possibly one of the strongest fat burners on the market at the moment, BPM Labs Annihilate is a fat burner not for the faint of heart. Packed with strong stimulants, Annihilate is definitely a fat burner for fans of strong stimulants and hard hitting energy.