Bodybuilding Supplements for Beginners
Bodybuilding Supplementation For Beginners
Unless you eat and supplement well to support your bodybuilding training, you are not only wasting your time, but potentially damaging your body and health. If you train three times a week, that's over 150 hours a year that could be better invested! Whether you train to add muscle, lose fat, or to look and feel better, ensure you are achieving the results you strive for. The right combination of supplements can double the rate at which an exercise program builds muscle and sheds body fat.1
Multivitamins For Muscle

For the human body to perform at its maximum potential, it must be fed a vast and complex array of vital nutrients. Becoming deficient in just one of these essential vitamins or minerals will limit your body's performance.2 Multivitamins have been shown to be useful in the prevention of the damaging effects of stress, poor diet and lifestyle to help and maintain a healthy immune system. Vitamins and minerals are required by the body in very small amounts. Considered essential, they cannot be synthesised in the body. They must be consumed orally.3 The thirteen essential vitamins act as catalysts, speeding up the chemical reactions that our lives depend on. Minerals are inorganic nutrients that are absorbed into plants from the earth's surface and then make their way into our bodies. You can have too much of a good thing. Make sure that you do not exceed the recommended daily amount of your multivitamin as excessive dose of some components, such as selenium, can be harmful. Taking a daily multivitamin supplement is a great insurance policy and a must for all trainers. A multivitamin should be the first supplement on your shopping list.
Protein Powder For Power

An essential condition of muscle growth is the maintenance of a positive nitrogen balance. This means that your body is excreting less protein than you use. For the beginning bodybuilder, protein intake should be approximately 2g per kilogram of bodyweight per day. For example if you weigh 100kgs, your protein intake should be about 200g per day. Our body feeds on protein throughout the day, especially after exercise. Your post workout meal is extremely important. In fact, the meal immediately following your training is probably the most important meal of the day. Whey protein is a high quality dairy protein which stimulates muscle growth and is rapidly absorbed by the body. After you work out, your blood amino and insulin levels are lower than normal. This is when you are most receptive for nutrient uptake. At this time it is important to consume a quick digesting fast protein to ensure that the body maintains a positive nitrogen balance and anabolic state. If you fail to supplement at this stage, the body will hunt the stored reserves of nutrients and when on a diet for example, may cause them to rob other muscle tissue of amino acids including glutamine which are vital for muscle recovery and development.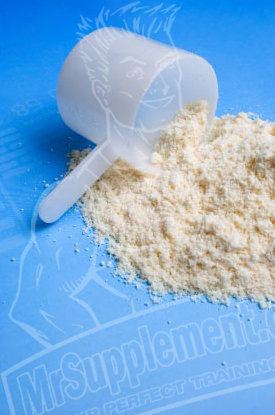 For the beginner bodybuilder, a protein blend incorporating Whey Protein Isolate (WPI), Hydrolysed Whey Protein Isolate (WPI), Miscellar Casein, Calcium Casseinate, Egg White Albumen and Whey Protein Concentrate (WPC), provides the full spectrum of essential and non-essential amino acids required to help repair and build muscle. This synergistic, anti-catabolic blend of proteins provides an immediate and sustained release of amino acids into the body, ensuring a positive nitrogen balance and anabolic state for hours. Protein blends provide a superior anabolic infusion of amino acids than a single protein source. Including BCAAs and l-glutamine in your protein powder may further assist with muscle recovery, promote lean muscle growth and help prevent muscle protein breakdown. Selecting a protein powder with digestive enzymes may also assist with better digestion and absorption of protein. A protein blend is useful to the beginning bodybuilder throughout the day and before sleep. Just a tip, before buying a larger tub (which will be more economical), try a flavor in a smaller sized container.
Best Time to Have a Protein Drink
You can substitute a protein shake anytime you can't consume a high protein food meal. It's much better to have a protein shake than to miss a meal. But besides meal replacements there are 2 critical times when it's ideal to consume a protein shake: first thing in the morning when you get up and right after your weight training workouts. At these times your body is depleted and consuming a fast digesting source of protein, such as a protein shake, can really help to keep your body in an anabolic state to aid with muscle growth.
Carbs & Muscle Building
Protein would be considered the king of muscle building, but carbohydrates are often overlooked when planning a bodybuilding diet. If you want to optimise your muscle gains (and fat loss), it's important to include the right types and quantities of carbs in your diet. Complex carbohydrates should make up a significant amount of your caloric intake because they form muscle glycogen, the long lasting fuel that your body needs to train hard. These carbs are slow burning, meaning that they provide longer lasting energy and assist with keeping your blood sugar levels constant, reducing fat storage, muscle fatigue and also promote the release of insulin - the body's natural anabolic hormone vital for muscle development. After training, your blood sugar levels drop markedly. Ingesting carbs at this crucial time gives your body an insulin spike, putting you in a highly anabolic state, not catabolic state. Heard that post-workout supplements are important? This is why. Eating smaller amounts of carbs throughout the day is important too, as they keep the insulin flow even throughout the day. High fibre carbs help with muscle building as they assist the faster and more efficient absorption of amino acids into the muscle tissue. Carbs also help transport nutrients from protein to the muscle cells. So as you can see from the above, carbs ARE important for muscle building. If you are worried about excess fat, definitely watch your overall carb intake, (maintain portion control), and resist eating carbohydrates after 7pm.
Essential Fatty Acids For Muscle Growth

Essential Fatty Acids (EFAs) are nutrients that your body needs to be able to function properly. EFA's assist in muscle growth by enhancing muscle growth by enhancing testosterone levels. These fats are needed by bodybuilders to rebuild muscle tissue and protect joints while working out. Additionally, EFAs have anti-inflammatory properties, they boost your immune system, and unlike other types of fats, they are used for body functions instead of being stored as fat. EFA's are absolutely critical to building muscle while increasing stamina required for bodybuilding. These are the building blocks used to produce other fatty acids that your body requires for muscle growth. Without EFAs, hormones, including testosterone, necessary for bodybuilding wouldn't be produced. These oils play a key role in regulating the cardiovascular, digestive and reproductive functions; inflammation and healing; functioning of the brain; and body heat and calorie burning. Essential fatty acids encompass two distinct families – omega 3 and omega 6. The body cannot produce or manufacture them, they must be obtained from your diet. Our bodies need a precise amount of each. The typical diet contains too much omega 6 and insufficient omega 3s. Scientists have traced the imbalance between omega 3 and 6 to creating an environment within the body that makes muscle gains, and fat loss virtually impossible.
Supplements For a Beginner Bodybuilder

There is almost an infinite array of bodybuilding supplements available on the market today. You wouldn't start building a house without a solid foundation. When starting to train with weights, the use of a multivitamin, protein blend, and EFAs will help you build the base to your ideal physique. It is suggested that beginning level bodybuilders begin with these supplements in the initial 6-12 weeks of weight training before contemplating higher-level supplements such as pre-workouts, creatines or testosterone boosters, which can be more beneficial in trained athletes.
1 Paul Cribb Research Scientist in Sports Nutrition, Victorian University of Technology (VUT).
2 Dr Lesley Braun, Pharmacist and Naturopath from the National Herbalists Association of Australia and Dr Marc Cohen, Professor from the National
3 John Ivy, Ph.D., and Robert Portman, Ph.D. Nutrient Timing – the Future of Sports Nutrition